Packing a lunch box– especialy a heathy one with nourishment is important.
Check out our five nourishing ideas.
Creamy Garlic Penne Pasta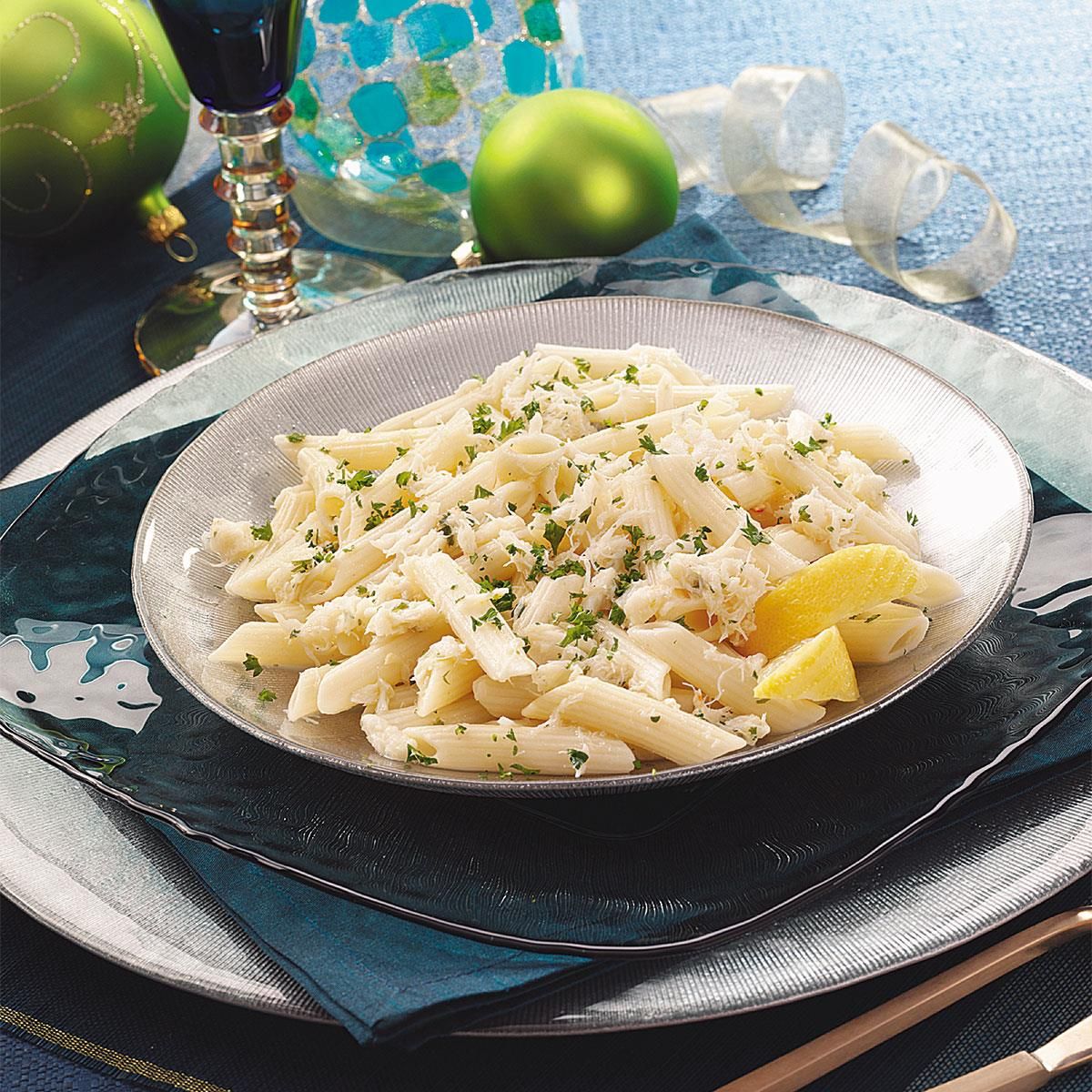 Ingredients
(1 lb) box penne or 1 (1 lb) box penne rigate, cooked as directed, drained and kept hot
2 tablespoons butter or 2 tablespoons margarine
2 garlic cloves, minced
2 tablespoons flour
3⁄4 cup chicken broth or 3⁄4 cup beef broth
3⁄4 cup milk
2 teaspoons parsley flakes
salt and pepper, to taste
1⁄3 cup grated parmesan cheese
Directions
Melt butter and add garlic in a medium sauce pan.
Cook over medium for 1 minute.
Add flour and cook 1 minute, stirring constantly.
Stir in broth and milk and cook, stirring frequently, until sauce boils and thickens.
Add parsley, salt, pepper and cheese.
Stir until cheese is melted.
Toss hot pasta with sauce and serve immediately.
Veggie Quesadillas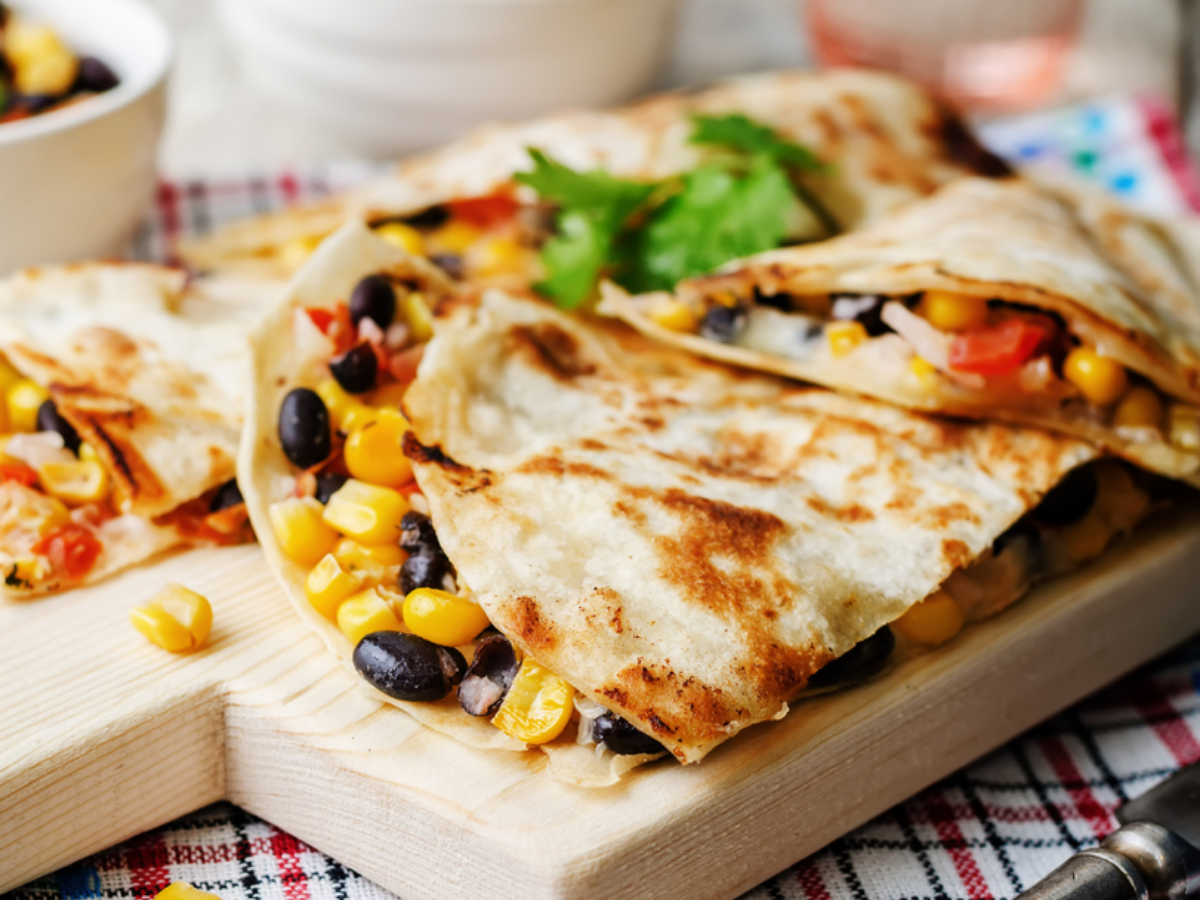 Ingredients
8 (384g packet) multigrain tortillas
1/3 cup tomato salsa
11/3 cups grated rediced fat tasty cheese
400g can no-added-salt red kidney beans, drained
1 cup grated carrot
1 cup (30g) baby spinach leaves
Olive oil cooking spray
1 avocado, peeled and chopped
1 tbs lemon juice
Directions
Lay 4 tortillas on a clean surface. Spread with tomato salsa and sprinkle with half the grated cheese.
Top each one evenly with kidney beans, grated carrot and spinach leaves. Sprinkle with remaining grated cheese. Cover with the remaining 4 tortillas.
Heat a large non-stick frying pan and grease with cooking spray. Add one filled tortilla, cook over a medium heat for about 3 minutes or until golden underneath. Using an egg slide, carefully turn and cook other side until golden. Remove from pan.
Repeat step 3 with remaining filled tortillas to make 4 quesadillas. Cool then cut each into 6 wedges.
Mash avocado with lemon juice in a small bowl. Serve with quesadillas if desired.
You can keep cooked quesadillas refrigerated in a container until required.
Paneer Frankie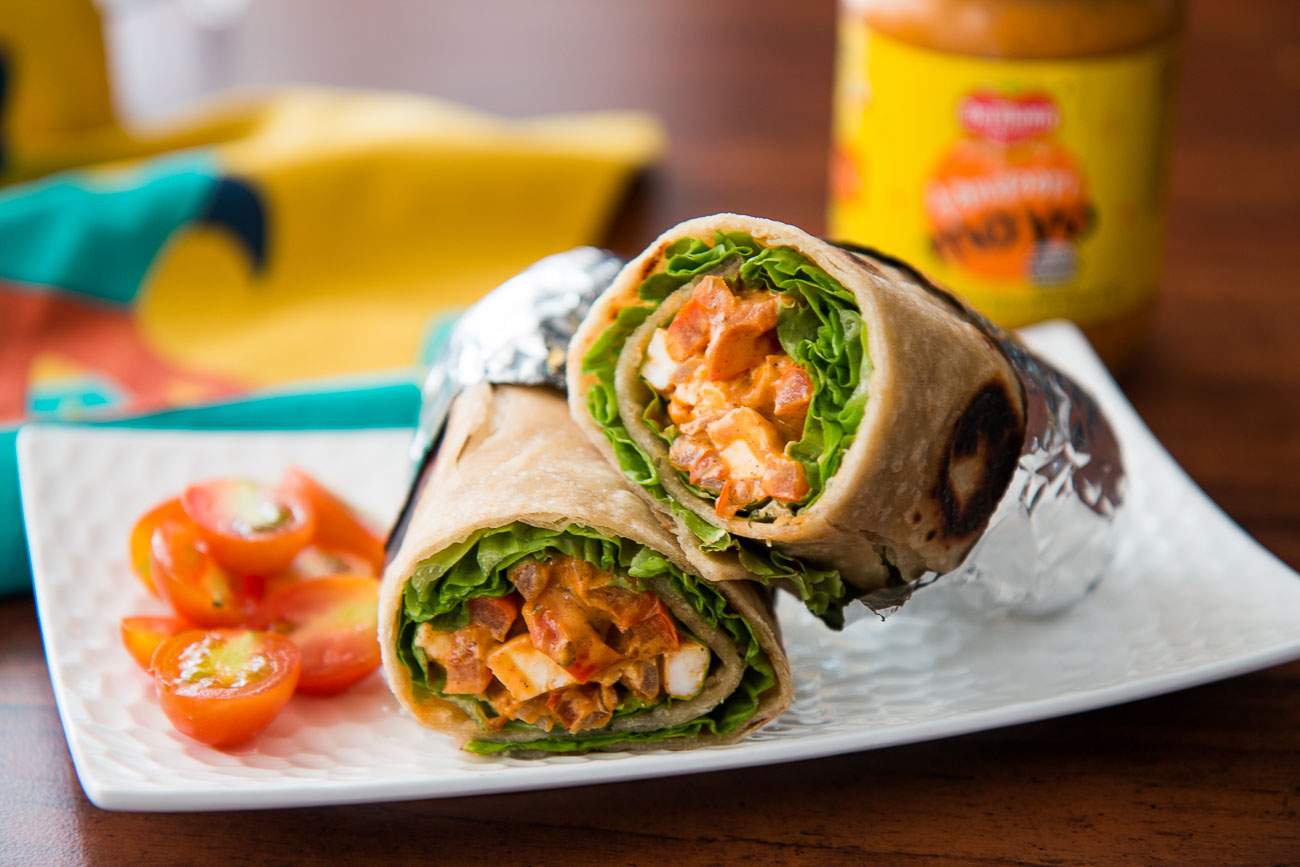 For stuffing:
1 tsp oil
½ medium onion thinly sliced
¼ capsicum thinly sliced
1 cup panner grated
1 tbsp chilli sauce
salt to taste
1 tbsp tomato sauce
1 tsp soy sauce
For frankie / wrap:
butter as required
3 cooked chapathi
6 tbsp tomato sauce
3 tbsp carrot thinly sliced / grated
3 tbsp cabbage shredded
butter paper to roll optional
Directions
Paneer stuffing:
In a large pan heat a tsp of oil and saute sliced onions.
Add thinly sliced capsicum and saute for a minute or 2. do not over fry, as you need to enjoy the crunchy bites.
Then add grated paneer and saute for a minute.
Add chilli sauce, tomato sauce, soy sauce and salt to taste. Mix well and keep aside.
Preparing frankie: 
Heat the pan and warm up chapathi adding some ghee or butter. do not over roast as they will turn hard.
Then place the chapathi, half over butter paper. Apply 1 tbsp of tomato sauce on one side.
Above that add grated / thinly sliced carrot and shredded cabbage.
Place the prepared panner stuffing. Top with more tomato sauce.
Slowly fold the bottom side chapathi along with butter paper. this prevents from leaking while you take a bite.
Roll tightly with butter paper.
Oats Idli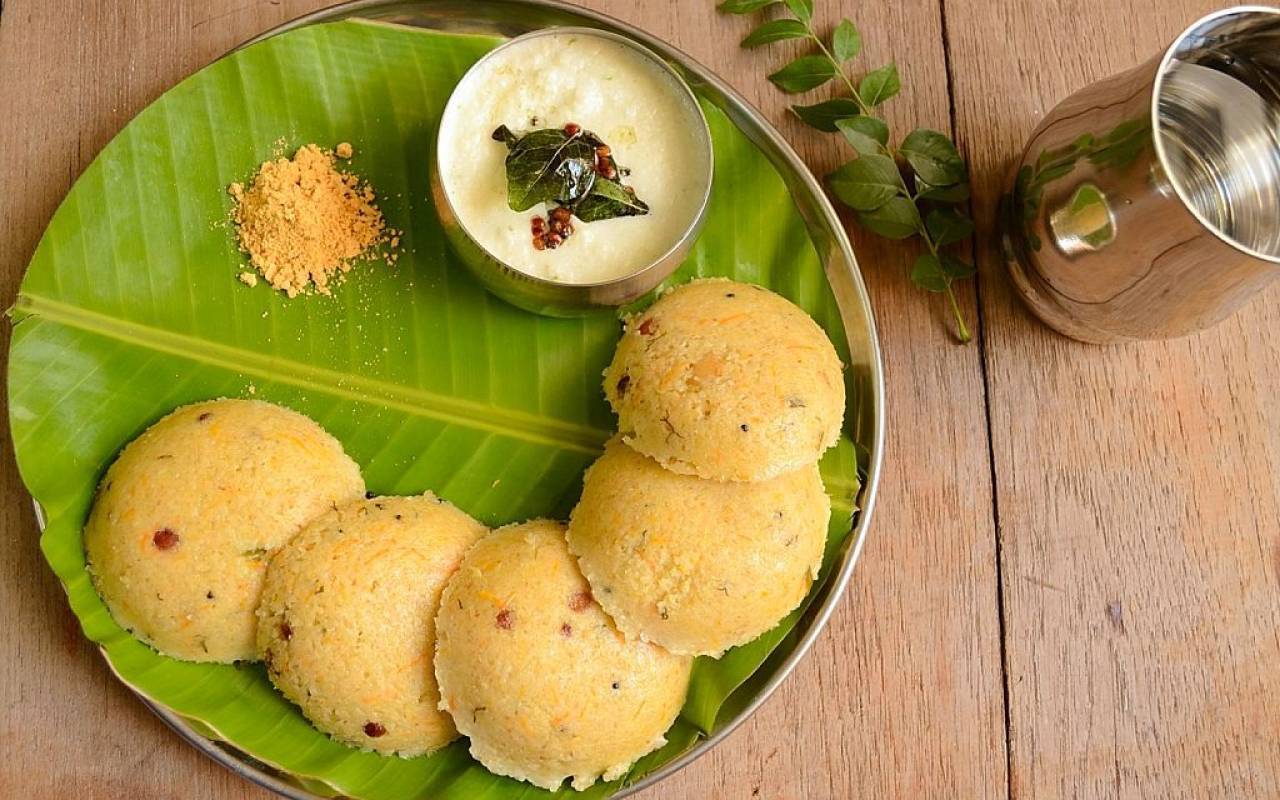 Ingredients
2 Cups Oats
1/2 Litre Curd (slightly sour)
1 Tbsp Mustard seeds
1 Tbsp Urad dal
1/2 Tbsp Channa dal
1/2 Tbsp Oil
2 tsp Green chillies, finely chopped
1 Cup Carrots, grated
2 Tbsp Coriander, finely chopped
1/2 Tbsp Turmeric powder
2 Tbsp Salt
A pinch of Eno fruit salt
Directions
On a tawa, dry roast the oats until it turns slightly brown and then powder the oats in a mixer.
In a pan, add oil, mustard seeds, urad dal, channa dal and allow the mustard to splutter and the dals to turn golden.
To this, add the chopped chillies, coriander and grated carrots.
Add the turmeric powder and fry for a minute.
Add this seasoning to the powdered oats mixture and add the curd to it to make a batter like that of idli batter's consistency.
You can add as much curd to the mixture to achieve the consistency, but do not add water to the batter.
Grease the idli steamer plates with oil and pour the batter into each area of the steamer.
Steam the idlis for 15 minutes.
Note: To know if the idli is cooked, poke an idli with knife and check if the batter does not stick to the knife. Once done remove the idlis and pack with Onion chutney.
Falafel burgers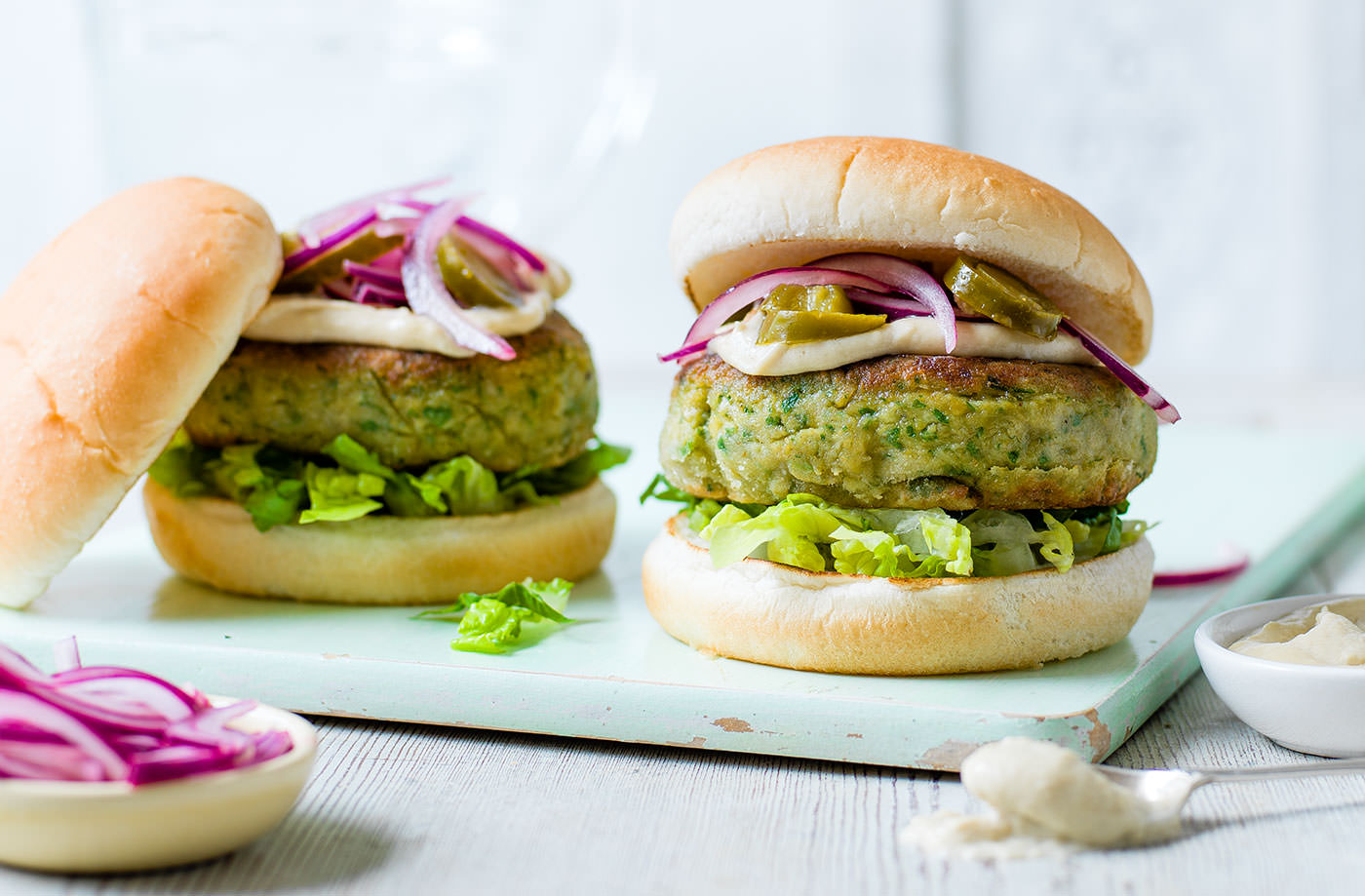 Ingredients 
250g cooked chickpeas
1 medium onion, finely chopped
2 garlic cloves, crushed
2 tsp ground coriander
2 tsp ground cumin
small pack flat-leaf parsley, chopped
2 rounded tbsp plain flour
2 tbsp vegetable oil
100g hummus
4 burger buns, cut in half
watercress, to serve
Directions
Drain, rinse and cook the chickpeas, then tip into the bowl of a food processor. Pulse into coarse crumbs.
Add the onion, garlic, spices, parsley, flour and some seasoning, and continue to pulse until combined. Using your hands, gently form the mixture into 4 patties about 10cm in diameter and 2cm thick.
In a large pan, heat the oil and fry the falafels on each side for 2-3 mins or until golden (you may need to do this in batches). Lightly griddle the burger buns on the cut side in a griddle pan, or toast under the grill.
Spread one side of each bun with hummus, top with a falafel burger, add a handful of watercress, then pop the remaining bun half on top.
Try out these lip smacking recipes. We are sure your little bunddle of Joy is going to love them.