By Dietitian Sheela Seharawat
Founder & Chief Mentor of Diet Clinic Health Care Pvt Ltd
There are many amongst us, for whom having a good and sumptuous meal means having some non-vegetarian delicacy. But, at the same time, for them having the same preparations time and again makes them get bored. Indian food has always been flavorful and aromatic. And also, keeping them healthy at the same time could be a daunting task.
Here are a few delectable, yet health and unique non-vegetarian recipes that you can always try at home for yourself and your guests.
Prawn Postu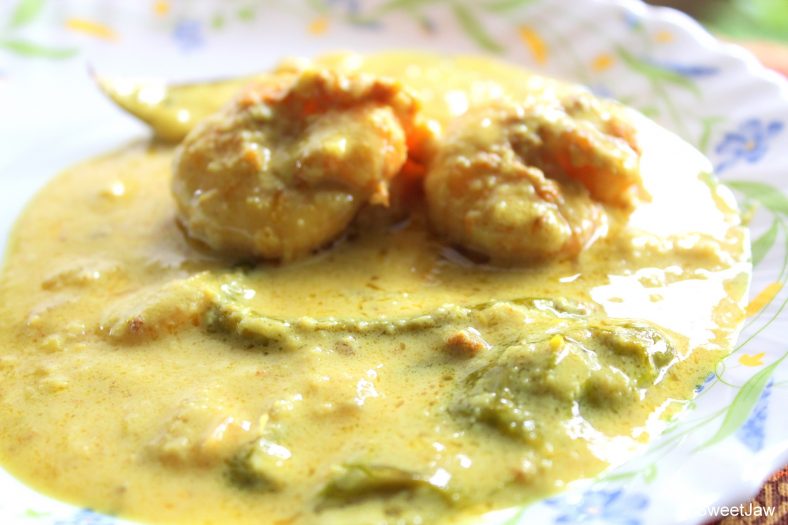 This one is easy and highly flavorful seafood delicacy of Bengal. Enriched with the unique taste of "postu" (poppy seeds). Postu prawn curry is easy and quick to make and serve.
Ingredients:
Prawns (medium size, deshelled and cleaned) : 300 gms
Poppy Seeds : 50 gms
Onion paste : 5 – 6 tsp
Ginger garlic paste : 1 tsp
Green chilies : 3 – 4
Kalonji (Nigella seeds) : ½ tsp
Turmeric powder : ½ tsp
Red chili powder : ½ tsp
Mustard oil : 3 – 4 tsp
Salt : to taste
Sugar (optional) : ½ tsp
Preparation method:
Marinate the prawns in turmeric powder and salt and set aside for almost 10 to 15 minutes.
Heat some mustard oil in a pan and heat it in low medium heat. Add the marinated prawns and sauté it nicely till the prawns turn golden brown in color.
Take out the sautéed prawns from the pam and keep them aside.
In the same pan add some more mustard oil and heat. Add the kalonji, 2 slit green chilies and the onion paste. Cook the mixture for two minutes.
Add the ginger garlic paste, turmeric powder and the chilli powder and mix well with the rest for another two minutes. Then add the fried prawns set aside and mix well.
Then add salt as per taste into it and a paste of the poppy seeds and one green chilli. Mix well for some time.
Add the sugar at this stage (optional) and a cup of water. Mix well, cover the pan with a lid and allow it to cook for around 4 to 5 minutes.
Remove the lid and stir is over the flame for one minute and your prawn postu is ready.
Check the consistency of the gravy and add some water if you like a thinner gravy.
Serve hot with steam rice.
Egg Chili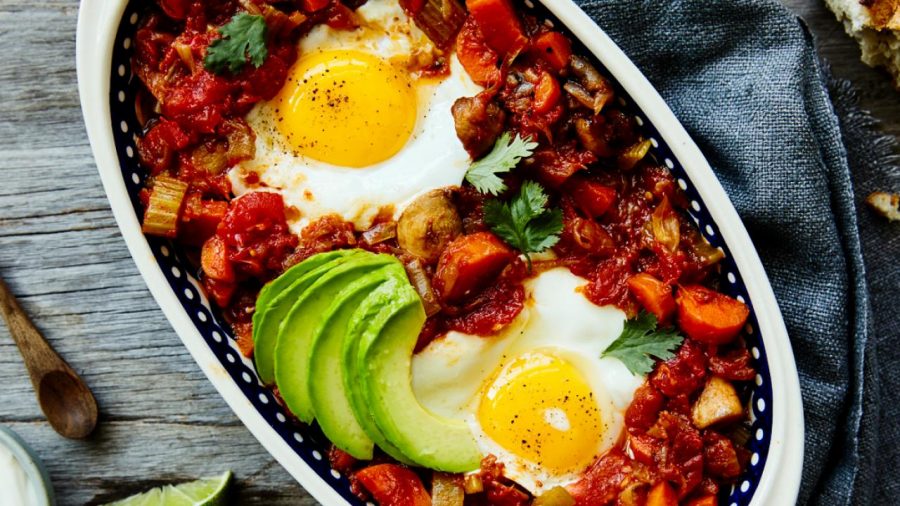 We all have been enjoying chili chicken all our life. It tur now to try something new, This egg chili tastes awesome and look colorful too.
Ingredients:
Egg (hard boiled, peeled and halved) : 4 nos.
Oil (for deep frying) : 2 tsp
Garlic (chopped finely) : 1 tsp
Ginger (finely chopped) : 2 tsp
Onion (chopped finely) : 1 medium 
Capsicum / Bell Pepper (chopped finely) : 1 medium 
Salt : to taste
Sugar : 1 tsp
Chili powder : 2 tsp
Pepper powder : 1 tsp
For the batter
Maida / Refined Flour : ½ cup
Corn flour / corn starch : ½ cup
Baking powder : 1 tsp
Salt : to taste
Water : as required
Oil : for deep frying
For the sauce
Tomato ketchup : 3 tsp
Soya sauce : 1 ½ tsp
Vinegar : 1 ½ tsp
Chili- garlic sauce : 2 tsp
Green Chili Sauce : 2 tsp
Cooking method:
Mix all the sauce ingredients and set aside.
Take all the batter ingredients in a bowl and slowly add water into it and make it into a semi thick batter.
Dip each egg halve in the batter and deep fry them till golden in color. It should turn crispy. Drain onto some paper napkins or filter paper and set aside.
Now heat oil in a pan, add in garlic, ginger and fry for a min. Add in onions and sauté for 3 mins or so till golden.
Add in capsicum and cook for 2 mins. Add in sauce, chili powder, pepper powder, salt, sugar and cook till it is thick and glossy.
Add in fried egg and toss well for some time, but gently. Add spring onion and mix well and Serve hot.
Coconut Chicken Curry Noodles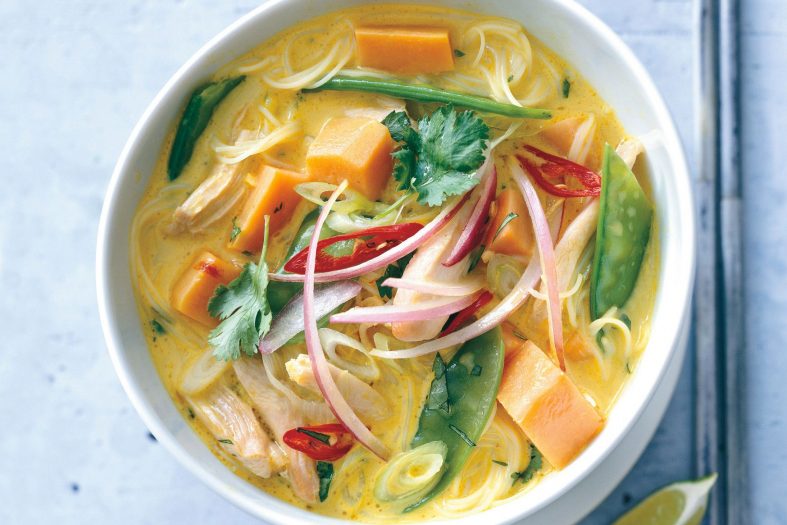 A complete dish in itself, this chicken curry noodle is a bit spicy and makes for a perfect dinner. The tofu and oats add a quotient of health to the entire dish.
Ingredients:
Chicken breast (diced) : 250 gms
Tofu (diced) : 100 gms
Oats : 40 gms
Coconut (milk) : 40 gms
Siracha sauce : 2 tsp
Spring Onions : 3 nos.
Garlic (grated) : 15 gms
Ginger (grated) : 5 gms
Oil : 5 ml
Salt : to taste
Cooking Method:
Boil the noodles and keep aside.
In a pan, heat oil and fry the spring onion, ginger and garlic until lightly browned. Add the sriracha sauce, salt and 1 cup of water and chicken. Cover the pan and simmer for 10 minutes until the chicken is cooked through.
Reduce the heat, add the tofu, coconut milk, oats and stir. Add the chili powder, check the salt and adjust to suit your taste.
Give the curry a brisk boil and then turn off the heat.
Serve the curry in a bowl with the noodles on top.
Enjoy hot.