Aishwarya Sakhuja is an Indian model and actress. She was a Miss India finalist in 2006. From 2010 to 2012, she starred in Sony TV's show Saas Bina Sasural as Toasty. She was also seen in other fictional shows, including Main Naa Bhoolungi, Trideviyaan, Rishta.com and Yeh Hai Chahatein.
She gets into a deep heart- heart conversation with Women Fitness India, on the roles she chose, fitness, and changing dynamics in the industry.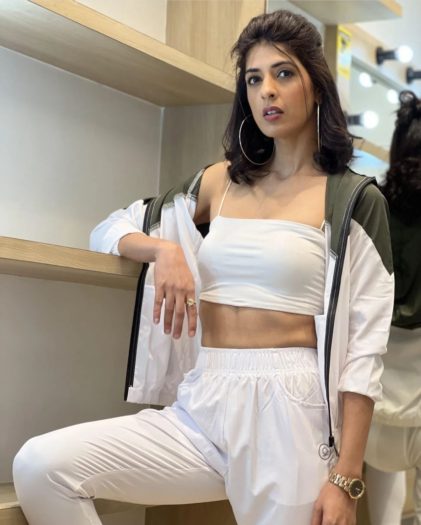 Ms. Namita Nayyar
Aishwarya you started your career with Miss India, and then you played the role in much loved Indian drama Saas Bina Sasusral, tell us about your journey and when did you decide to enter the industry.
Ms. Aishwarya Sakhuja
I went for Miss India in 2006, but I started my modelling journey right after school. So I knew that that was a natural progression for me. And even when I went for Miss India, I knew that I was not going there to win it but just to groom myself. And I don't think that was the right mindset at that point in time. But yes, I did learn a lot in those 45 days of being there and interacting with the who's who of the industry. So I always believed it flowed like water. And the other thing that happened to me after Miss India was anchoring, so I took that up. So, as I said, I believed in just allowing the natural progression of things to happen to me. So after anchoring, I got an acting offer.
Of course, I auditioned for it, but that was for YRF if they were coming up with a lot of shows on Sony at that point in time. So I played a little cameo in one of the shows called Rishta.com. And I think that's when I started getting calls about being a part of the television industry, as I had to audition. And I think I had one or two auditions down the line when I bagged Saas Bina Sasural. And yeah, I mean, television has become home since then.
And when I decided to enter the industry, I think I kind of manifested it because, from a very young age, I had my room filled with posters and pictures of all these beautiful women. So be it major or minor, if I saw a picture of a beautiful woman who's a model or an actress, she would go up on one of the walls in my room. So I think I just kind of manifested it.
FULL INTERVIEW ON THE NEXT PAGE!
This interview is exclusive and taken by Namita Nayyar, President of womenfitness.org, and should not be reproduced, copied, or hosted in part or full anywhere without express permission.
All Written Content Copyright © 2023 Women Fitness Org