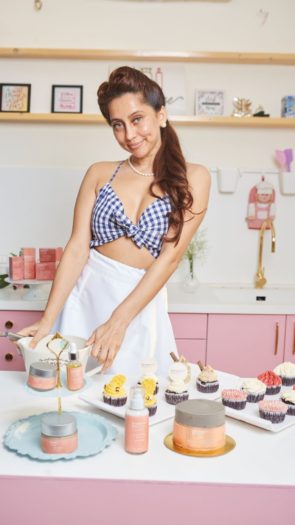 Anusha Dandekar is an Indian-Australian MTV VJ, actress, and singer, who is best known as a VJ and a host who has hosted several shows
Anusha has always been a beauty and style aficionado. Moving from Australia to India at the age of 19, she took a plunge into the entertainment space as an MTV VJ. Being the face of fashion in the pop culture world, she has been on numerous magazine covers and endorsed many fashion brands. She is synonymous with style in India- having hosted and judged the biggest fashion and style-related shows. Needless to say, she is an influencer in the truest sense being the most sought-after ambassador for all major brands.
Anusha gets in a candid conversation with Women Fitness India to talk about her journey, entrepreneurship, and self-love!
Ms. Namita Nayyar
Anusha, you are a VJ, actor, host, and model, tell us how did your journey begin in the entertainment industry, and was this something that you always wanted to pursue
Ms. Anusha Dandekar
I wanted to be an MTV Vj since I was 9 years of age and told everyone about it. I really did will it into the universe and believed it was mine. I was lucky to grow up being a part of dance academies, singing lessons, and even acting classes when I was really young. Along with all the sports I played, my mother drove me around everywhere to make it happen, she honestly is a wonder woman. I would perform in competitions and loved the stage and camera always! I even did a film with a tiny part at 11 and played an extra for a tv show, which was great coz I got out of school so many times! I did a commercial and went for auditions. Even in school, I would participate in everything to do with stage performances and public speaking.
FULL INTERVIEW ON NEXT PAGE!
This interview is exclusive and taken by Namita Nayyar, President womenfitness.org, and should not be reproduced, copied, or hosted in part or full anywhere without express permission.
All Written Content Copyright © 2022 Women Fitness Org