Make your sandwich with one instead of two slices of bread. Aid your slim down efforts by opting for whole-grain bread over white and preparing your sandwich "open-faced" for kicking the top piece of bread to the curb. Doing so keeps about 70 to 120 calories off your plate.
Keep a fruit bowl Ready. You're more likely to grab fruits and veggies over less-healthy options if they're ready to eat and in plain sight. Always keep washed and prepared veggies like cucumbers, peppers, sugar snap peas, and carrots in the front of the fridge so they aren't overlooked. Bananas, apples, pears, and oranges fare well as sweet snacks and should be kept on the counter where everyone can see them.
Switch to Green Tea: According to an American Physiological Society study, participants who combined a daily habit of 4-5 cups of green boosted their exercise endurance by up to 24 percent, revving weight loss. Make the most of the benefits from tea and lose up to 10 pounds in one week!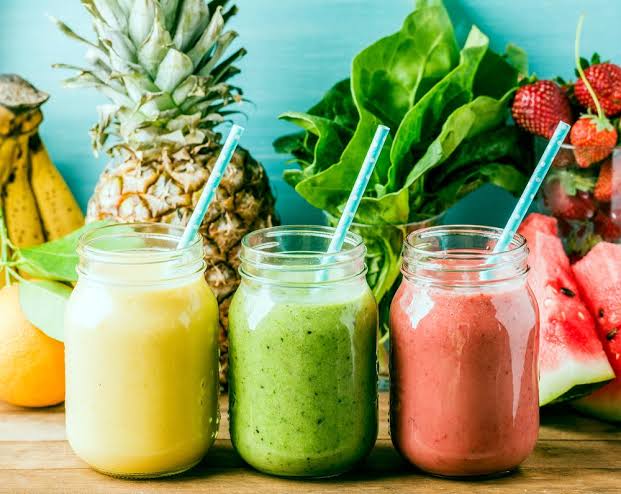 Opt for a Plant Based Smoothie: Try vegan protein, which will give you the same fat-burning, hunger-squelching, muscle-building benefits, without the bloat. Lose weight in less than 30 seconds, with the 100+ proven recipes of Smoothies! Note, the high doses of whey used to boost protein levels can actually amplify the belly-bloating effect.
Use the Half-Plate Rule: Fill at least half of your lunch and dinner plate with vegetables. Vegetables are nutrient-dense, high in satiating fiber, and low in calories, making them ideal weight loss tools. By eating the veggie half of your plate before anything else, you will take the edge off your hunger, eat less overall calories, and still feel full and satisfied.
Meal Example
A good breakfast could consist of whole-grain roti, a vegetable dal, and a side of banana.
An alternative option could be chana dal pancakes with low-fat yogurt.