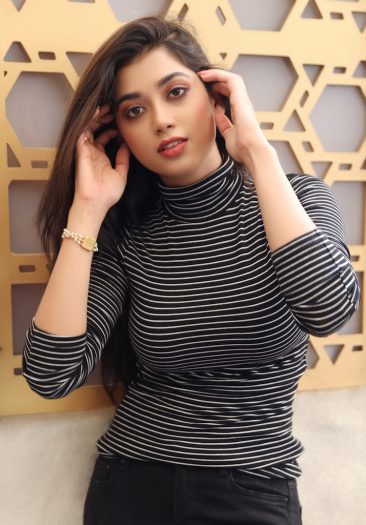 Digangana Suryavanshi is an Indian actress and author, she is one of the well-known names in Hindi television industry and as well as in Bollywood.
She is well known for portraying the character of Veera Kaur Sampooran Singh in the popular Star Plus TV series "Ek Veer Ki Ardaas…Veera". She has written a novel, 'Nixie the Mermaid and the Power of Love'. She was one of the youngest contestants in the reality show 'Bigg Boss 9' on Colors TV.
Digangana is the only actress who had debut in Bollywood with two movie releases on a same day .. she has worked in the films like "Fryday" and "Rangeela Raja" opposite the legendary actor Govinda and have also done Mahesh Bhatt film "Jalebi" opposite Varun Mitra.
Her Tamil debut "Hippi" which is directed by TN Krishna and Produced by Kalaipuli S. Thanu(Kabali Producer), where she plays the role opposite to the lead Tamil actor Kartikeya Gummakonda, who got fame from 'RX 100', has been a great success.
Women Fitness had the wonderful opportunity to speak with the stunning actor, Digangana Suryavanshi and get to know more about her life, dreams and Telugu debut!
Ms. Namita Nayyar:
You are a well-known name in Hindi television industry and as well as in Bollywood, best known for portraying the character of Veera in the popular Star Plus TV series "Ek Veer Ki Ardaas…Veera". Introduce us to your acting journey. How did it all start?
Ms. Digangana Suryavanshi:
I always wanted to become an actress because I saw my mom watching TV me always wishing to be in it. So my mom always told me that there are really good actors and I'd be like what actually an actor is. And she'd tell me anybody who can laugh when they want to cry or cry when they want to laugh, that's called acting. That's probably the simplest way she could explain to a five year old child and I've always been insisting my parents that you put me in it, so one fine day they just recorded a video of mine and they played it and then I went to my neighbours asking am I in your tv and they were like no so I said this is cheating.
Since then I realised and I told them that I wanted to be in their so they took me for auditions and they put a condition and that listen you're going to act but you have to make sure that you also study, so it was always the frame of mind that I can't really quit studying so that's probably one of the biggest reasons why that I'm still studying. I'm in my B.A. 3rd year.
But I made it a point that none of my business or acting career gets affected. That's probably one of the biggest
reasons because since I was a child, it kind of got stuck in my head that you can do it yourself and you know kids believe a lot in superpowers than we do but as a child I believed and then I continued believing in it.
It's been fourteen years, I started acting when I was seven and I'm 21 now so yes technically.
So I denied using glycerine or any other substance to cry because I always thought that that's not the way to it and that became like for me.
So it was when I was 16, I remember we were looking for my sixteenth birthday party location. We were really involved in it when I got a call from the production heads pretty late at night, we met them, and my parents were with me, and I auditioned and they liked it and we actually signed it in a day's time, it was really quick but yeah Veera was my first major show, and I had just turned sixteen, so it was huge.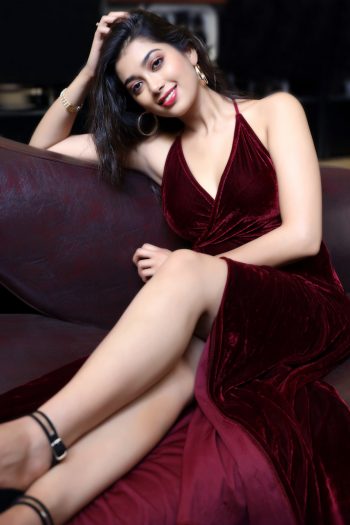 Ms. Namita Nayyar:
We are super excited for your recently released Tamil bilingual movie "Hippi"! Give us some details about the project.
Ms. Digangana Suryavanshi:
Hippi is a film where the director and the producer, the basic team like the DOP, the designers are basically from the Tamil industry but it is director and the producer who wanted to do in Telugu, so it's going to be big and exciting and it's a very ambitious project. It's a love story and it's not something that I have done before in television or in films, it's very fresh and it's very young, it's very today that's what I can tell you and promise you it's going to be a different one for me for sure and really looking forward to it, it's also my first Telugu film.
I've just enjoyed the process so much because it's a lovely script and I've enjoyed it thoroughly.
I mean I got the lines right and I have a lot of dialogues in the film and so you have to do a lot of lines. I remember doing about four or five days of workshop sitting down with the writer, associate director and director to get the lines right. I definitely always wanted to work with Thanu sir, Kabali as a film and of course Rajnikanth sir, it really stayed with me, I'm grateful that this happened! Krishna sir is a wonderful director, I remember him mention that he auditioned about 80-90 girls before my meeting with the team and I'm glad that he has been so confident about me and RD sir our dop makes the film, every single frame so beautiful!
And yeah so I'm very excited about my Telugu debut, it's opposite Kartikeya, from RX 100, he was great to work with. I didn't feel like for a moment that I probably don't know their language or I don't get them, we've shot in Hyderabad, Chennai, Sri Lanka. I still have schedule to go and it's been great, it's going to be out this summer.
This interview is exclusive and taken by Namita Nayyar, President womenfitness.org and should not be reproduced, copied or hosted in part or full anywhere without an express permission.
All Written Content Copyright © 2018 Women Fitness Org