By Manoli Mehta
Herbs that most of you can grow in the backyard can do more than adding flavour to various dishes. Apart from enriching the taste and flavour of the dish, they can be used as natural remedies to deal with various health problems. Also, these greens are low in calories and easy to digest.
Four Healthy Greens you must always keep in your Kitchen Cabinet.
CORIANDER
Coriander is a wonderful source of dietary fiber, manganese, iron and magnesium as well. In addition, coriander leaves are rich in Vitamin C, Vitamin K and protein. They also contain small amounts of calcium, phosphorous, potassium, thiamin, niacin and carotene.
Here are some of the health benefits of coriander leaves: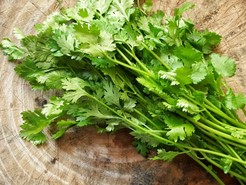 Coriander lowers bad cholesterol (LDL) and increases the levels of good cholesterol (HDL).
A very good food for digestive system, coriander promotes liver functions and bowel movements.
Coriander is good for diabetes patients. It can stimulate the insulin secretion and lower the blood sugar levels.
Coriander contains anti-inflammatory properties. This is why it is good against inflammatory diseases such as arthritis.
Coriander seeds are especially good for the menstrual flow.
Coriander helps those suffering from anaemia. Coriander contains high amounts of iron, which is essential for anemic patients.
MINT
Refreshing, zingy and delightful, a dash of mint can make almost anything right, don't you agree. Indians, especially are no stranger when it comes to mint. We use it in our chutneys, raita, and even garnish our biryanis with the cooling herb. Mint has very powerful antioxidant properties. The leaves can be juiced or made into a raita. In summers, one should particularly add mint to their diet.
Here are some mint benefits you may not have known: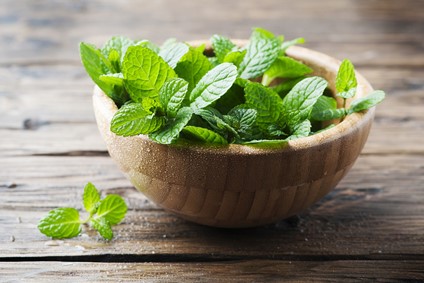 Aids Digestion
Mint can work wonders for almost all your digestive problems. Menthol, which is the active oil in the mint, has antiseptic and antibacterial properties that help relieve indigestion and also soothe an upset stomach
Treats Common Cold
Struggling with nasty cold and finding it difficult to focus and breathe? Try mint. Yes, there is a reason why your vapo-rubs and inhalers are often available in mint. Mint is known to clear congestion of the nose, throat, bronchi, and lungs. In addition to the respiratory channels, mint's anti-inflammatory properties also relieve the irritation caused by chronic coughing
Oral Care
Picture this, you have a presentation to make and you have just tucked in a gobhi paratha and garlic chutney. You cannot be entering the presentation room with a tainted breath now, can you? Chewing on mint tablets or mint leaves could help freshen your breath instantly due to the presence of germicidal properties. It also does wonders for our overall oral health. It inhibits bacterial growth inside the mouth, and cleanses the plaque deposition on teeth
Skin Care
Mint is a traditional remedy for treating acne and pimples. It has potent anti-inflammatory and anti-bacterial properties which work wonders on acne prone skin. Mint leaves contain a high content of salicylic acid, which is excellent in combating acne action too.
CURRY LEAVES
Your kitchen garden is a powerful storehouse of essential herbs and greens that not only lend flavours to your meals but also help you keep away numerous health issues or even manage them. That is why you must pay attention to your kitchen garden, especially the beneficial herbs like curry leaves that you have grown.
Ways to use Curry Leaves: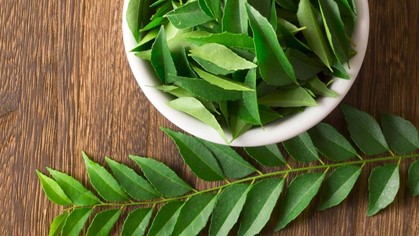 Nausea
Fry them (six fresh curry leaves, washed, dried and then fried with half teaspoon ghee), cooled and eat (chew them).
Bad breath
Fresh five curry leaves, chew for five minutes, then rinse mouth with water.
Diarrhoea
Make a paste of 30 leaves and mix in buttermilk and have it.
Diabetes
Make a chutney of it which can be eaten with food, in a roti roll or mixed in anything.
Mouth ulcers
Curry leaf powder is mixed with honey and applied over mouth ulcer.
TULSI
Tulsi has proved to be highly effective in protecting our body from various infections and diseases of the heart, liver, skin, kidney, etc. So, Tulsi is rightly called the 'Queen of Herbs'.
Some ways in which you can use tulsi leaves are: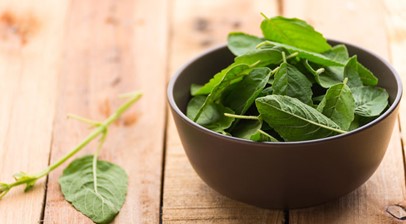 Good for Heart Health:
Tulsi has a profound effect on the treatment and prevention of cardiovascular diseases by means of lowering blood lipid content, suppressing ischemia and stroke, reducing hypertension, and also due to its higher antioxidant properties.
Natural Immunity Booster:
Tulsi is rich in Vitamin C and zinc. It thus acts as a natural immunity booster and keeps infections at bay. It has immense anti-bacterial, anti-viral and anti-fungal properties which protect us from a variety of infections. Tulsi leaves extract increases the T helper cells and natural killer cells activity, boosting the immune system.
Reduces Fever (antipyretic) & Pain(analgesic):
Tulsi has anti-bacterial and anti-viral properties which help to fight infections, thus reducing fever. The fresh juice of Tulsi taken with black pepper powder cures periodic fevers. Tulsi leaves boiled with powdered cardamom(elaichi) in half a liter of water and mixed with sugar and milk, are also effective in reducing temperature. Eugenol, a terpene with pain-relieving properties found in Tulsi reduces aches in the body.
Reduces Cold, Cough & Other Respiratory Disorders:
Camphene, cineole, and eugenol present in Tulsi help to reduce cold and congestion in the chest. Juice of Tulsi leaves mixed with honey and ginger is effective in bronchitis, asthma, influenza, cough, and cold.
Reduces Stress & Blood Pressure:
Tulsi contains compounds Ocimumosides A and B. These compounds reduce stress and balance the neurotransmitters serotonin and dopamine in the brain. The anti-inflammatory properties of Tulsi reduce inflammation and blood pressure.
How to Consume Tulsi?
Consume Tulsi leaves raw, plucked fresh from the plant, add it in your tea or make kadha out of it.
Tulsi tea: To make tulsi tea, boil 1 cup of water and pour it over 1 tsp of fresh tulsi leaves, 1/2 tsp of dried tulsi leaves, or 1/3 tsp of tulsi powder. Cover the water in a pot or mug and let it seep for 15-20 minutes. Then strain the leaves, add honey if desired, and enjoy.
Tulsi powders and supplements are also available in the market for consumption.
The need of the hour is a balanced diet which builds our resistance to diseases, keeps us strong and safeguards us from disease-causing germs. Vegetables, milk, egg, fish contribute to fortify our immune system but at the same time the benefits of greens cannot be underestimated.
Make sure you are incorporating these greens into your daily diet to gain maximum health benefits and stay strong.