By Dietitian Manoli Mehta
Founder of Tattvum – Discover Wellness
FRESH CORN BHEL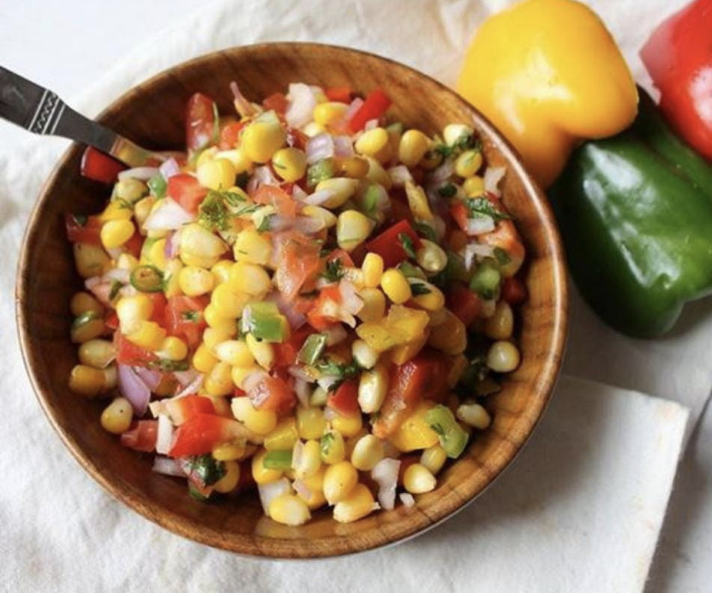 A chunky chaat with corn, sev and onions mingled in a tangy chutney.
Ingredients- 2 servings
1 cup sweet corn – boiled
1 tbsp. sev (optional)
1/2 cup onions-chopped finely
2 Tsp. coriander-chopped
2 tsp lemon juice or to taste
2 Tbsp mint coriander chutney
1 Tbsp tamarind past
Salt to taste
1 tsp chilli powder
METHOD-
1.Dilute the chutney with water, thin enough to mix well into the dry mixture.
2.Mix the corn, onions, potatoes, half the coriander, lemon juice and chutney.
3.Garnish with the sev and coriander and serve
HARA MASALA KEBABS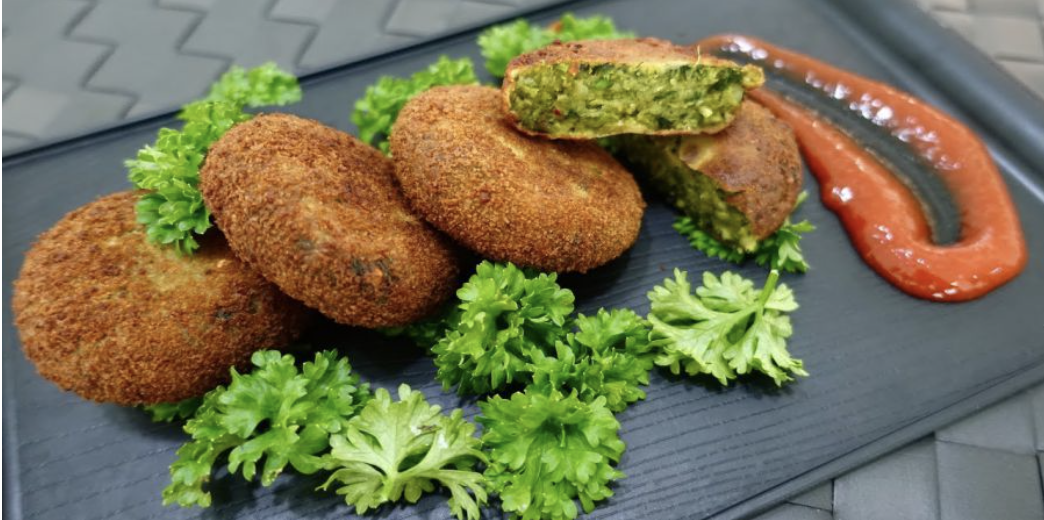 Ingredients- 2 servings
2 boiled potatoes/sweet potatoes
50 gm spinach
100 gm green peas
2 tsp cumin seeds
2 tsp coriander seeds
Salt to taste
1 knob ginger
2 cloves garlic
A small bunch fresh coriander
1 green chilli
1 lime
1 tsp turmeric powder
1 tsp chaat masala
4 Tbsp cornflour
4 Tbsp bread crumbs
Salt to taste
2 tsp oil to shallow fry
METHOD-
1.Boil the water with salt. Add spinach and green peas into it.
2.Strain them and keep them in cold water for some-time.
3.Dry roast cumin and coriander seeds together in a pan. Pound them in a mortar and pestle.
4.In a blender add boiled potatoes, salt, dry roasted spice, fresh ginger, garlic, fresh coriander, green chilli, lime, turmeric powder, chaat masala, blanched spinach and green peas and little refined oil. Blend them together.
5.Put them in a bowl. Add salt, corn flour, bread crumbs, lime juice. Mix them well.
6.Make round patties of it.
7.Shallow fry the kebabs and serve Hot.
DRY FRUIT LADOO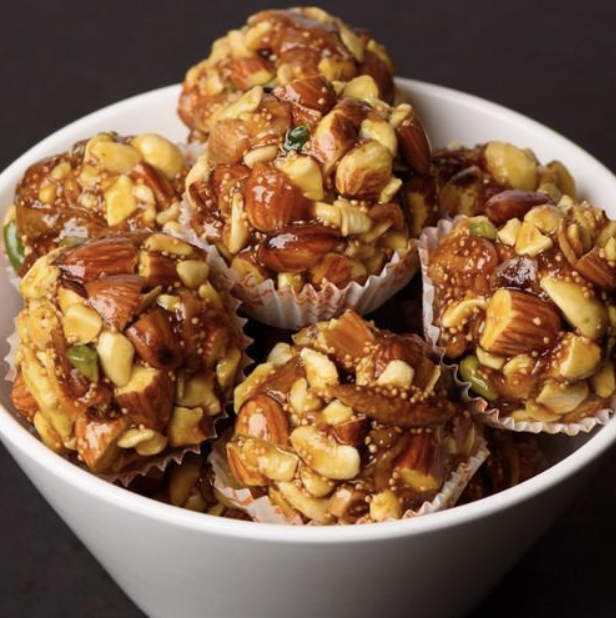 Ingredients- 2 servings
2 tsp. almonds
2 tsp. cashews
2 tsp. raisins
Poppy seeds as required
1 1/2 tablespoon ghee
Pistachios As required
2 tsp. walnuts
2 tsp. raw peanuts
3 dried dates
1 tbsp. oats
METHOD-
Step 1
Place a pan over medium flame and once it's hot enough, dry roast walnuts, pistachios, peanuts, raisins, cashews and dried dates for a few seconds. Remove from the flame now and pour them in a grinder jar. Grind it on a high speed and form a coarse powder out of it.
Step 2
Turn on the gas flame and pour ghee in the same pan over medium flame. Once the ghee is hot enough, pour this powder in it along with oats and poppy seeds. Sauté for a few minutes over medium flame till you have lumps formed from this mixture.
Step 3
Turn off the gas knob now and keep it aside. Let the mixture cool down. After sometime, start making medium sized balls out of this mixture and store in an air tight container. Your sugar free dry fruit ladoo are now ready.
OATS CHIVDA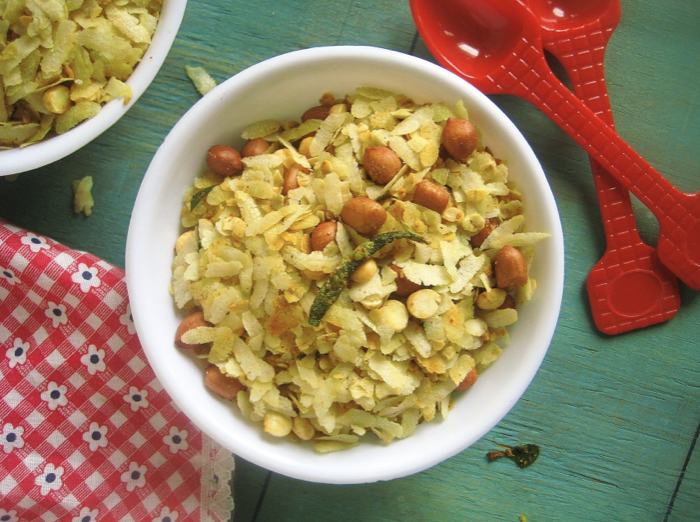 Ingredients- 2 servings
¾ cup rolled oats
3/4 cup poha or beaten rice or puffed rice or cornflakes
1 tsp. oil
3 tsp. peanuts or cashews
½ tsp. mustard seeds
½ tsp. cumin or jeera
1 red chili, broken
1 sprig curry leaves
1 to 2 green chilies
2 garlic clove crushed
2 tsp. dried coconut (copra) thinly sliced & chopped

 

Salt to taste
Red chili powder as needed
Turmeric as needed
1 pinch asafetida or hing
Optional 
2 tsp extra virgin olive oil or coconut oil
METHOD-
STEP 1
Dry roast oats until slightly golden. Set them aside.
STEP 2
Next roast poha in the same pan. Keep stirring until crisp and light. Set them aside. 
STEP 3
Heat oil and crackle mustard, cumin and red chili. Roast peanuts until golden. Add garlic, green chili and curry leaves.
STEP 4
When the garlic begins to smell good, add coconut until coconut smells good. 
STEP 5 
Add turmeric, chili powder and salt. Switch off the stove. Transfer poha and oats. Mix everything well.
STEP 6 
When the mixture cools down, add more salt if needed and pour little coconut or olive oil. Toss them. 
You can store the chivda in an air tight jar and use within 2 weeks.
JOWAR POPS/ SPICED JOWAR PUFFS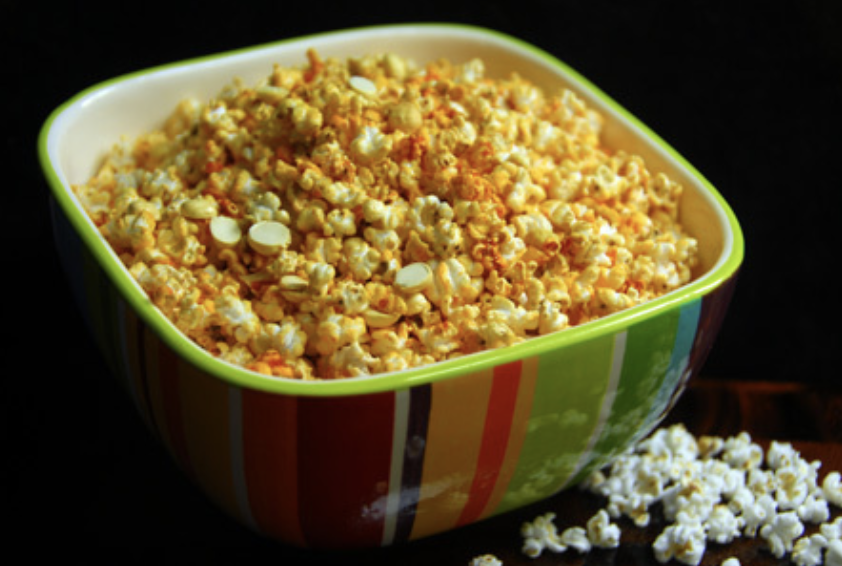 Ingredients- 2 servings
50g Jowar puffs
1 tbsp oil
¼ to ½ tsp red chili powder
Salt as needed
¼ tsp turmeric/ haldi
Optional
Roasted peanuts as desired.
METHOD-
Heat the jowar puffs slightly and allow the jowar puffs to cool completely.
Add oil to a wide mixing pan, heat the oil slightly and switch off. If you like to have some roasted peanuts in this, fry them in the same pan until golden. You can also add some chopped garlic and curry leaves if you like.
Add salt, chili powder and turmeric. Cool the ingredients in the pan, add the jowar puffs and mix.

 

Cool completely and store them in an air tight jar. Keeps good for 2 to 3 weeks.

 
SATTU KE LADDOO – MULTIGRAIN LADDU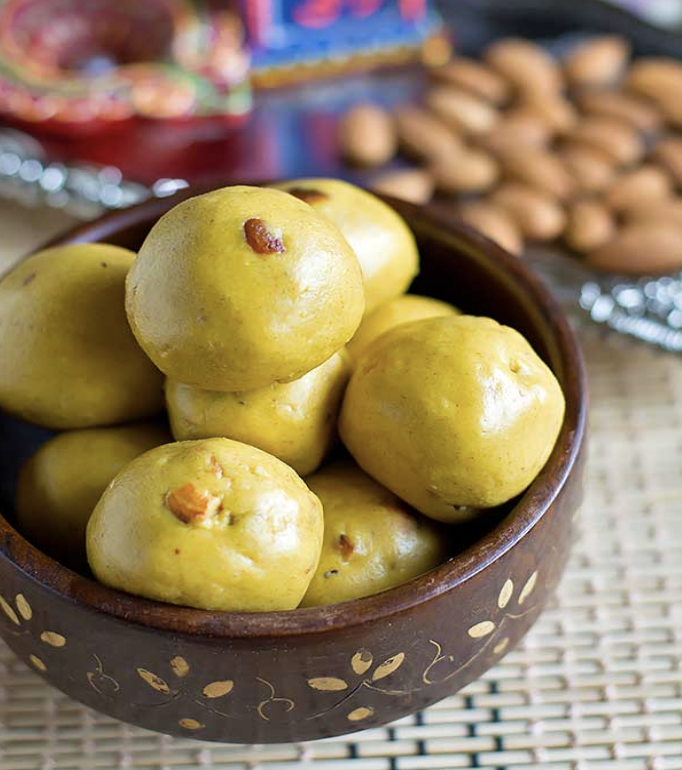 Ingredients- 2 servings
½ cup Sattu flour
¾ cup Jaggery Powder
¾ cup dates, pitted
½ tsp Cardamom Powder 
Tbsp Ghee (as needed to make laddu.)
chopped Almonds
3 chopped Pistas
2 chopped Cashews
HOW TO MAKE THE LADDOOS
STEP 1
Take a thick bottom pan and add 1 tsp ghee followed by all the nuts. Fry them till they turn golden brown and keep aside. 
STEP 2
Add Sattu mavu flour or multigrain powder and start roasting the mixture on low flame for 3 – 5 minutes.
STEP 3
Add Jaggery Powder, dates, cardamom powder and mix all the ingredients. Mix and heat all the ingredients for another minute or two.
STEP 4
Transfer the mixture to a bowl and add nuts.
STEP 5
Apply some ghee on your hand too to avoid burning while making balls using the hot ingredients. Shape the laddoos and keep aside to cool. 
HAPPY DIWALI  !!!