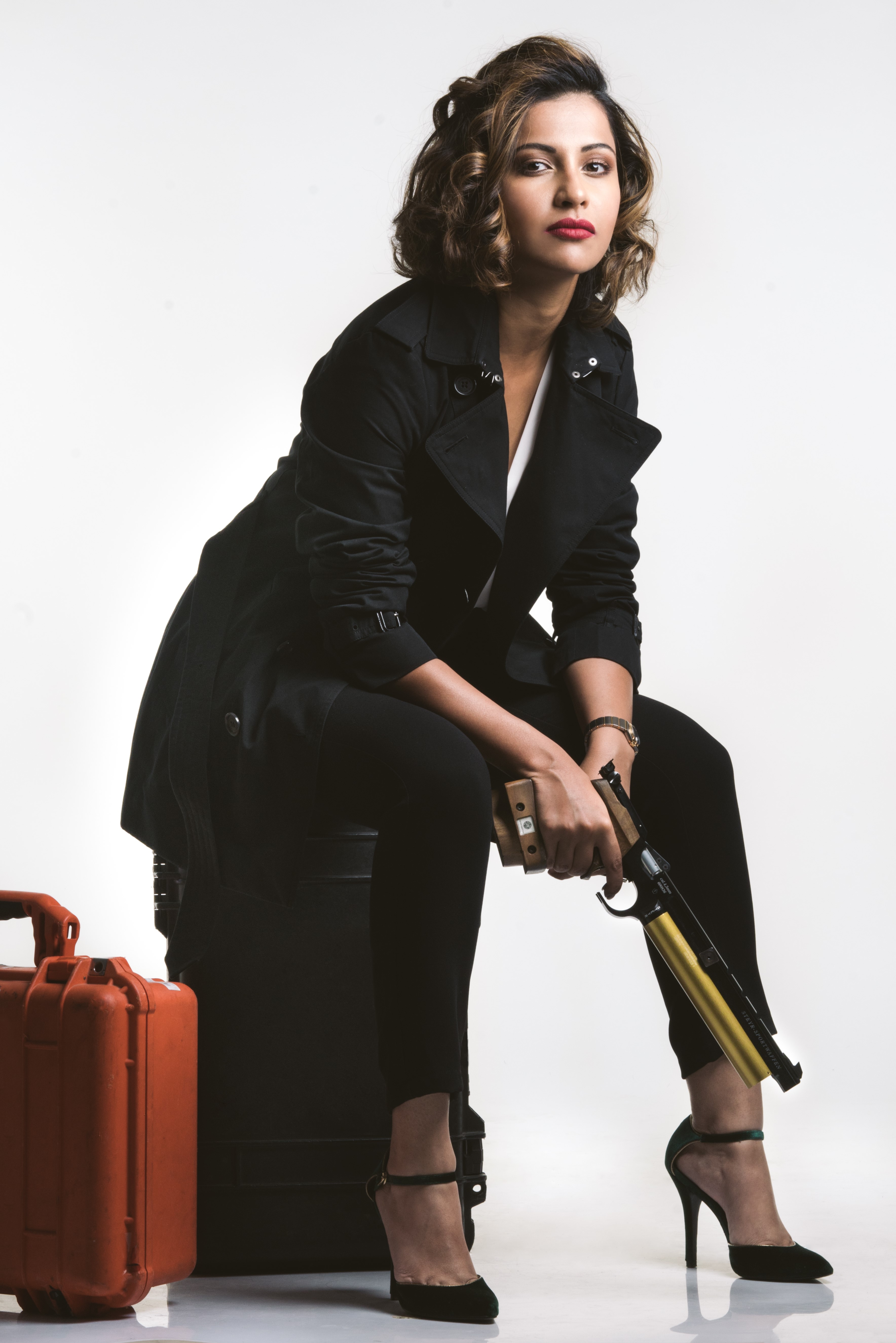 Being a dental surgeon by profession, this Indian pistol shooter is breaking all records with her ground breaking performance. At the 2018 Commonwealth Games, Heena Sidhu won a silver medal in the women's 10 metre air pistol event, and a Gold medal in the women's 25 metre air pistol event. She broke the Commonwealth Games record of 38 in winning the gold medal.
Women Fitness India recently got the wonderful chance to speak to the Arjuna Award winning shooter about her journey in this sport, how her husband is her biggest supporter and some things that she has never spoken about, ever before, so stay tuned.
Ms. Namita Nayyar:
You are the first Indian pistol shooter to reach number one in world rankings by the International Shooting Sport Federation. Share with us your journey in the world of sports. How did it all start? Girls have to overcome a number of obstacles both on personal & sports level to achieve recognition, do share some moments of struggle to serve as an inspiration for others sports person?
Ms. Heena Sidhu:
My journey in pistol shooting has been for twelve years now and what started out as a hobby later turned into my profession. I choose shooting over dentistry because I thought I can be a better shooter than a doctor, I can serve my country better as a shooter than a doctor. During this journey I learned that in a sport like shooting which is such a mental sport has evolved me as a person you take wins and losses with a pinch of salt. This journey has been  the most beautiful part of shooting and my quest for perfection .It was this quest for perfection that helped me reach world number 1 ranking , I was the first Indian pistol shooter. I never planned for it but it was part of the journey that I worked hard every day to make my tomorrow better than today.
It was the same in world number 1 ranking it came to me as a surprise, I was told by the reporters. It came because of my world cup final medal and world cup silver medal later. You can never decide you want to be world number 1, You just have to go by the rules of the journey and get better
Shooting has taught me many things that you can apply in your everyday to get better at everything. It is a never ending process you can never say that I am world number one or I know everything. The journey keeps going on and on and that's the beauty of it.
As a girl I had to overcome some obstacles on my way, there were not too many. I have seen girls fighting against all odds, fighting against the society, their parents, their in-laws, husbands, brothers and all sorts of people to be what they dream of. Some girls even leave their dreams midway because the fight was just too hard and people trying to pull them down were stronger. In the past 12 years, as a woman I feel I was able to reach this level because I was always a very independent girl. That is how I have brought up to take my own decisions and then work very hard to give your best, be it my medical studies or shooting. I have always told myself that if someone supports me it's like a bonus, but I will not wait for someone. If you get support in life that's good, but if you don't that's good too. I feel that God doesn't give you problems that you can't handle, you are stronger than you think you are. The day you decide that I will not let a problem stop me, it can never stop you. It is harder for women because we can take that, we are much stronger than the men, we can still move on and still make a difference in the world and show them what we are capable of and for this spirit we will always be remembered for a movement much bigger than us.
Ms. Namita Nayyar:
You were a member of the Indian team to the 2012 Summer Olympics in London, where you competed in the women's 10 metre air pistol event, becoming an inspiration for thousands of women who look up to you. What is a day like in the life of Heena Sidhu both while training for competitions and on a daily basis?
Ms. Heena Sidhu:
I wake up in the morning, I do some meditation, get my breakfast and get ready to go to the range. The training starts from 9 to 1 p.m. After lunch I come back have a nap and then I go the gym, do another round of mediation or visualization for mental strength. Till I get finished it's already 7 p.m., so I have dinner and go to sleep.
If I'm on a break, I go the gym in the morning around 10 and I like to go out to restaurants, try new things. I love reading and wildlife. So I take trips to forests, jungles or tiger reserves and click pictures enjoy wildlife and photography. Or I would go home and enjoy time with my family, which I rarely get time to, so I go to Punjab. I also have a house in Pune, so I go there for 1 or 2 days to relax and play my play station or do cooking, which I really enjoy. I like to cook for rejuvenation. I like to bake and grill, and trying new cuisines. Sketching and painting is also something I used to love doing when I was younger, but now since I'm travelling, it's difficult to travel with your paints, brushes, etc. I have also done an interior designing course online, so my house in Pune has been completely designed by me, specifically for the purpose of shooting, training and so that the house feels relaxing whenever I come home. I'm very passionate about art as it's such a good way to relax yourself, it can really touch your soul.
This interview is exclusive and taken by Namita Nayyar, President womenfitness.org and should not be reproduced, copied or hosted in part or full anywhere without an express permission.
All Written Content Copyright © 2018 Women Fitness Org