Inflammatory bowel disease (IBD) is a group of chronic bowel diseases, including Crohn's disease (CD) and ulcerative colitis (UC), that typically presents in young adulthood; 50% of patients are diagnosed before 35 years of age.
Good nutrition before and during pregnancy is important for having a healthy baby, but can be challenging with IBD. This is especially true with active IBD since bowel inflammation and diarrhea can prevent proper absorption or the loss of nutrients. It can reduce your appetite and make certain foods harder to digest.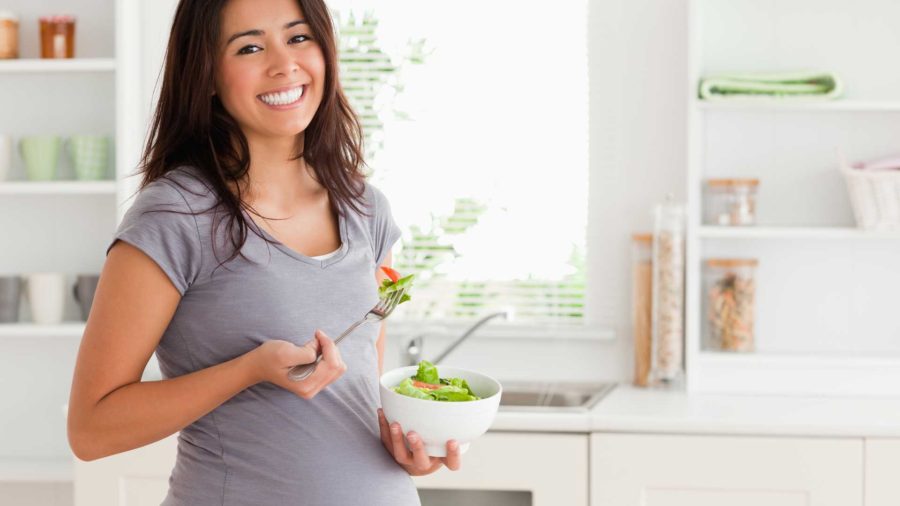 What to eat During Pregnancy with IBD

Since protein, iron, calcium and folic acid intake are needed for a healthy pregnancy, you will have to adjust your inflammatory bowel disease diet while expecting.
Pregnancy-approved nutrient and their dietary sources
Protein: Red meats, poultry, fish, tofu, eggs, lentils & quinoa
Iron: Red meat, poultry, fish, spinach, leafy greens & beans*
Calcium: Milk, yogurt or cheese or calcium-fortified cereals & juices
Folate: Cereals, breads, legumes, leafy greens & citrus fruits
*Tip – Increase iron absorption by consuming iron with vitamin-C rich foods such as oranges or fruit juice. Also avoid consuming plant-based iron sources at the same time as dairy since calcium can inhibit iron absorption.
Weight Gain During Pregnancy

An expecting mother, needs to eat more than she did before becoming pregnant to make sure that the baby gets all the nutrition he or she needs. Most women only need to increase caloric intake by 200-300 calories a day during the first two trimesters and by 500 calories during the third trimester.
However, if you are underweight or have active IBD, you may need to increase your daily caloric intake by an additional 10% to 20%. This is because underweight mothers have an increased risk for underweight or preterm babies. Therefore, it's important to talk to your doctor and work with a dietician, preferably one with IBD experience, when planning for pregnancy.
What Not to Eat?

When expecting, you may be more susceptible to serious foodborne infections, including listeria and salmonella. Therefore, you should avoid the following foods throughout your pregnancy:
All raw or undercooked meat, eggs and seafood (including sushi)
Unpasteurized milk or foods that contain unpasteurized milk (common in restaurant desserts)
Luncheon meats, smoked seafood and pâtés (meat pastes)
Note:
Talk to your doctor about what both you and your baby need to eat and avoid in order for the two of you to thrive during pregnancy. This can vary greatly from one patient to another with IBD, especially when taking into consideration dietary restrictions that are a result of faith or allergies. Talk to your doctor about a strategy that is right for you specifically.