Maha Shivratri means the 'Great Night of Shiva'. According to popular beliefs, the day marks the consummation of Shiva's marriage. Check out 5 popular recipes consumed by families during the celebrations.
Mahashivratri Fasting Rules and Foods You Can Have
Many devotees observe a nirjala vrat, where they do not consume even a drop of water or a morsel of food until they break their fast. But nirjala vrat is not suited for everybody, especially if you are sick, old or pregnant – you should refrain from fasting. Majority of devotees opt for a 'Phallar' fasting, where they consume fruits and milk. Others prefer light sattvic meal.
Foods you can try for e.g. seasonal fruits like ber (jujube), guava, grapes, apples and banana. Try recipes like, Kheer, shrikhand, lauki halwa, and other dishes made with pseudo cereals and grains that are categorized as fasting foods.
Pumpkin Soup with Pesto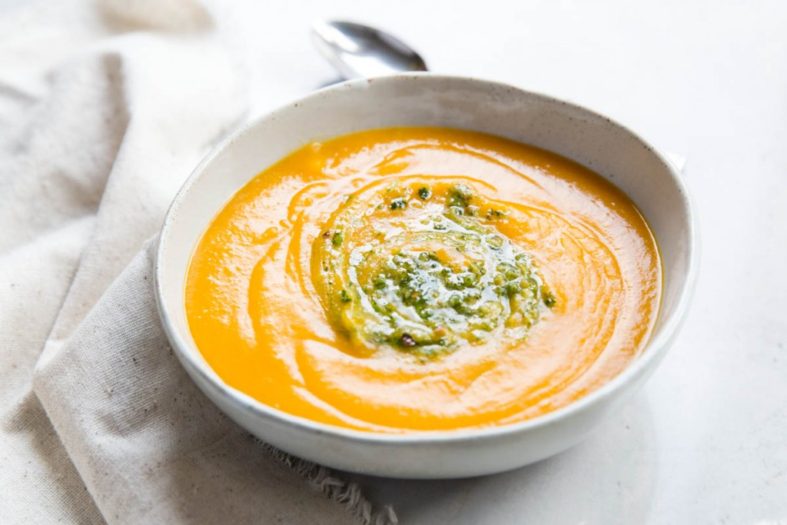 Ingredients:
1/2 of pumpkin
small ginger
1/4 cup of olive oil
1/2 cup of almond milk
salt/pepper
Pesto:
handful of fresh basil
1/2 cup of pine nuts
small garlic (optional)
1/2 cup of olive oil
salt
Method:
Cook peeled and chopped pumpkin with salt and ginger in small amount of water. Once soft blend using a hand blender or Vitamix. Add almond milk and black pepper.
Mix all together in the Vitamix. Pour it over the pumpkin soup. Enjoy with micro greens.
Turmeric Milk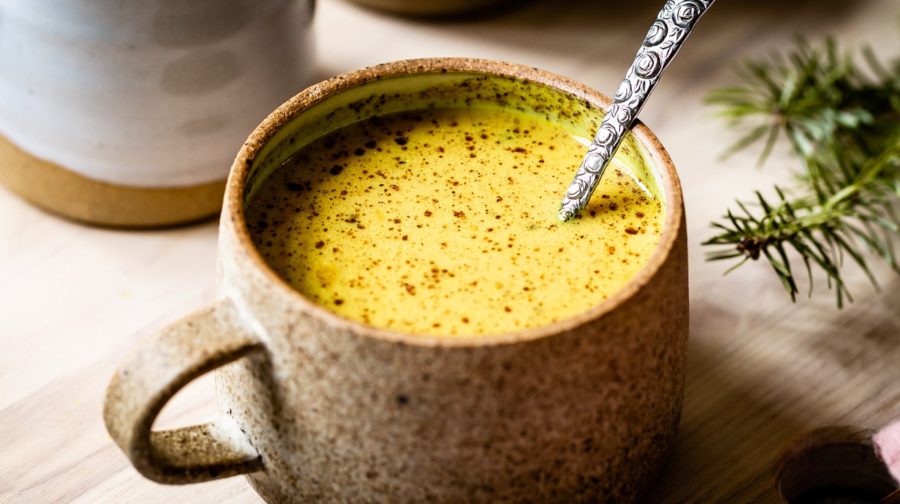 Ingredients:
1-inch Fresh turmeric root or 1 teaspoon turmeric powder
220 ml Milk
Honey, or sugar to taste
Black pepper powder, (optional)
Method:
To begin making the Turmeric Milk (Haldi Doodh), bring the grated turmeric root/ haldi and milk to boil for a couple of minutes.
Once the turmeric milk boils, turn off the heat and allow the turmeric milk mixture to rest for a couple minutes. This will bring out the essential medicines and color from the turmeric.
After a couple of minutes of resting, strain the turmeric milk from the turmeric root into a glass, stir in sugar / honey and black pepper and serve the Turmeric Milk while still hot.
Note: If you are using turmeric powder, you just have to boil the milk with the powder, add in the sugar/ honey and serve as it is. You don't have to strain the milk.
Khandavi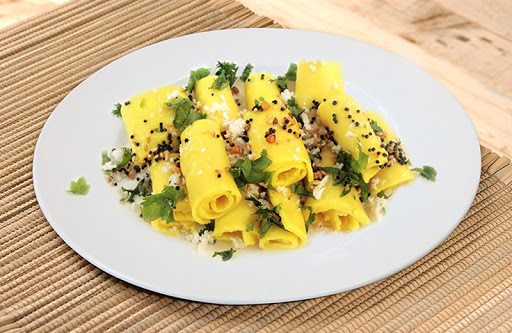 A light and delicious Gujarati snack.
Ingredients:
Water chestnut flour (Shingada) – 1 cup
Buttermilk – 4 cups
Ginger-green chilli paste – ¼ tsp
Rock salt – 2 tsp
Turmeric powder – ¼ tsp
Mustard seeds – 1 tsp
Asafoetida – a pinch
Oil – 2 tbsp
Coriander leaves – 10 nos.
Grated coconut – for garnishing
Method:
Sieve the water chestnut flour into a bowl.
Mix the flour with the ginger-green chilli paste. Add salt, turmeric powder and buttermilk to it and combine until no lumps remain.
Cook this mixture in a thick bottom pan for about 8-10 minutes on medium flame. Keep stirring continuously until it becomes a smooth thick batter.
Quickly spread portions of the mixture over inverted plates or a marble tabletop, as thinly as possible while the batter is still hot.
Once it cools down, cut into two inches wide strips, and roll them tightly and place each piece on a plate.
Take a small pan, add the oil and heat it, add a pinch of asafoetida and mustard seeds and keep on heat till they splutter.
When they splutter, pour the oil over the pieces of the khandvi. Garnish with scraped coconut and chopped coriander leaves.
Sama Rice Idli with Coconut Chutney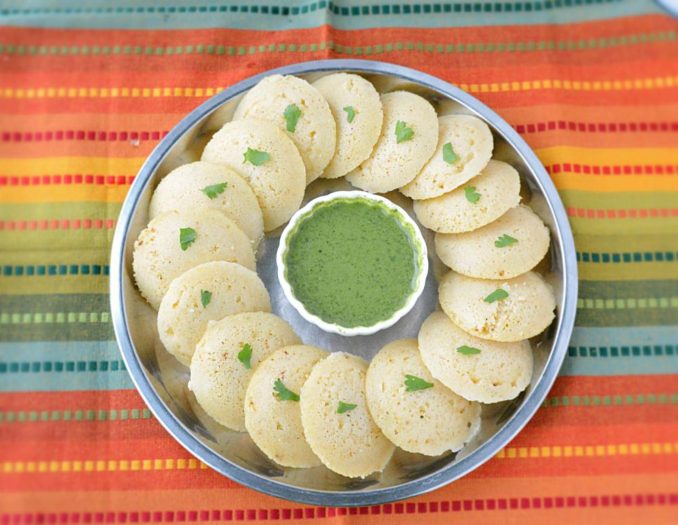 Ingredients:
1 cup Sama Rice
½ cup Thick yogurt
1 tablespoon Unsweetend desiccated Coconut
½ teaspoon Lemon Juice
1 teaspoon Roasted cumin seeds (optional)
½ teaspoon Crushed red chili flakes
2 tablespoons Finely chopped Carrots (omit if you do not eat in vrat)
½ teaspoon Citric acid
1 tablespoon Lemon Juice
½ teaspoon Eno (fruit Salt) or 1.5 teaspoon baking powder (see notes above)
Salt to Taste (Sendha Namak)
Oil to Grease idli moulds
Method:
Rinse sama rice or barnyard millets thoroughly under running water. Transfer sama rice to a bowl and add enough water to soak the rice. Soak for 2 hours.
After 2 hrs, drain and transfer it to a food processor.
Add other ingredients coconut, yogurt, lemon juice, carrots, and spices into the food processor. Pulse until smooth.
Heat water in a steamer pan. Lightly grease the idli molds.
Just before pouring the idli batter into the molds, add citric acid and ENO to the batter and whisk for 2-3 minutes until combined and frothy.
Spoon the sama rice batter into the greased idli molds.
Transfer the filled molds to the steamer pan, cover with the lid, and steam-cook for 6-7 minutes.
After the cooking time is over, insert the toothpick and check. The toothpick should come out clean.
Remove the hot idli molds from the steamer pan. Allow it to cool for a few minutes. Use the back of the spoon to gently remove the idlis from each mold.
Serve hot with coconut chutney.
Sweet Potato Kheer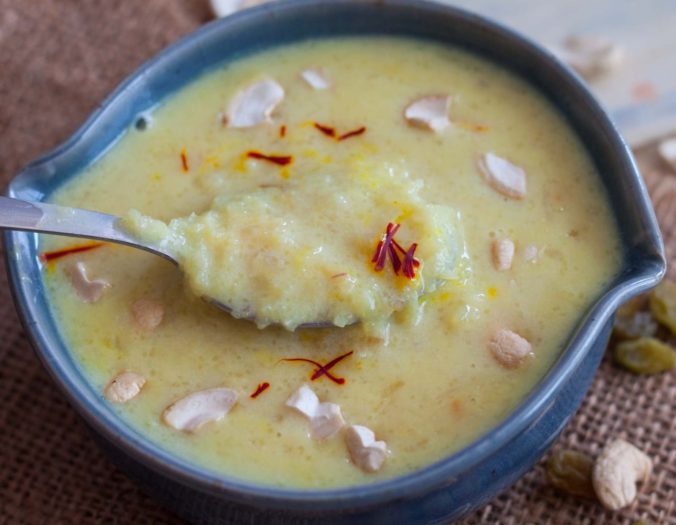 Ingredients:
Sweet Potato – peeled and grated – 3/4 cup
Milk – 3 cups
Dates – 8
Almonds – 10
Cardamom powder -1/4 tsp
Cashew nuts -5-6
Raisins -10
Preparation
Wash, peel and grate sweet potato.
Soak dates in 1/4 cup of hot milk for 15 minutes. Grind it to a smooth paste.
Soak almonds in hot water for 15 minutes, remove the skin and grind it to a paste.
Soak cashew nuts and raisins in hot water for 15 minutes. Drain and keep it aside.
Method:
Bring milk to boil, add grated sweet potato and cook stirring from time to time to prevent the sweet potato from sticking to the bottom of the pan.
Let the milk reduce to 2 1/2 cups. By that time the sweet potato will also get cooked well. If not, cook until it becomes soft.
Add ground almond paste and cook for a few more minutes.
Add cardamom powder, ground dates, cashew nuts, raisins, mix well and remove from heat.
Once it cools, refrigerate and serve chilled. Enjoy this guilt free dessert and satisfy your sweet tooth.
Note – Use full fat milk for creamy kheer. I used only toned milk.
Happy Fasting this Maha Shivratri.