A festival that is dedicated to the worship of Durga maa celebrated across India with lot of pomp and festivity for 9 days (and nights). According to holy text, on the fourth day of Navratri, by offering malpua to the Goddess in form of naivedyam (or bhog) and then partaking it as prasadam, improves the intellect and decision-making ability of all the devotees.
Every state in India has its own way to make malpua. Some add khoya and cream to the batter. While others use wheat and jaggery.
Malpua Recipe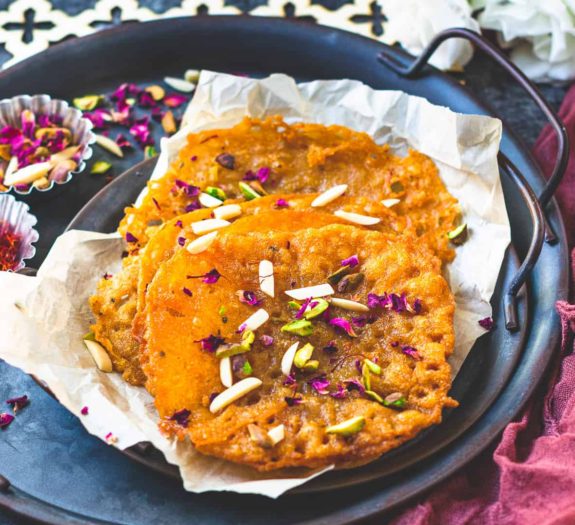 Ingredients
For the batter:
All-purpose flour / Maida – 1/2 cup
Sooji / Semolina – 1/2 cup
Sugar – 2 tbsp
Cardamom powder – 1/4 tsp
Baking powder – 1/8 tsp
Milk – 1 cup
Oil – for frying
For sugar syrup:
Sugar – 1/2 cup
Water -1 cup
Saffron threads – 8
Lemon juice – 1/2 tsp
Cardamom powder – 1/4 tsp
For garnish:
Pistachios chopped – 1 1/2 tbsp
Almonds chopped – 1 tbsp
Steps to Prepare
The dough
In a bowl, add flour, semolina, sugar, cardamom powder, baking powder and mix well.
Now, add milk little by little and whisk to form a batter. See that there are no lumps. Cover and keep it aside till you prepare the sugar syrup.
The sugar syrup
Heat sugar, water, lemon juice and saffron threads in a pan till you get single thread consistency.
Add the cardamom powder and mix well.
Frying the Malpuas
Heat oil in a non-stick pan for frying.
On a medium flame drop a laddle full of batter, 1 malpua at a time. Leave it undisturbed for a minute and then using a slotted spoon flip to the other side and fry till it is golden brown on both the sides.
Transfer this to paper towel to absorb any excess oil.
Repeat the process for remaining batter.
While they are still warm, soak each malpua in the sugar syrup for about a minute and transfer it to a serving plate.
Garnish it with dried chopped nuts of your choice. You can also serve this with rabri or whipped cream.
Malpuas (Malpura / Malpuri) are now ready.
Serve and enjoy.
Added Tips:
Use only no-stick pan for frying.
If you want to avoid frying, you can prepare pancakes from the same batter and then soak it in sugar syrup.
After the batter rests, if you feel it is thick, add 1 or 2 tbsp of milk.
Fry on a medium flame to get a nice golden brown color.
Happy Navratri.