Maulika Sharma is a certified personal trainer, sports nutritionist, and exercise recovery specialist. She's been helping people from all areas of life improve their fitness as well as cure lifestyle-based diseases.
She's also extremely passionate about MMA and won her first fight last year. She's been working on improving her combat skill ever since.
Women Fitness India gets in a candid chat with Maulika Sharma on her fitness, diet, and weight loss!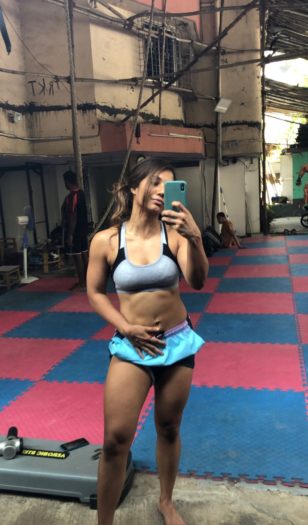 Ms. Namita Nayyar
You are an Instagram Model and a famous Certified Fitness Trainer and Nutritionist. How would you define yourself to your audience/followers?
Ms. Maulika Sharma
Yes, so basically ever since I started this page I wanted to portray myself in the most authentic way. We are often left in awe of social media and how everything is so perfect. I didn't want to portray the same, I wanted to show the real me to the world, talk about mental and physical wellness and connect with people more on fitness and mental health.
FULL INTERVIEW ON NEXT PAGE!
This interview is exclusive and taken by Namita Nayyar, President of womenfitness.org, and should not be reproduced, copied, or hosted in part or full anywhere without express permission.
All Written Content Copyright © 2022 Women Fitness Org