Skin cancer is of two types: melanoma and non-melanoma.
Melanoma is the most serious type of skin cancer, develops in the cells (melanocytes) that produce melanin — the pigment that gives your skin its color. Melanoma can also form in your eyes and, rarely, inside your body, such as in your nose or throat.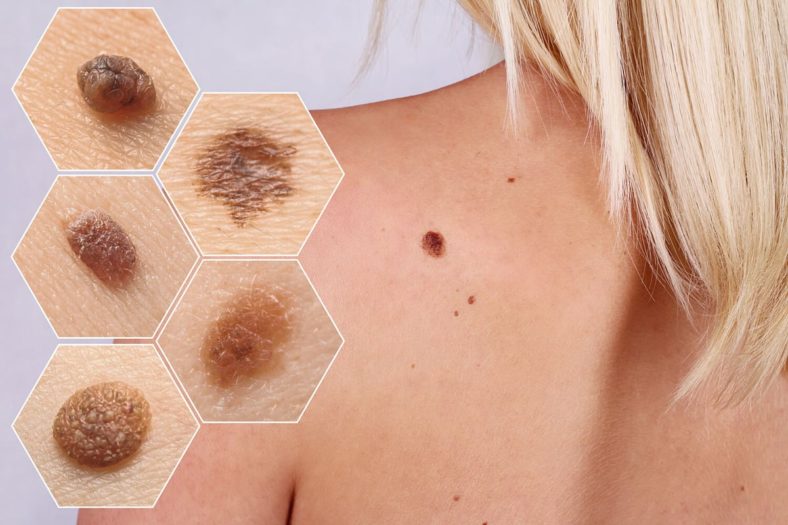 The warning signs of skin cancer can vary. Some symptoms are easy to spot, while others are more subtle and difficult to detect.
A change in your skin is the most common sign of skin cancer.
•a new or unusual spot or mark on your skin that doesn't go away
•a spot that oozes, bleeds, gets scaly or crusty, or doesn't heal
•a lesion that spontaneously bleeds without being picked at
•a mole with redness or swelling beyond its borders
•a mole with poorly defined borders
•a mole that grows or changes shape or color
•a hard lesion that doubles in size in a matter of weeks
•itchiness or pain in a certain area of your skin that persists or keeps returning
A simple way to remember the warning signs of Melanoma
For melanoma specifically, a simple way to remember the warning signs is to remember the A-B-C-D-Es of melanoma—
Asymmetrical: Does the mole or spot have an irregular shape with two parts that look very different?
Border: Is the border irregular or jagged?
Color: Is the color uneven?
Diameter: Is the mole or spot larger than the size of a pea?
Evolving: Has the mole or spot changed during the past few weeks or months?
Talk to your doctor if you notice changes in your skin such as a new growth, a sore that doesn't heal a change in an old growth, or any of the A-B-C-D-Es of melanoma.
Regularly checking your skin for signs of skin cancer can help lead to an early diagnosis and increase your chance of successful treatment.
Treatment for melanoma depends on the grade and stage of the cancer, as it can spread to other parts of your body. It can range from surgical excision for stage 1 and 2 cancers, to immunotherapy, radiotherapy, and chemotherapy. Your oncology team will provide you with a treatment plan and talk you through your options.
Ref