Mellow blends the ancient wisdom of Ayurveda with the care of mother nature. At its core, they believe in the ancient wisdom that the body is a temple and to nurture our body with pure and natural products is an act of gentleness, love, and kindness. Mellow brings together the best of Ayurveda and modern science. The result is best-in-class, purest, and premium Ayurvedic products for all.
The journey of Mellow is Sujata Sharda's love for her young daughter that led her on a journey of discovery across Vaidyas (Ayurvedic doctors), botanists, herbal experts to find solutions to her daughter's hair problem. After many souls searching, she made the first Sesame hair oil- the hair elixir which was an instant success! In 2008, Sujata Sharda laid the foundation of their first factory, and thus Mellow was born. It has been 13 years since and still, Mellow stands for artificial and harmful chemical-free natural products to date.
Mellow has a wide range of beauty products in the face care, body care, and skincare range. Its products are also available in special combos and gift boxes.
Here are some of their most loved products from their customers:
Glow Pack: Glow Pack is a blend of herbs, grains & fruits to make one's skin glowing from within. It is packed with the goodness of Lentils, Papaya, Ashwagandha Extract, Aloe vera Extract and Multani Mitti (Bentonite Clay), Saffola Oil, and Rose Water among others. It reduces the fine lines, wrinkles, and tightens the skin. This densely, nutrient-rich pack, rejuvenates the deepest layers of skin, nourishes one's skin providing a healthier, vivacious look. It makes the skin soft and nourished which makes it glow from within.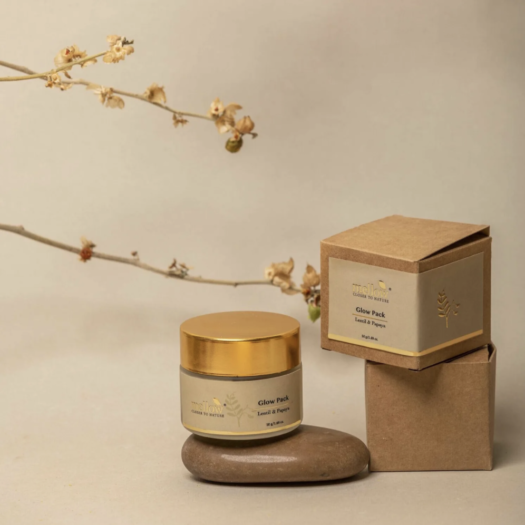 Benefits:
Deep cleanse the skin from within
Nourishes and brightens the skin
Brings a radiant glow to the face naturally
Price: Rs. 295
Available as a standalone product and also as a part of Face Care Essentials.
Sesame oil: It all started with this hair oil. Sesame Oil was the first product that led to the inception of Mellow. Mellow's Sesame hair oil is a premium blend of over 40 active natural herbal ingredients. It gives natural luster to hair, promotes hair growth, avoids split ends, and keeps dandruff at bay. Its ingredients include: bhringhraj that stimulates hair growth, reduces greying, treats hair fall and baldness, hibiscus which is rich in vitamin C and amino acids, amla which is considered as an Ayurvedic hair elixir, and Sesame that is rich in Vit E, antioxidants, and has an antibacterial, antiviral, and anti-inflammatory properties. The hair elixir also contains Chandan, aloe vera, camphor, and curry leaves among other ingredients. For best results, one needs to apply it at night, leave it overnight and rinse in the morning with a gentle shampoo.
Benefits :
● Gives a lustrous, natural shine to one's hair
● Stimulates hair growth
● Prevents dandruff and hair fall
Price: Rs. 425
Available both as a standalone product and as a part of Everyday Essentials.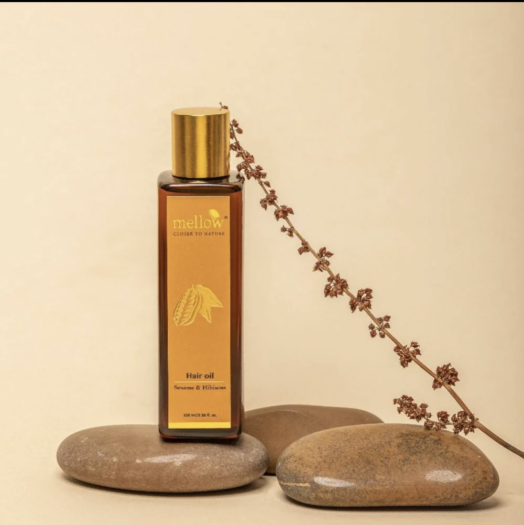 Sarson Ubtan: Sarson Ubtan, inspired by the age-old wisdom of Ayurveda combines the finest properties of milk and mustard. This natural face scrub is the perfect solution for dry and damaged skin. It gently cleanses the dead epithelial cells, cleans the pores, and stimulates blood circulation that rejuvenates the face leaving the skin soft and supple skin and makes the skin radiant.
It contains yellow brassica seed that lightens skin spots, acne scars and deeply cleanses one's skin, and cow milk which that enriched with B12 repairs tissues moisturizes the skin and promotes skin cell rejuvenation.
Benefits:
Removes impurities, cleanses the pores, and act as a cleanser
Hydrates the skin and gives one's face a vibrant glow
Reduces acne, dark patches and protects the skin against blackheads.
Stimulates blood circulation and rejuvenates the skin
Price: Rs 195
Available as a standalone product.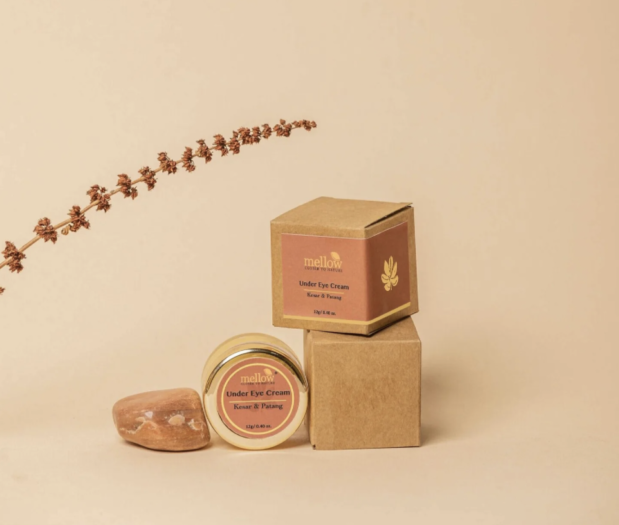 Under Eye Cream: Mellow Under Eye Cream is specially formulated to remove dark circles, heal the under-eye and keep it glowing. This natural cream brings together the goodness of natural herbs, vitamins, and organic essential oils. It replenishes and rejuvenates the under-eye skin, removes dark circles, and heals and rejuvenates the skin.
Its active ingredients include Kesar and almond oil among others. Kesar with its antioxidant properties and vitamins reduces pigmentation, brown spots, and other skin blemishes, while almond oil gives a natural glow and shine to the skin. Other active ingredients of Under eye Cream include PalasPhool which detoxifies and lightens the skin, patang that has anti-inflammatory properties, and laakh that promotes skin healing.
Benefits:
Minimizes dark circles and rejuvenates the under-eye area
Renders a healthy and even-toned skin
Reduces wrinkles around the eyes
Price: Rs 350
Available as a standalone product.
Apart from selling their products through their official website- mellow.co.in, they are also present on leading e-commerce platforms like Amazon, Flipkart, Smitten, and Qtrove. Their product range caters to all hair and skincare problems faced by all age groups.
Mellow Official Website: mellow.co.in
Instagram: https://www.instagram.com/mellow_herbals/
Facebook: https://www.facebook.com/mellowherbals/
Pinterest: https://in.pinterest.com/Mellowherbals/