Spinning is a great cardiovascular workout and can help build lower-body muscle strength if done by the rules.
1. Setting up the bike: If your handlebars are not quite in the right position, do not push through the whole ride in an uncomfortable position just because you weren't able to set up your bike in time or weren't sure of the right settings. It's best to stop pedalling, unclip from the pedals and adjust your bike before the next movement. Your legs should move in a circle with no jackhammer-like bouncing.
2. Holding the Handlebars: Gripping the handlebars too tightly can lead to hand, wrist and shoulder pain. Loosen your grip and relax your hands, elbows and shoulders to achieve a "softer" and more flexible feeling on the bike. Avoid stretching out and gripping the top of the handlebars when you're seated. Reaching for the tips of the handlebars when you're in the saddle can put strain on your lower back and pushes your tailbone towards the front, and more uncomfortable, part of the saddle. 
3. Hand Position: Rest your hands on the portion of the bars closest to you. The tips of the handlebars are for standing positions, such as climbing out of the saddle on a hill. The handlebars can help you balance, but it's your legs and core that will get you smoothly in and out of the saddle. If you're having trouble with jumps, try adding a bit more resistance and engaging your core.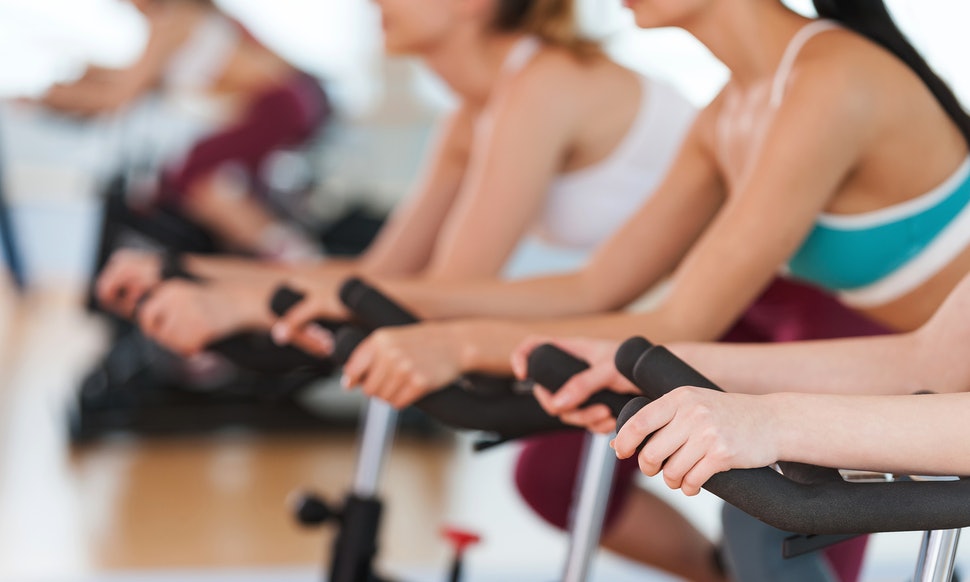 4. Toe Position: Pedalling with your toes pointed down can leave your feet feeling like they've run a marathon. Try to keep your feet parallel to the floor (that's what comes naturally to them) and focus on an even balance of pushing down and pulling up during your pedal stroke. 
5. Footwear:  Wear stiff-soled cycling shoes instead of sneakers to help you pedal and eliminate the pressure and fatigue caused by the pedals.
6. Saddle Placement:  To perform a quick check, place your pedals in the 6-o'clock and 12-o'clock positions and rest your heel on the lower pedal your leg should be straight, which equates to a 20- to 25-degree knee bend when clipped in. As a rule of thumb, if the front of your knee hurts, try raising the saddle a bit or moving it back in relation to the handlebars. If the back of your knee hurts, try lowering the saddle a bit or moving it forward a bit in relation to the handlebars. 
7. Keep the Spine Neutral: When you're performing standing movements, be sure to stand tall out of the saddle with your spine in neutral alignment. Floats, isolations or hovering your bum over the saddle may seem like a good way to rest, but it limits your power and can lead to hip, knee and back pain.
8. Avoid Upper Body exercises: While spinning, Cross-training is great but using bands or hand weights while you're riding really isn't safe, nor is it the best way to tone your upper body. Working your upper body is best done off the bike where you can focus on proper stance and form.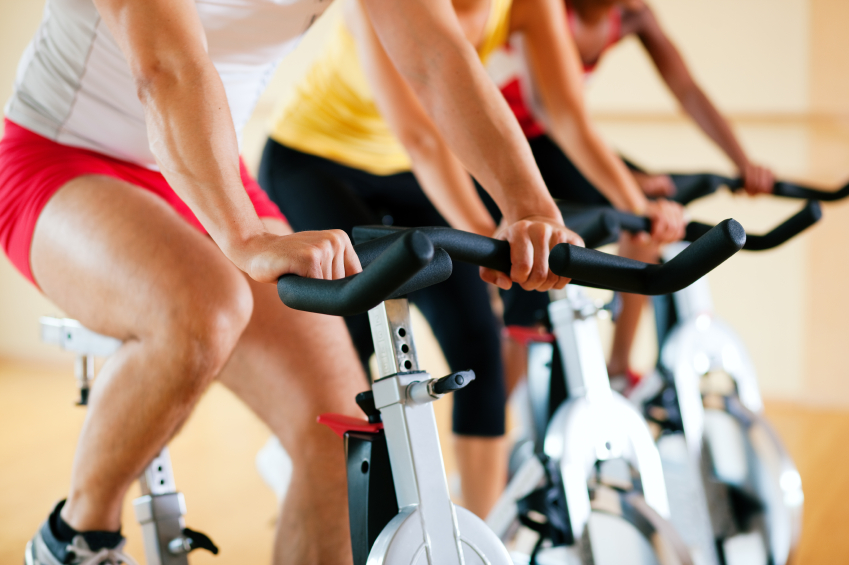 9. Duration: Avoid dragging the class up to 45 min. It's okay to stay for only 20 or 30 minutes of a class at first, until you are more comfortable and your endurance increases.
10. Neglecting Stretching: Stretching should not be avoided and is as important as the ride itself. Make sure to hold stretches between 20-60 seconds to allow for optimal relaxation of the muscle. If time is an issue, key muscles to stretch would include the calves, hip flexors and pectorals. The pectoral stretch can be performed on the bike, while the lower body stretches being performed off the bike.
Reference: