by Chef Reetu Uday Kugaji, Culinary Expert & Chef Consultant
Mothers are simply the best. So what better way to say "I love you, Mom" (or "Mom, I need you to jump my car again") than with an impressive, delicious homemade recipe? Chef Reetu Uday Kugaji shares her 5 favourite, healthy and wholesome.
'All that I am or ever hope to be, I owe to my Angel Mother in Heaven.' 
Bael Ka Sharbat (Bel Ka Sharbat) (Wood Apple Sharbat)
A lip-smacking summer drink that is a breath of fresh air in Scorching Summers. It is prepared by two methods i.e. No-cook & the Cooking Method. The Sharbat is prepared with the sweet and tangy pulp of Bael fruit (Wood Apple). You may add rock salt, freshly ground toasted cumin, and muddle fresh mint leaves with loads of Ice. This sharbat is an excellent remedy for a Heat-stroke.
In Bengal, it is known as bael sharbat or beler sharbat. Whereas in Bihar, Jharkhand it is called Bel ka sharbat. In Odisha it is immensely popular as Bela Pana. The preparation of Bela Pana is different from that of Bengali-style Beler sharbat. Bela Pana has crushed pepper, grated coconut, mashed banana, chhena added to the strained pulp of bael fruit, sugar/jaggery & water
In Telugu it is known as Maredu drink which is prepared with dried Bael fruit.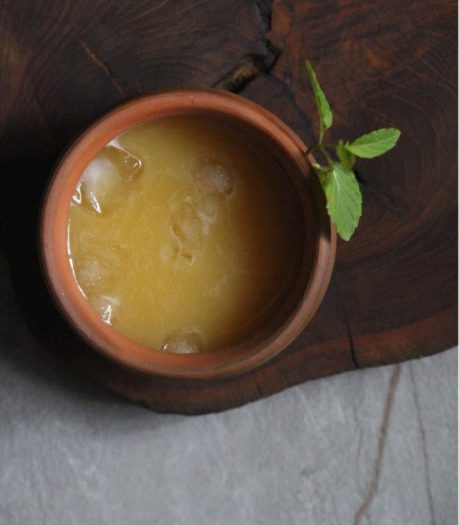 Preparation Time: 20 minutes
Cooking Time: 8 to 10 minutes
Concentrate makes:12 glasses
Ingredients and Quantity:
For the Concentrate: Makes 12 glasses
Wood Apple (Bael Fruit), ripe -1 small
Granulated Sugar-225 gm.
Water-300 ml.
Lemon- 2
For the Sharbat: To make 1 glass sharbat
Bael Fruit Concentrate-1 1/2 tbsp. / or more as desired
Rock salt- 1/4th tsp.
Cumin powder-1/4th tsp.
Fresh Mint leaves, muddle- 1 sprig (Optional)
Chilled water- as required
Ice cubes-6 to 8
Method:
Break open the fruit by hitting it with a coconut breaker.
Scoop out the pulp in a large glass bowl, using a spoon.
Pour in some water and mash the pulp gently with a masher, in order to separate the seeds.
Now strain it using a sauce/soup strainer, separating the seeds and the fiber. 
Repeat the process once again, adding some more water.
Seeds are very bitter and need to be discarded. Fibre that is left over after straining the pulp may be eaten.
Place the strained pulp in a non-stick pan.
Add sugar and mix well with a spatula / wooden spoon.
Place on a medium flame and keep stirring it till it gets a sheen and is thicker in consistency.
Cool it completely and add freshly squeezed lemon juice.
Lemon juice acts as a great preservative & the sugar does not crystalize when the concentrate is refrigerated.
Transfer in air-tight, sterilized glass bottles and refrigerate it. 
Stays good for 3 months.
If you wish to prepare sharbat..
In a glass add the ice cubes, Bael fruit concentrate, rock salt, cumin powder, muddle mint leaves & chilled water.
Stir and ensure that it is mixed properly.
Serve chilled.
Bael Ka Sharbat in which Fresh Mint Leaves are added.
Chef Tips:
If you are a diabetic, kindly skip adding the sugar.
No-cook method-Skip the cooking, if you wish to consume it immediately.
Replace granulated sugar with 4 tbsp. of powdered sugar.
Egg Biryani (Ande Ki Biryani)
Delicious, Fragrant, and flavourful biryani prepared with top quality basmati / fragrant rice and eggs layered in thick creamy spiced curd with masalas…….garnished with crispy and crunchy Golden brown onion and fried nuts.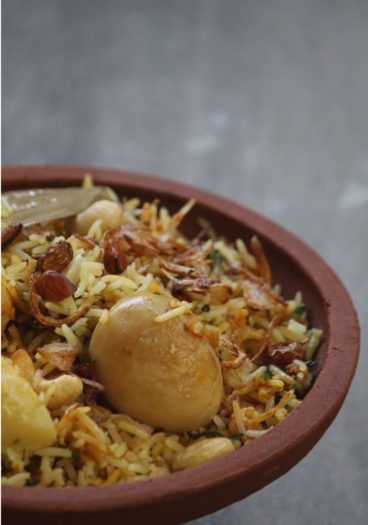 Preparation Time: 15 minutes
Cooking Time: 35 minutes
Serves:4
Ingredients and Quantity:
Fragrant rice, 80 % cooked -1 ½ cup
Eggs, boiled – 8
Potatoes, cut in half 4
For the Masala:
Desi ghee / Refined oil- 4 tbsp.
Onions, thinly sliced- 1 large
Ginger paste- ½ tbsp.
Garlic paste- 1 tbsp.
Curd, thick and whisked- 1 cup
Coriander powder- ½ tbsp.
Red chilli powder- 1 tsp.
Black pepper powder- ½ tsp.
Nutmeg powder- 1/4th tsp.
Green chilies, slit-2
Milk- ½ cup
Water – ½ cup
Salt to taste
Saffron steeped in 1 tbsp. of lukewarm milk- 1/4th gm.
Whole Garam Masala
Bay leaf-1
Black Cardamom- 2
Green cardamom-2
Cinnamon stick- 1 inch
Cloves- 2
Black pepper corns-6
For the layering:
Saffron steeped in 1 tbsp. of lukewarm milk- 1/4th gm.
Rose water – 1 tsp.
Garam masala powder- ½ tsp
Chopped Coriander leaves- ½ cup
Sliced golden brown onion- ½ cup
Desi ghee, hot- ½ tbsp.
For the garnish:
Fried mixed nuts and raisins- ½ tbsp.
Sliced golden brown onion- ½ tbsp..
Method:
In a non-stick pan add 2 tsp of oil add the potatoes, brown them, and set aside.
In the same pan brown the eggs and set aside.
Steep saffron in lukewarm milk to extract the colour and flavour.
Heat oil in a heavy-bottomed pan, and add all the whole spices on a low flame. Add in the onion and sauté till turns golden brown. Add in the ginger and garlic paste, and continue to sauté for 2-3 minutes. Add the slit green chilies. Now add all the spice powders and mix well. Add in the whisked curd and fry till the moisture in the curd evaporates and the oil oozes out.
Add in the browned eggs and potatoes. Sauté in the masala, ensuring that they do not break. Add in the milk and water. Add salt and mix. Simmer for 2 minutes.
The gravy should not be too watery or too dry before you layer it with the rice.
Spread half the rice over the prepared Egg and potato masala. Sprinkle less than half of the fried onions, chopped coriander leaves, sprinkle garam masala powder, and Steeped saffron. Sprinkle rose water.
Repeat the process. In the top add hot ghee.
Cover it with an aluminum foil and then with a lid. Place this pan on a hot griddle.  Keep it on a very low flame for at least 20 to 25 minutes.
Leave the biryani for at least 1 hour before you serve so the flavours are well combined with the rice.
Serve hot garnished with fried nuts and sliced golden brown onion.
Goes best with raita.
Chef Tips:
You may cut the eggs into halves if desired.
You may add chopped red tomatoes to the masala if desired.
You may add Kewra water instead of rose water if desired.
You may add chopped fresh mint leaves in the layering process.
You may sprinkle lemon juice over the prepared biryani.