Natasha Celmi is a renowned chef, food blogger, an entrepreneur and mum of two adorable boys. Initially, Natasha learnt the art of simple but tasteful food from her Italian husband who also happens to be an excellent cook. Later , she took training at culinary schools in Italy and Singapore and learned practically from chefs and experts of the industry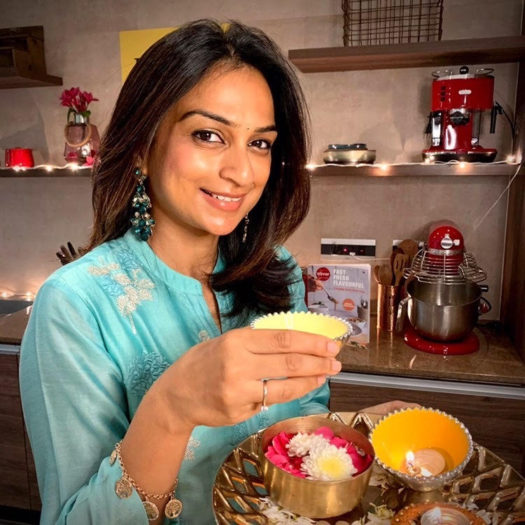 Her experience in the food industry started in 2005 with 'Mama Mia' a chain of gelato shops in India, offering gourmet artisan ice cream and desserts. She has a soft spot for the Italian and Mediterranean kitchen. B. I spend my time between India and Italy.
She currently located in Bangalore and conducts culinary workshops.
Women Fitness President, Namita Nayyar got in touch with Natasha Celmi to learn more about her lifestyle routine, smart cooking tips & tricks.
Namita Nayyar
As mentioned by you in one of your interviews "I had never entered the kitchen till then." When did you uncover the urge to venture into cookery?
Natasha Celmi
My curiosity about food and how it is made piqued only a decade or so ago. Till then, the thought of entering the kitchen was anathema to me. I was that kid who rebelled against any cooking related conversations or chores.
Travel is an excellent teacher and a great way to expand one's horizons. My work took me to Italy on multiple occasions, and there I was introduced to a whole new world of different flavours. My palate came alive, and I wanted to know more about food and understand how it is made. The first time I tried to cook something decent, I failed because I was clueless about the basics of cooking. I wished I had paid more attention to my mother when she tried to get me into the kitchen.
Back then, food blogs were not yet born. Meal planning apps were still a dream, and YouTube channels were not as many. This was when cooking shows like MasterChef Australia and Nigella Bites took India by storm. I was smitten. I watched these shows religiously and even took notes. Cooking seemed much more exciting than it did before.
This interview is exclusive and taken by Namita Nayyar, President womenfitness.org and should not be reproduced, copied or hosted in part or full anywhere without an express permission.
All Written Content Copyright © 2020 Women Fitness Org