The nine incarnations of Goddess Durga are remembered during Navratri and especial prayers are offered. Amidst the fun and frolic of organizing jagratas and attending garba functions, one needs to pay special attention to what you consume.
Kuttu ka Dosa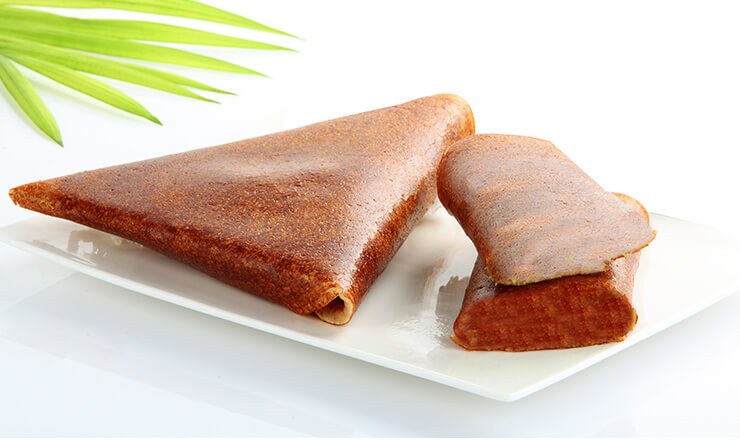 Ingredients
For Crepes/Dosa:
1 Cup Buckwheat Flour (Kuttu ka Atta)
1/2 Cup Sama ka Chawal – You can use any regular rice flour or couscous flour
1/4 Cup Spinach – Fresh or Frozen
1/2 Cup Plain Yogurt – If vegan, use vegan yogurt or just plain water
1/4 Cup Water
Rock Salt (Sendha Namak) – You can use any salt as per taste
4 Tbsp Olive Oil – Any light oil for making crepes
Vrat Aloo ki Sabji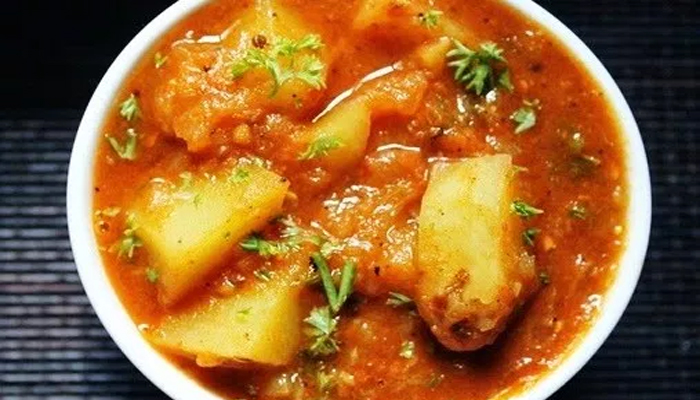 2 Boiled Potato – Peeled and cut into bite size
1/2 Cup Cilantro – chopped (Optional)
1 Green Chili – chopped
1/4 Tsp Turmeric
1/4 Tsp Mustard Seeds
2 Tbsp coconut Flakes – Optional
2 Tbsp Olive Oil – For cooking
Instructions
For Making Crepes/Dosa:
Using a hand blender or food processor, grind buckwheat flour, sama ka chawal and spinach together.
Add yogurt, water, salt and pulse to form a smooth batter (Batter should be slightly thick and not runny). Keep aside.
Heat a tsp of oil in a large skillet/non-stick pan for about a min.
Pour about 2 ladles of batter and swirl to form the shape of crepe.
Cook for about 2 minutes on low flames.
Lightly, flip the crepe to another side and cook for another 2 minutes (You can cook as per taste. For crispy brown, you may cook for another minute).
Follow the steps till all the crepes/dosa is made.
For Making the Potato Scramble:
Heat 2 tbsp oil for a minute.
Add mustard seeds, as soon as they crackle, add turmeric, salt and potatoes.
Stir potatoes to mix with turmeric, oil and mustard seeds.
Cook over medium heat till potatoes are nicely
Apple Banana Chia Seed Smoothie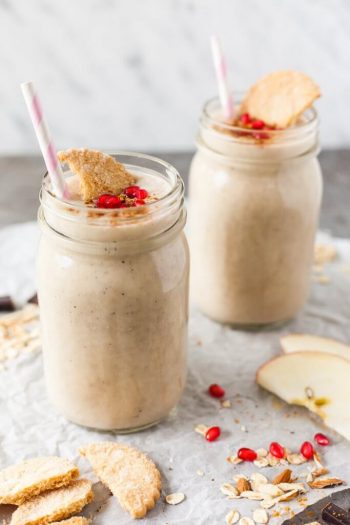 Ingredient
2 cups fresh apple chunks (from about 2 apples)
2 cups frozen banana chunks (from about 2 very ripe bananas)
1 cup low-fat plain yogurt
1 cup low-fat milk
1 tablespoon chia seeds
Instructions
Add apple chunks, frozen banana chunks, yogurt, milk and chia seeds to a blender.
Puree until smooth and blended.
Pour into two glasses of choice.
Serve immediately or refrigerate until ready to serve. Smoothies will keep well in the refrigerator for up to one day.
Samak Rice Khichdi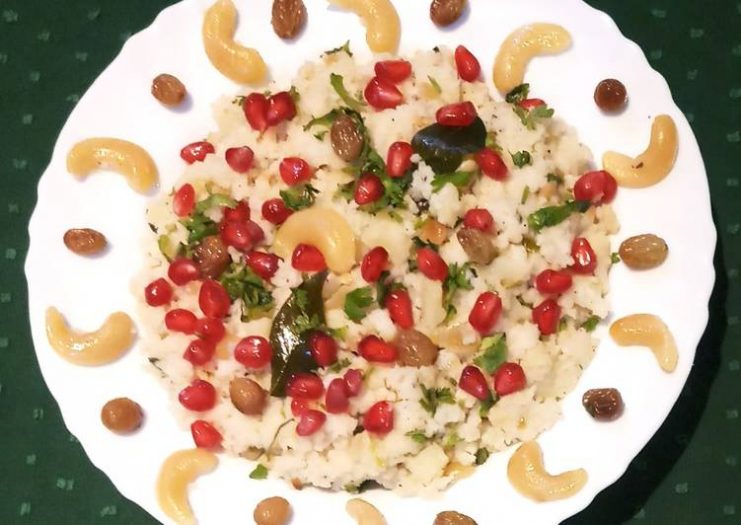 Ingredients
3/4 cup Samak Rice
2 cups water
1-2 green chillies chopped (Depending on taste)
1//4-inch ginger chopped
1 small potato cubed (Boiled)
2 tablespoon peanuts
1 tablespoon cashews
1 teaspoon Jeera (Cumin seeds)
1.5 tablespoon Ghee (Clarified Butter)
Salt to taste
Coriander to garnish
Instructions
Wash and soak the Samak Rice for at least 30 minutes.
In a pan or a wok, add ghee.
Once the ghee is hot, shallow fry the peanuts until lightly golden brown.
Remove and then shallow fry the Cashews until lightly golden brown. 
In the same pan, add Jeera.
Once it crackles add chopped ginger and saute for a minute.
Then add the green chili, potato and shallow fry for 1-2 minutes.
Add chopped potato as it is. It might just take a few more minutes to be done.
Once done, add the peanuts and Samak Rice. Give everything a quick stir.
Now add 2 cups of water and salt to taste.
Let this cook on medium for 7-8 minutes mixing in between.
Do not stir quite often and do not overcook it. It can go mushy within minutes, so do keep a close watch.
Add half of the cashews and mix.
Switch off and let it sit for 10 minutes for the rice to absorb all the flavours.
Garnish with the remaining cashews and coriander and serve with yogurt or some pickle.
Sabudana Vada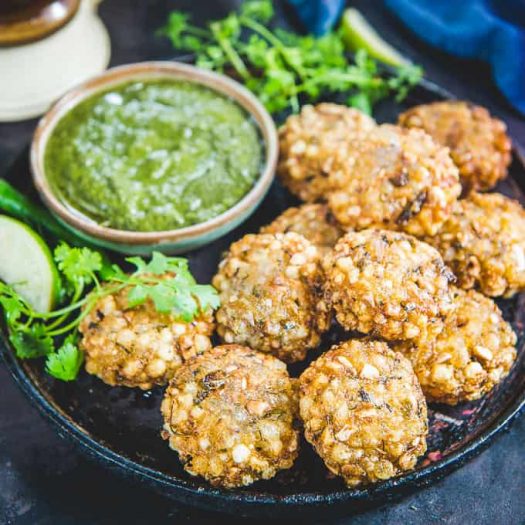 Ingredients
1 cups of tapioca
1 medium potato
1 teaspoon crushed green chilies or 1 tsp red chili powder or both for a spicer version
1/3 cup roasted and ground peanuts
1/2 teaspoon ground cumin
1 tablespoon chopped cilantro
2 tablespoon cooking oil or ghee
salt to taste
Ingredients for the chutney:
1/3 cup plain low-fat yogurt
2 tablespoons roasted and ground peanuts
1 tablespoon red chili powder mild to medium hotness
2 teaspoons sugar
salt to taste
Instructions
Rinse and soak sabudana in half cup of water for 3-4 hours. Dry roast skinned peanuts and grind them coarsely. Boil, peel and mash the potato. Coarsely grind cumin seeds and green chillies.
Mix all the ingredients and cilantro with some salt to taste. Make lemon sized balls.
Heat the paniyaram/aebleskiver pan on medium low heat. Add a few drops of ghee in each round section. Place the fritter balls in each section and cook covered for 4-5 mins.
Gently flip the fritters using chopstick or small spoon to cook the top side. Add few more drops of ghee on top of each fritter. The one's in the center cook much faster, so they will have to flipped first. Cover and cook again for another 4-5 mins on medium low heat until they turn crisp and golden brown.
While the fritters are cooking, whisk together yogurt, ground peanuts, red chili powder, sugar and salt to make the chutney. Serve the fritters hot with this sweet and spicy chutney!
Sugar Free Apple Rabdi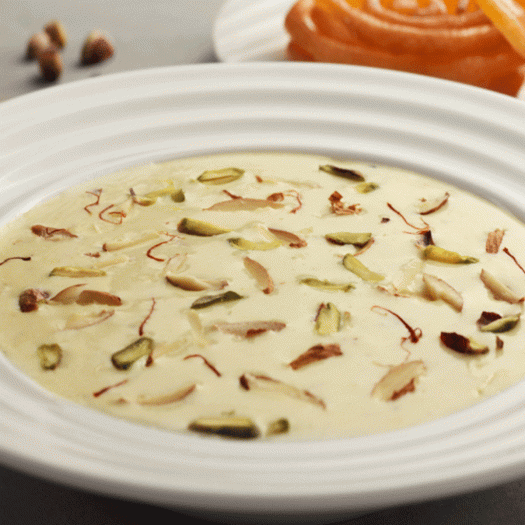 Ingredients:
Fat free or 1% milk – 3 cups
Apple – 1 grated
Nutmeg / Jaadikai powder – 1/2 tsp
Cardamom powder – 1/2 tsp
Instructions:
Bring the milk to boil in a heavy bottomed pan.
Once it starts to boil, lower the heat and simmer it for 10 more minutes till it gets reduced to 3/4th.
Now add the grated apple, nutmeg and cardamom powder and simmer it for another 10 minutes.
That's it. Turn off the heat and let it cool.
Simple and yummy rabadi ready. Serve cold with nuts and raisins.
Happy Navratri!