Noa Eappen & Kasha Sachdev both trained by Nicholai Sachdev, have won gold and set world records at the PRO League World Championship in Full Powerlifting, Squat, Bench, Deadlift & Push Pull. They
are all geared up to represent India at The World Powerlifting Congress in Kyrgyzstan in June
2023.
Despite traditionally being a male-dominated sport, powerlifting is experiencing a significant shift
as more women and young girls discover the value of strength and embrace the sport.
Women Fitness India gets into an in-depth conversation with Noa and Kasha on Powerlifting, Fitness, and Diets!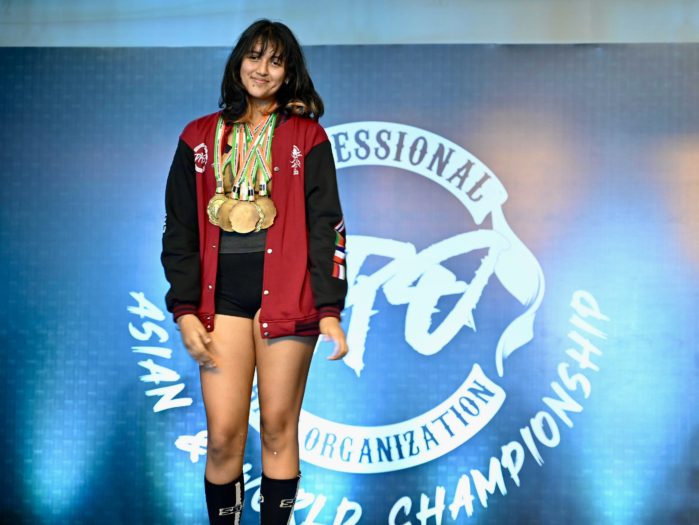 Ms. Namita Nayyar
Congratulations! Noa Sara Eappen and Kasha Nia Sachdev for the grand achievement of winning gold medals in all categories at the PRO League World Championship held in Bangalore from 10th to 12th May 2023. Can you briefly explain the events that motivated you to pursue this sport?
Ms. Noa Eappen – I started powerlifting at age 10 when my fitness enthusiast mom, Arshiya Fakih dragged me to the gym. There I met my schoolmate Kasha Nia Sachdev, who was then 12 years old, and her dad, Nicholai Sachdev, who were both powerlifters. I was truly inspired, intrigued, and impressed by what they did. Nicholai saw my interest and soon took me under his wing. Within a short span of time, he realized I was stronger than most girls my age and decided to make me compete. There has been no turning back since then.
Ms. Kasha Sachdev – Well, I started training in the gym about eight years ago, mostly in order to exercise post-corrective surgery to treat my condition of knock-knees. Despite being a happy and well-adjusted child, I was rather conscious of my shape as well as my weight and lacked confidence in myself and what I could and couldn't do. After my surgery, I had begun working out at the gym as part of my rehabilitation and physiotherapy under the counsel of my dad, a powerlifter himself, Nicholai Sachdev; this transitioned into powerlifting once I showed interest in the sport.
FULL INTERVIEW ON THE NEXT PAGE!
This interview is exclusive and taken by Namita Nayyar, President of womenfitness.org, and should not be reproduced, copied, or hosted in part or full anywhere without express permission.
All Written Content Copyright © 2023 Women Fitness Org