Parmarth Niketan retreat is located in Swargashram, on the main road, just on the banks of the sacred Ganges River. As the largest ashram in Rishikesh with over 1000 rooms, Parmarth Niketan provides a clean, pure, and sacred atmosphere as well as abundant, beautiful gardens to thousands of pilgrims, who come from all corners of the Earth. If you are on the lookout for a destination to Rejuvenate and re-energize your inner self & live the New Year to the best of YOU!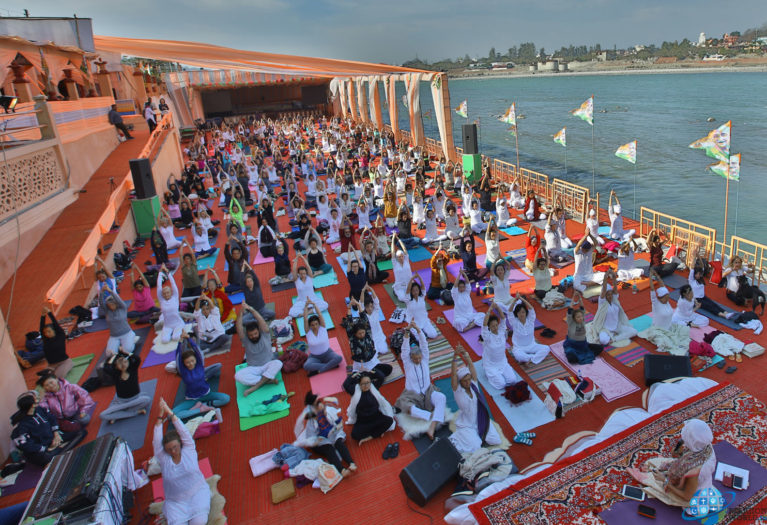 This Spiritual Retreat (December 27, 2021 – January 1, 2022) is a great place for you to kick start the new year. Under the guidance of yogacharyas; Sadhvi Abhaji (Mataji) and Induji Sharma, you will be guided into,
yoga asanas
spiritual question & answer sessions
silent and guided meditations
mantra chanting
karma yoga
Himalayan walks.
Many sessions will be led by Pujya Swamiji and Pujya Sadhvi Bhagawatiji.
Experience a transformative special New Year's yagna/havan ceremony on the morning of January 1st to transform and release that which no longer serves you.
Guidelines to Follow at the Retreat
Each participant is required to adhere to the following guidelines which are in place to facilitate your transformation. Therefore, by attending this event you agree to:
Approach the retreat with the understanding that it is not a casual event—it is for those earnestly seeking transformation and/or release of all that no longer serves you.
Students should be punctual for each class
Students must not undergo any Ayurvedic or Panchakarma treatment during the retreat
Students must not attend any other classes during the retreat
Students should adopt sincere behavior whilst staying at the ashram
Complete the entire retreat and attend each and every session without exception.
All pilgrims are expected to join in the Ganga Aarti (the light ceremony with devotional songs at sunset).
The pilgrims staying in this ashram are required to observe and adhere to truth, non-violence, self-discipline, and polite etiquette.
Respect and abide by the code of the ashram for the full duration of the retreat.
To learn about all of the ashram's guidelines, please click here.
Visit: https://www.parmarth.org/ for more.
'Start the New Year as the best version of you!'