By Prerna Sinha, MaaOfAllBlogs
If you have been practicing yoga in some form already, I am sure you want your kid to adapt it too. Practising yoga is a fantastic way for anyone to find balance emotionally, mentally and physically.
Just imagine how beneficial it can be in the life of your kid? Yoga is particularly helpful for kids who have lots of extra energy or intense emotional fluctuations
However, It should be made fun and relatable and never be forced on them. If you make it a fun activity for you to do with your kids, then it also becomes a bonding time with your kids and they will adapt it more openly.
Below are Mom and Daughter/Son Yoga Poses
Open legs Car Wiper
Sit with both legs wide open.
Parent and the kid will join their feet to each other and hold alternate hands. Now with the other hand free hand hold your opposite leg for eg. if your right hand is free hold your left big toe with it and bring your left ear to your left knee.
The partner will do the same in the opposite direction making it look like a car wiper motion.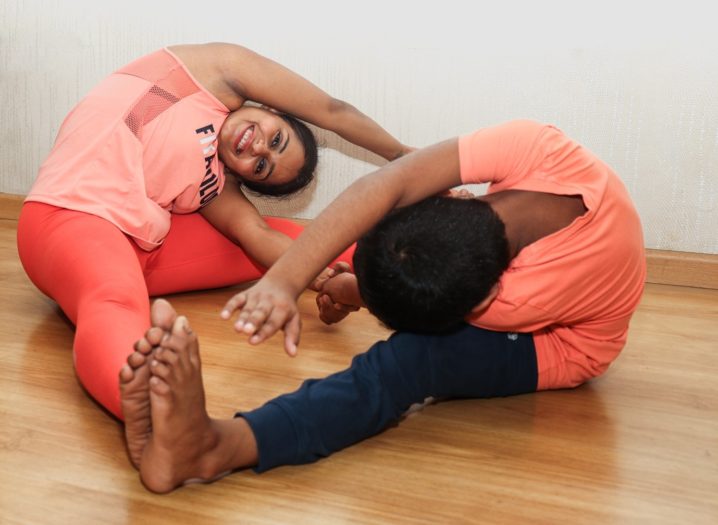 Benefit: Great for shoulder opening and oblique stretch.
Intertwined
Sit with your back joined and hands interlocked. At one time, your partner goes down trying to bring their head or chin towards the ground and in the same motion you are pulled up.
Doing it back and forth is also fun. Try and see who can touch their head or chin to the ground.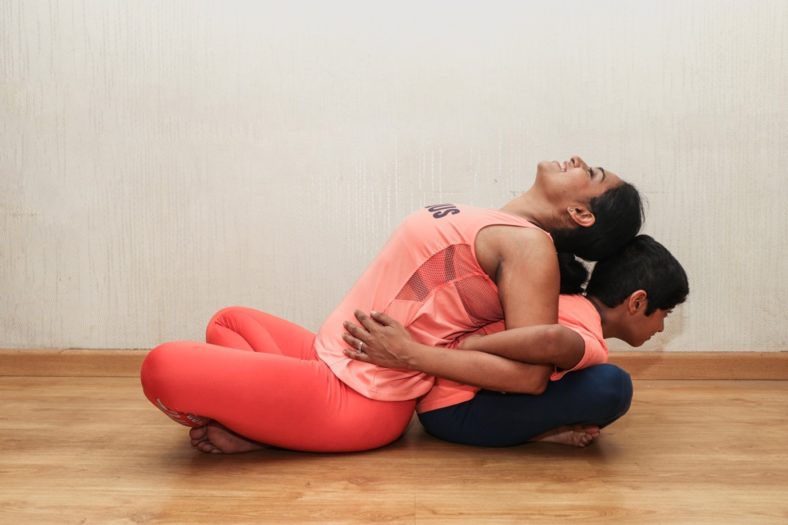 Benefit: While it's an abdominal crunch for one, it's a chest and spine opening for the other partner
Rowing Partner Forward Bend
Sit with your kid legs stretched forward in front of each other, feet joined together.
Now hold each others hands and pull your kid towards you in a rowing motion, your kid goes down and touches his/her nose to the knee while you move back.
Repeat with the kid pulling you towards him/her.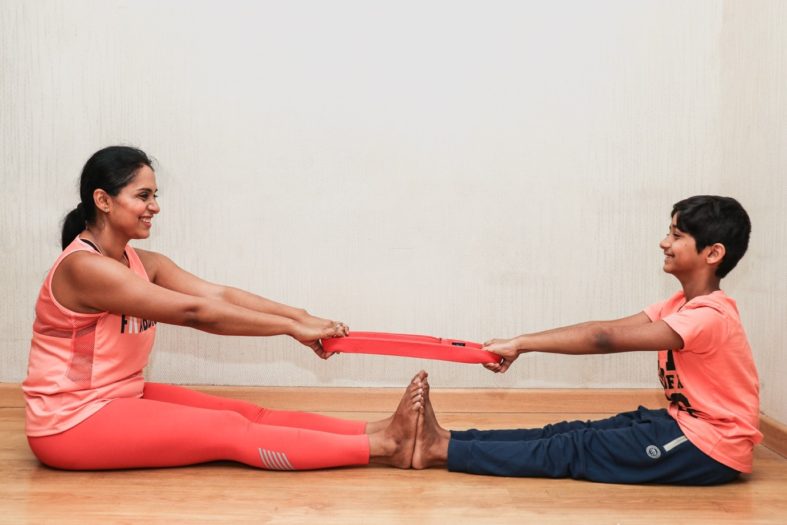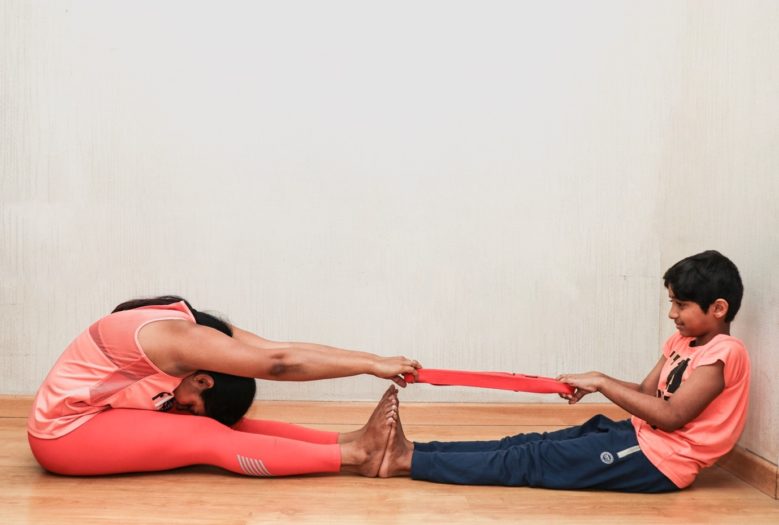 Benefit: This Stretches the hamstrings and helps in digestion
Boat pose
Bend your knees, hold each others hands and join the feet together.
Now one by one list your legs up and straighten them to make a boat.
Let's see who will leave the hands first.
Make it a competition on who can hold for longest.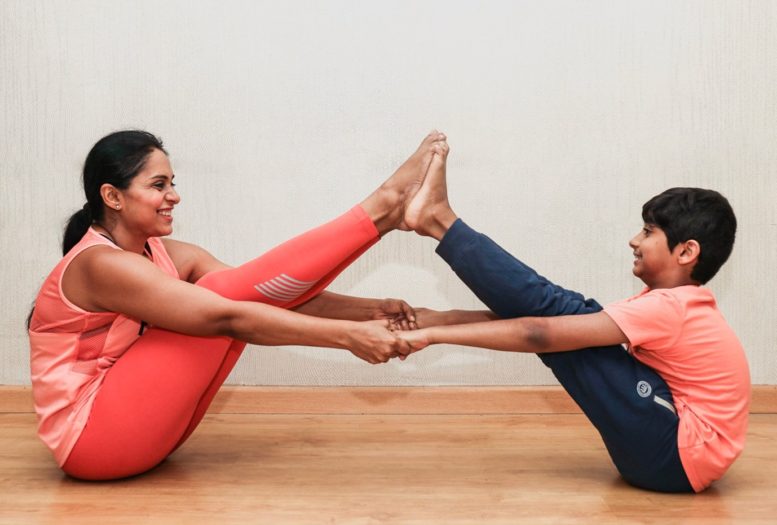 Benefit:Strengthens the lungs, liver and pancreas
Lizard on a Rock
The parent goes into a child pose where as the child stretches on their back putting pressure and stretching the parent's back.
It's a great relaxation pose for both the parent and the kid.
Change and make sure to keep asking your partner if the pressure is ok.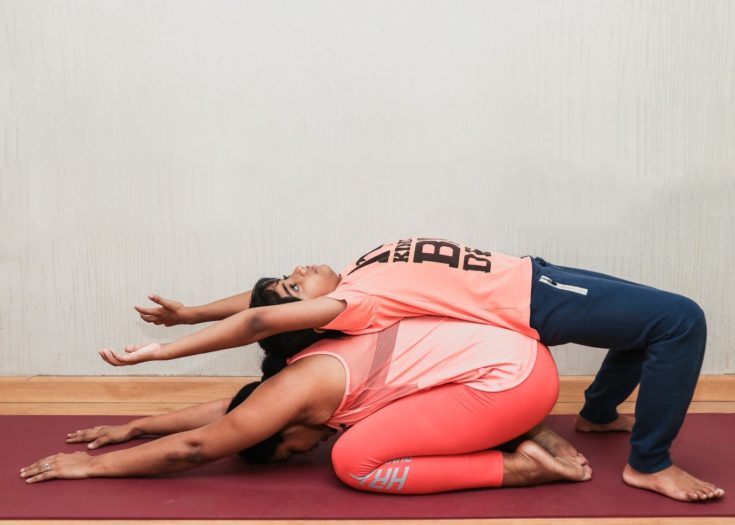 Benefit: Relaxation. Great Spine stretch and good for Digestion.
Flying Superman
It is one of the acrobatic yoga poses. It needs a lot of trust in your partner. If you are unsure or don't have enough strength then try it on a mattress or a bed.
Parent will lie down on their back, bend their knees and will place half their feet on the kids side pelvic area and half on the side of the stomach.
Hold hands and then slowly the parent will lift up their kid, straightening the legs.
Only if the legs are completely straight and balance has been achieved, let go of the hands.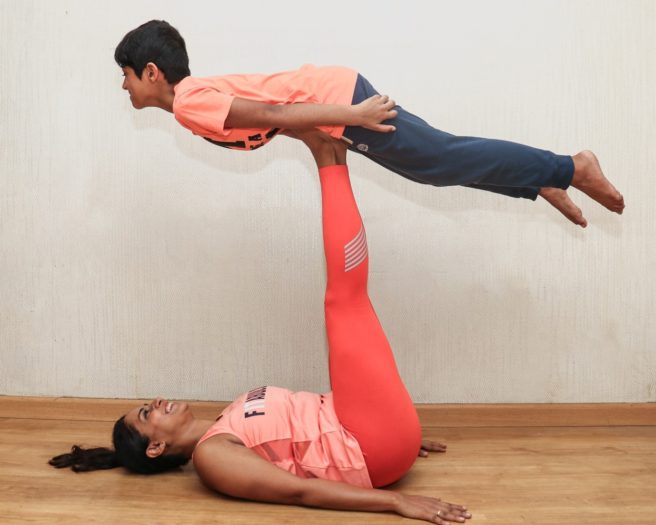 Benefit: Learning to trust, communicate clearly, and give and receive.
Double Plank Rectangle
The parent starts by getting into a high plank and holding the pose.
The child climbs on the parents back and catch the ankles while his feet rest on the parents upper back.
Hold the core and tighten those glute muscles. Shoulder right above the wrists. Once you achieve stability in this pose, you can even do a plank walk and make it more fun.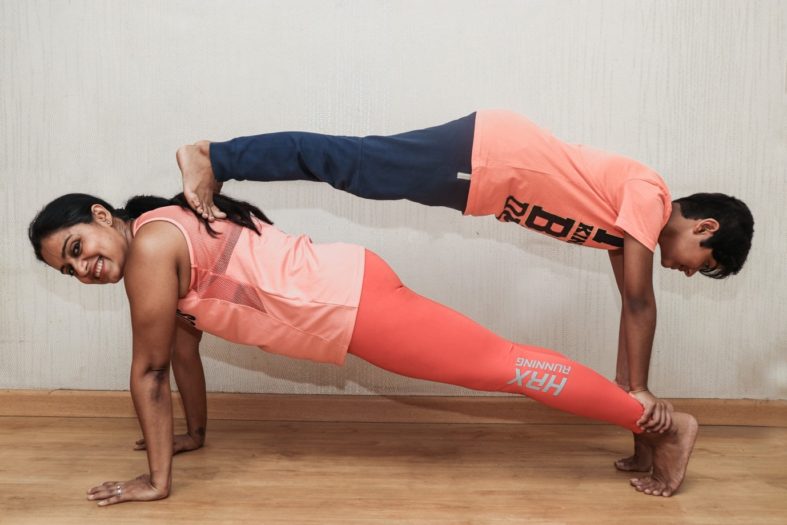 Benefit: Builds abdominal strength, understanding of balance
Try these fun poses with your kid and introduce them to the magical world of yoga.
Once they start enjoying it and enjoying the time you spend together doing it, they will adapt to it naturally.
Happy Bonding. Namaste.
Bio– Prerna Sinha is a Ashtanga & Yin Yoga teacher. She is a mom to two boys and also one of the Top Award Winning Indian Mommy Blogger. She enjoys practicing and creating workouts like these with her son Ahaan.