Your bowel habits are a strong indicator of your digestive health. Changes in the color, shape, and texture of your poop can reveal signs of infection, digestive issues, or more severe health problems, such as cancer.
Hard, lumpy stool may mean you're dehydrated, for instance. Red stool? This may be a sign of rectal bleeding. A pungent poop could indicate an infection or other concerns.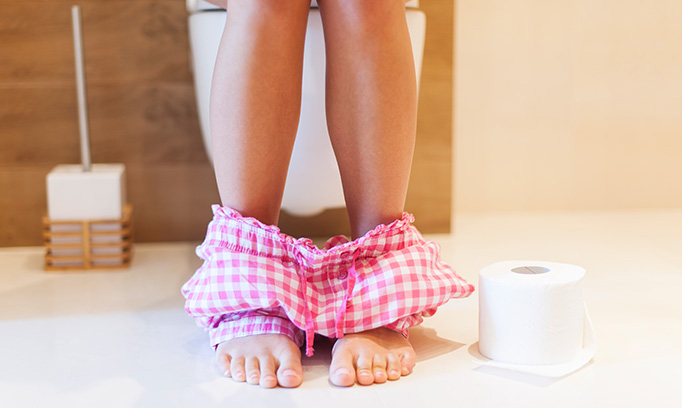 The Bristol Stool Scale is a way to talk about shapes and types of poop, what doctors call stools. It's also known as the Meyers Scale. Read on.
The Bristol Stool Scale: Learning More About Your Poop
The shape, color, and smell of your bodily waste can signal if something inside of you isn't operating at 100% efficiency.
Fecal matter is 75 percent water and 25 percent solid matter, consisting of dead bacteria, indigestible food, and inorganic substances. Food usually takes about three days to pass through your system, resulting in a bowel movement. But when food passes through your system too quickly or slowly, it can affect the size, color, and texture of your stool.
The Bristol Stool Scale classifies stool types into seven categories based on size and texture.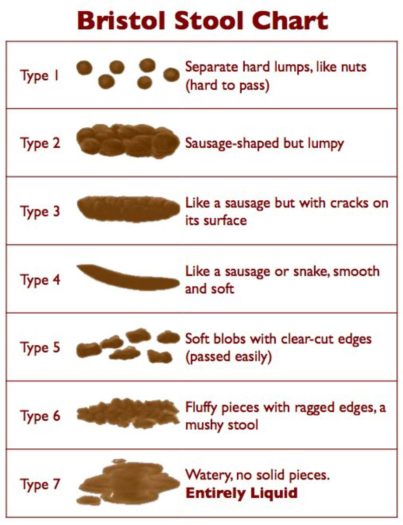 Signs of constipation
Types 1 and 2 are hard and lumpy, and painful to pass. These poop have been sitting in the large intestine and colon for a long time and are indicative of someone who may be constipated.
Constipation can be caused by many factors including medications, food & lifestyle habits, dietary changes, stress, or medical illnesses.
Signs of healthy digestion
Types 3 and 4 are considered the optimal form of healthy stool.  A healthy stool is typically sausage-shaped and snake-like. It is easy to pass, and it remains intact when it is flushed.
Signs of diarrhea
Stool types 5 through 7 are watery and mushy. These stools are in the large intestine and colon for the least amount of time and may present in the form of diarrhea.
Is it good to pay attention to your output in the bathroom?
Absolutely. But it's also not something that demands constant, thorough review.  It shouldn't be a daily concern. But when something seems off, don't just ignore it. Listen to what your body is telling you.
Ref: