By Ms. Preety Tyagi
Nutritionist and founder of MY22BMI
Prepare your skin
A few minutes of preparation before you put your makeup on goes a long way in keeping your skin super radiant throughout the nine days of fun and frolic. CTM is a must especially during the festive season.
Tone your skin
Toning is an important part of the cleansing process. A good toning regimen will remove any remaining bits of oil, dirt and debris left behind by washing or cleansing.
More importantly, toning helps soothe, nourish and hydrate the skin while restoring its delicate pH balance. Rose water is an excellent toner for skin as it not only tones, but refreshes and soothes as well. Excellent for the summer.
Scrub your skin
Dead skin cells, sweat, dirt, and oil can accumulate and build up on the surface of your skin, day after day. These leave your complexion a little dull and even flaky. Exfoliating with a face scrub can remove this build-up, leaving you with skin that feels clean, smooth and glowing. Homemade besan and curd scrub or Oats and curd scrub work wonders on the tired dead skin cells.
Lip Scrub
Before flaunting your lips in your favorite lip color, practice a scrub and moisturizing regimen for your lips, by using a simple sugar and honey scrub. It works wonders and smoothens out the lips instantaneously.
Mask is Must
Face masks are the perfect skin care treatment to help you with your skin care concerns. The right face mask can help hydrate skin, remove excess oils and help improve the appearance of your pores. They're also an excellent way to help pull out impurities. Masks can deliver higher concentrations of active ingredients to plump, hydrate, and balance the skin. A face mask completes the skin prep regimen leaving your skin smooth and soft.
Multani Mitti is an age old, natural face mask used from ancient times in our country. It holds the benefits of the mother earth that have the power to soothe and heal the skin.
Enticing Eyes
If you love to enjoy garba every night, then you need to look out for eye bags or puffy eyes.
So the best and natural way to do it is by getting enough sleep. Get 8 hours of sleep every single night. Navratri is a 9 days event and involves a lot of dressing up and dancing. Hence, it becomes important to take good rest and care of your eyes.
Homemade Cucumber Mint Eye Mask
Blend a cucumber with 4-5 mint leaves. Add a small amount of water to thin the juice. Dip 10-15 cotton pads in the juice and gently squeeze them to get rid of excess juice with your palm. Place the cotton pads flat and separated in a clear bag and freeze them until they are iced. At the end of the day, just take two cotton pads out of the bag and place them over your eyes for around 20-25 minutes.
Makeup Removal Regimen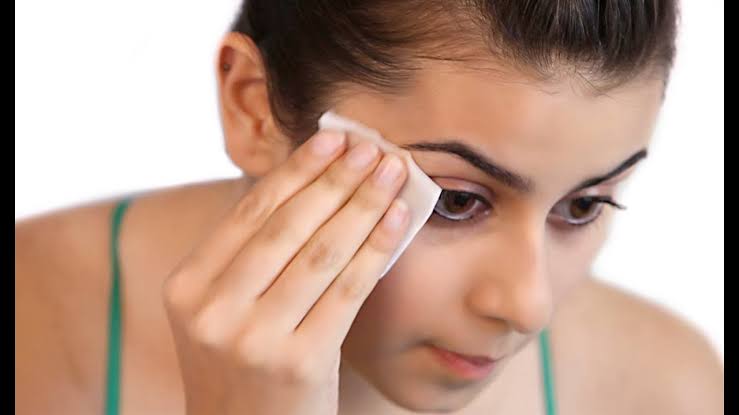 Do remember to remove the makeup however tired you are.
Use these skin-friendly makeup removers to keep your face blemish free.
Soak a cotton ball in milk with a few drops of almond oil to remove your make-up.
Wipe away your eye make-up or bold lip color with cotton ball soaked in baby oil.
Flaunt your Back
Navratri is the perfect time to wear those backless cholis and blouses. But before you do that, it is better to get your back waxed and polished.
DIY Rejuvenating Turmeric Back Scrub
Mix 1 cup sugar, 2 teaspoon turmeric powder and 1 1/2 cup of coconut oil to make a coarse paste. Apply this paste and gently massage the mixture, in circular motions, on your skin. Wash the mixture off with Luke warm water.
This works as quick fix for your dull back skin, making it clear, smooth and shining.
Prep Your Hair
You would love to flaunt your Luscious Long Hair at Garba and Dandiya Nights. 
For dull hair, have a quick conditioning treatment before your shampoo.
DIY Hair mask
Mix one teaspoon of vinegar and almond oil. Massage into the hair. Do the hot towels. Wash hair after half an hour. Hair will look smooth, bouncy and shiny.
To soften rough, bushy or frizzy hair, mix some water with a creamy hair conditioner and put it in a spray bottle. Spray the mixture on the hair. Then comb the hair, so that it spreads through the hair.
Hydrate
Continuous and vigorous dancing tends to dehydrate you and your skin. Hydrating your body with ample water is the first trick to a glowing skin during dandiya. Have everything from water, fresh juices, lime water and coconut water as well. This will hydrate your body and give your skin a glow from within. Increase your fluid intake at least by a litre. A helpful tip is to carry lime juice concentrate with sugar, black salt and black pepper powder added. All you have to do is to add water to the concentrate, take a break and sip it slowly … and you will feel as energetic as ever.
Relive your feet
Dancing your heart out can cause your feet to revolt. And you have 9 whole days to dance your heart out. A simple remedy can help to soothe your aching feet and you are back again with your dancing shoes on …
The Invigorating Foot Bath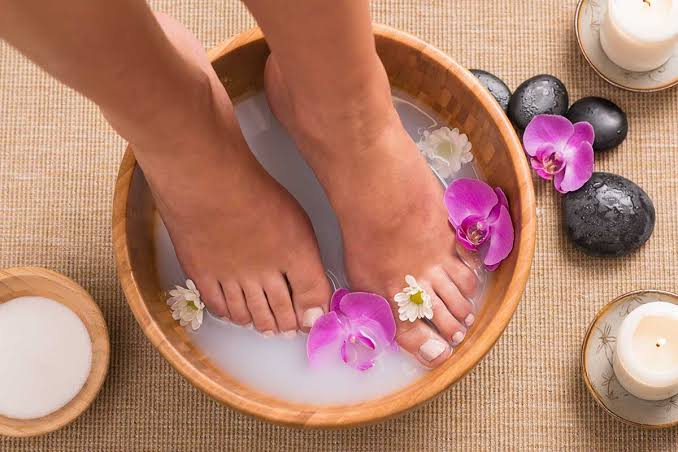 You will require 1/2 cup baking soda, 1/2 cup Epson salt, 1 cup apple cider vinegar, 5 or 6 drops of lavender (alternatively basil or rosemary) essential oil.
Fill a tub big enough to hold both your feet comfortably and fill it with hot water. Add all the ingredients and relax. Add marbles into your foot bath and roll your feet over them for a massage.
And most importantly, eat well and mindfully during the festive season. Don't over indulge and don't starve your self to look slightly thinner. Eat well and enjoy a gorgeous glow on your skin during the festivals.
Happy Navratri!