Baked Hara Bhara Kabab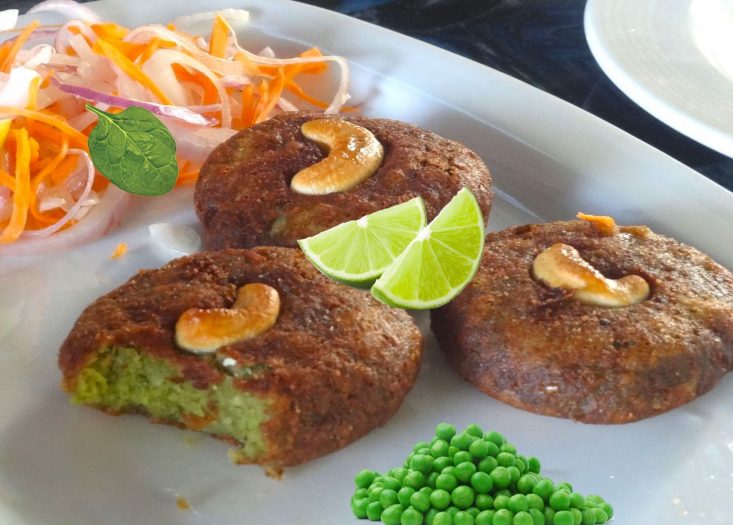 Ingredients
Boiled green peas 1/2 Cup (8 tbs)
Fenugreek leaves 1/2 Cup (8 tbs) (as needed)
Spinach 1 Cup (16 tbs), blanched
Mint leaves 1/4 Cup (4 tbs) (as needed)
Chopped coriander leaves 1/2 Cup (8 tbs) (to taste)
Green chili 3 (or to taste)
Boiled chickpeas 1 Cup (16 tbs)
Bread slices 2 (as needed)
Potatoes 2 Medium, boiled or steamed, mashed
Garlic paste 1 Tablespoon (as needed)
Ginger paste 1 Tablespoon (as needed)
Coriander cumin powder 1 Teaspoon (as needed)
Garam masala To Taste
Chaat masala 1 Tablespoon (Optional)
Salt To Taste
Turmeric powder 1 Pinch
Sugar To Taste (Optional)
Lemon juice 1 Tablespoon
Vegetable oil/Sunflower oil 1 Teaspoon (For greasing and coating kebab)
Instruction
Preheat oven at 400-degree F.
In food processor, add green peas, fenugreek leaves, spinach, mint, coriander, green chili, chickpeas, and bread. Blend and transfer to a bowl.
Add boiled mashed potato, ginger, garlic, coriander cumin powder, garam masala, chaat masala, turmeric, salt, sugar, and lemon juice. Mix well.
Grease your palm with oil and roll mixture into any shape you like. Insert skewer into each roll.
Coat kebabs with oil, pop in oven and bake for 45 minutes or until done. You may also deep or shallow fry in oil.
Serve hot with ketchup, chutney or salad and enjoy!
Tandoori Paneer Tikka in Oven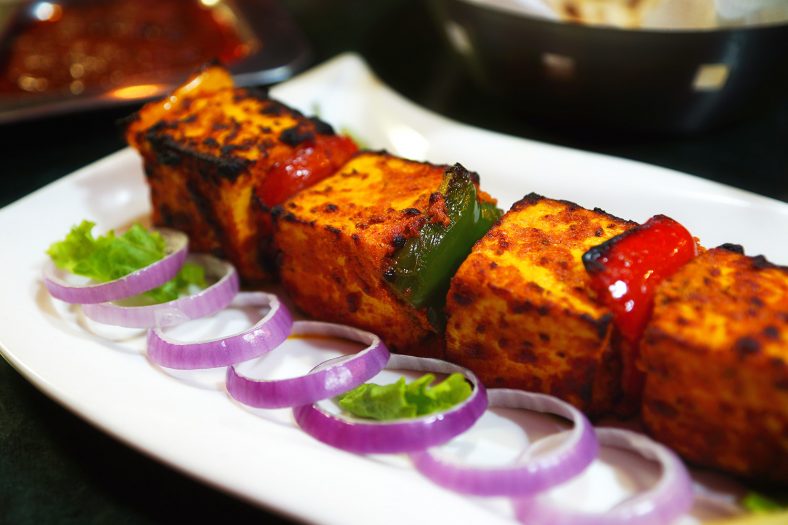 Ingredients
For the paneer tikka
2 cups Paneer cubes ((Cottage Cheese), cut into 1-inch cubes)
1 medium sized onion (cut into 1-inch cubes)
1 capsicum (deseeded and cut into 1-inch cubes)
1 large tomato (deseeded and cut into cubes (optional))
chopped Coriander or Cilantro, Lime juice for topping
For the marinade
3 tablespoons Mustard Oil
1 teaspoon Garlic Paste
1 teaspoon Ginger Paste
1/2 cup thick Curds (or Greek Yogurt)
2 teaspoons Kashmiri Red Chilli Powder (or Paprika)
1 tablespoon Coriander Powder
1 teaspoon Chaat Masala Powder ((available at Asian/Indian stores))
1/2 teaspoon Garam Masala Powder
1 teaspoon kasuri methi (crushed)
Salt to taste
Instructions
Mix all the ingredients under marinade into a bowl and add paneer to it. Toss the paneer in the marinade till the cubes are coated well. Cover and set aside for at least half an hour or up to two hours.
Pre-heat oven to 220 C/ 430 F 10 minutes before ready to cook. Place a cooling rack over a roasting pan and set aside.
Skewer paneer cubes alternating with onions, capsicum and tomato (if using). This should make about 3-4 skewers.
Place the skewers on the cooling rack and bake for 15 minutes, turning once halfway. After 15 minutes, switch on the broiler (or only the upper element of the oven) and broil for 2-3 minutes till the paneer has a slight char on the surface.
Carefully remove the roasting pan with the skewers out of the oven (the paneer tends to become soft so be careful) and place the skewers on your serving platter. Top with chopped coriander and squeeze lime juice on them. Serve immediately with sliced onions.
Notes
Make sure the paneer you are using is firm and not crumbly
If substituting paprika with Kashmiri Chilli Powder, the colour may be slightly different, but the flavour should be the same
If the curds you are using are not thick enough, hang them in a muslin cloth for half an hour or so to remove whey and then use.
Baked Samosa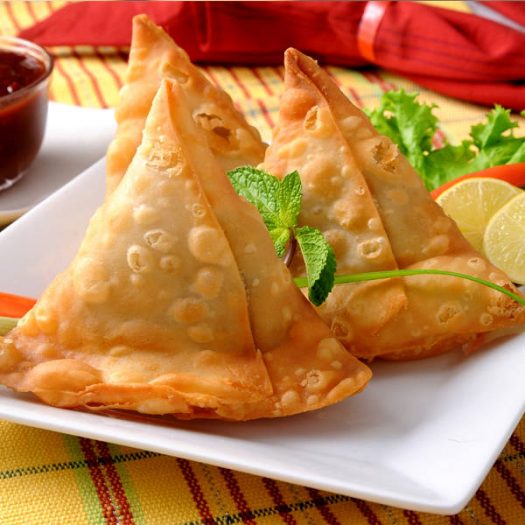 Ingredients
For Kneading Dough:
Whole wheat flour/Refined flour – 1 cup
Salt – 1/4 tsp
Sugar – 1/2 tsp
Dry active yeast – 1/2 tsp
Oil- 1 tbsp
For Samosa Stuffing:
Potato – 2 (boiled) (medium size)
Peas – 1/2 cup
Oil – 1 to 2 tsp
Red chili powder – less than 1/4 tsp
Salt – 1/4 tsp (as per taste)
Green chili – 1 to 2 (finely chopped)
Ginger – 1/2-inch piece (grated)
Green coriander – 1 to 2 tbsp (finely chopped)
Mango powder – 1/4 tsp
Coriander powder – 1/2 tsp
Cumin powder – 1/2 tsp
Garam masala – less than 1/4 tsp
Instructions
For baked samosas, take flour in any vessel. Add salt, sugar, dry active yeast and oil and mix well. With the help of lukewarm water, knead soft dough. Grease the dough with some oil. Cover the dough and keep it aside for 2 hours. Dough will puff up and get double the size.
Take some oil in a pan and heat it sufficiently. When oil is hot, add green chili, ginger, cumin powder, coriander powder and peas. Saute the peas for 2 minutes. Peel the potatoes and mash them finely. Add salt, red chili powder, garam masala, mango powder and green coriander. Mix all ingredients well. Turn off the flame and take out stuffing in a bowl, so that it cools quickly.
Knead the dough again. Make four lumps from the dough and roll giving them a round shape. Take one dough ball, dust with some dry flour and roll out like chapatti with 7 to 8-inch diameter. Divide the rolled poori in two equal halves.
Take one part and place it over your hand. Spread some water on the side from where its cut and then lift from the other side and stick it nicely, giving it a cone shape. Place 1 to 1.5 tsp stuffing inside the cone. Spread some water on the corners, give a fold at the back side and stick both the sides to close the stuffing. Place this samosa in erect position (upper corner on the top) on the tray. Likewise fold all the samosas and place them at some distance on the tray.
Cover and keep aside the tray for half an hour in such a way that their shape remains intact. After half an hour, bake the samosas in oven. Preheat the oven at 180 degree centigrade. Place the tray in oven and bake samosas on 180 degrees for 10 minutes first.
Check the samosas, they have turned slightly brown. Bake the samosas for 5 more minutes. Within 15 minutes, samosas turn golden brown in color. Samosas are now ready.
Source: https://indianexpress.com
Alsi ke Ladoo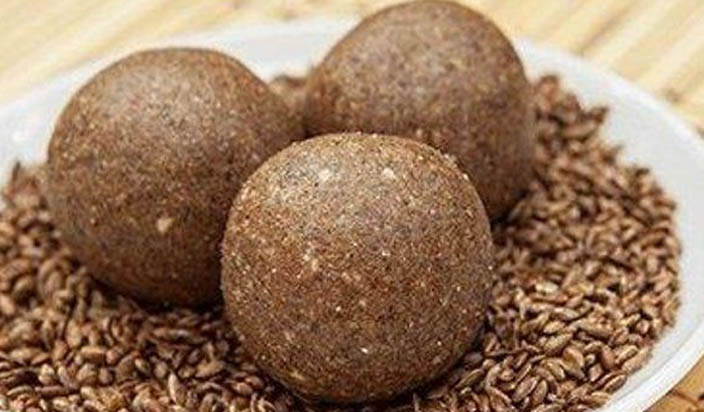 No festival is complete without a sweet so here we have health-filled ladoos.
Ingredients:
Alsi/Flaxseeds – 1/2 cup
Wheat flour – 1 cup
Jaggery / Brown Sugar – 4 to 5 tbsp
Ghee – ¾ cup
Walnuts – 2 tbsp
Almonds – 2 tbsp
Cashews – 2 tbsp
Edible gum – 50 gm / 2 tbsp
Green cardamom powder – 1 tsp
Desiccated coconut – 1/2 cup
Pistachio powder – 4 tbsp
Instructions:
Start with roasting the Alsi/ flaxseeds. For this, heat a non-stick pan on flame and put the flaxseeds to the hot pan. Keep stirring constantly and roast the seeds until they start spluttering.
Later, transfer the roasted flaxseeds on a plate.
Once it has cool down, make a coarse powder by grinding it in mixer grinder.
Now pour ghee in the hot pan. When the ghee melts, add wheat flour. Roast the flour until it acquires light golden-brown colour. Stir constantly to prevent the flour from burning.
As the wheat flour turns aromatic and nice brown in colour, transfer it on another plate.
Pour some more ghee in the pan. As the ghee become little hot, add edible gum in it. Stir continuously until it puffs up completely.
Take this out. After the edible gum cools down, crush coarsely with a rolling pin or grind it in mortar pestle.
Now add roasted wheat flour, flaxseeds powder, edible gum powder, almonds, cashews, walnuts powder back in the pan.
Put on the flame again and mix Jaggery / Brown Sugar. Mix nicely.
Add cardamom powder and mix nuts powder and give a gentle stir. In the end add desiccated coconut and mix nicely and put off the flame.
Take this mixture out on plate. Let it cool down a bit.
Grease your palms with ghee to bind the mixture into medium size Ladoo. Make sure that the mixture is warm while binding or else it will become difficult to make ladoos after the mixture cools down completely.
Once all the pinnis are ready, roll them in powdered pistachios. Arrange them in a plate.
Put a pistachio piece on the top of all the pinnis while binding them and arrange them on a plate. Flax seeds pinni are ready.
Source: http://yummytalesoftummy.com