Rajasthani food is incomplete without the mention of the famed Dal-Baati-Churma. It consists of baatis or flaky round breads baked over firewood or over kandas (i.e. cow dung cakes) as done in villages. Baatis can be baked in a gas tandoor or an electric oven as well.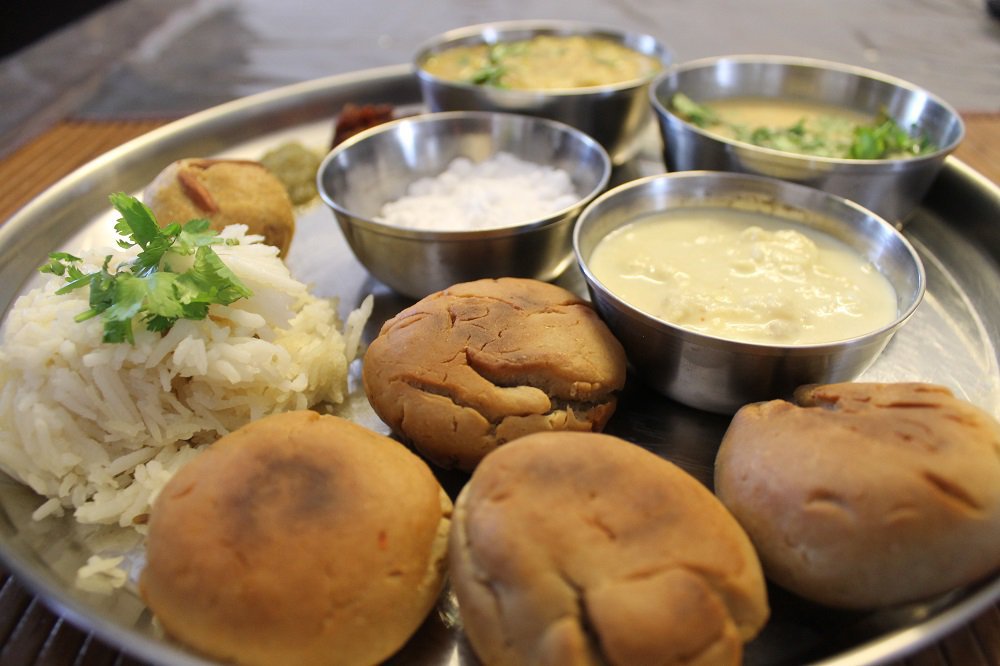 Ingredients
For the panchmel dal
1/3 cup chana dal (split Bengal gram)
1/3 cup toovar (arhar) dal
1/3 cup moong dal (split green gram)
1 tbsp urad dal (split black lentils)
1 tbsp whole moong (whole green gram)
3 tsp chilli powder
1/4 tsp turmeric powder (haldi)
1 tsp coriander (dhania) powder
1/2 tsp garam masala
3 cloves (laung / lavang)
2 bayleaves (tejpatta)
1 tsp cumin seeds (jeera)
2 green chillies, slit
a pinch of asafoetida (hing)
2 tsp dried mango powder (amchur)
2 tsp tamarind (imli) pulp
3 tbsp ghee
salt to taste
For the baatis (for 10 baatis)
1 cup whole wheat flour (gehun ka atta)
1/2 cup semolina (rava)
2 tbsp besan (Bengal gram flour)
8 tbsp milk
4 tbsp melted ghee
salt to taste
For serving
Instructions
For the panchmel dal
Clean and wash the dals and add 4 cups of water. Pressure cook for 2 to 3 whistles or till the dals are cooked.
In a bowl, combine the chilli powder, turmeric powder, coriander powder, garam masala with 3 tablespoons of water and mix well. Keep aside.
Heat the ghee in a pan and add the cloves, bay leaves, cumin seeds, green chillies and asafoetida. When the cumin seeds crackle, add the prepared masala paste and saut for 1 to 2 minutes.
Add the cooked dals, amchur, tamarind pulp and salt and simmer for 5 to 7 minutes. Adjust the consistency of the dal before serving and if required, add some water.
For the baatis
Mix all the ingredients and knead into a firm dough. Knead well for 5 to 7 minutes.
Divide the dough into 10 equal portions and shape each portion into an even sized round. Flatten the rounds lightly using your thumb to make an indentation in the centre of the baati.
Boil water in a broad vessel and drop the baatis in the boiling water. Cook for 15 to 20 minutes over a high flame.
When the baatis are done, drain and keep aside.
Heat a gas tandoor and put the baatis on the grill of the tandoor. Cook them on a medium flame for 20 to 25 minutes. Cooking the baatis over a medium flame will ensure that the baatis are cooked on the insides also.
Arrange the baatis on a serving plate, break each baati into two pieces and pour melted ghee on the baatis.
How to proceed
Pour hot panchmel dal over the baatis.
Serve hot with churma.
Tips
You can cook the baatis in a gas tandoor (without boiling them).
Alternatively bake the boiled baatis in a pre-heated oven at 200°C (400°F) for 10 to 15 minutes turning them over occasionally.
Or even deep fry them in hot ghee instead of cooking them in a tandoor.
Serves
5