Mutton Rogan Josh is a signature dish of Kashmiri cuisine, here meat is cooked with spices and yoghurt. The use of Kashmiri red chillies gives a nice red colour to the curry. It is a derived name from the Persian word, Rogan means "fat" and Josh means "intensity" which translates into 'Rogan josh' meaning cooked in oil at intense heat.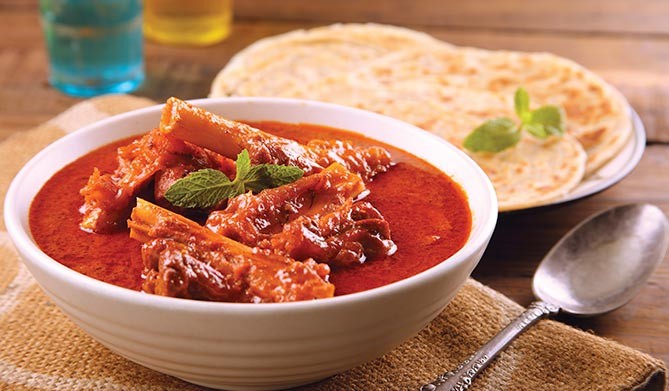 Ingredients
Mutton - 500 grams
Oil - 1/4 cup (Preferably Mustard Oil)
Dry ginger powder (Saunth) - 1 teaspoon
Asafoetida or Hing - 1 pinch
Cinnamon - 1 inch
Cloves - 4
Green cardamoms - 2
Black cardamoms - 2
Black peppercorns - 3
Black cardamoms - 3
Kashmiri red chilli powder - 2 teaspoons
Coriander powder - 1 tablespoon
Ghee or Clarified Butter - 1 teaspoon
Garam masala powder - 1 teaspoon
Bay leaf -1
Salt to taste
Yoghurt - 1/2 cup
Water - 1 1/2 cups
Instructions
Marinate the mutton pieces with 2 tablespoons of yoghurt, salt for at least 2 hours.

Heat oil in a thick-bottomed pan. Add asafoetida, bay leaf, cinnamon, green cardamom, cloves, black peppercorns and black cardamoms. Sauté till fragrant.

Add marinated mutton pieces and fry on medium flame till mutton pieces turn a nice reddish brown colour. Stir it time to time that it does not stick to the pan.

Sprinkle a little water and continue to cook on low heat. Add Kashmiri red chilli powder, fennel powder, dry ginger powder, coriander powder and salt.

Add remaining yoghurt and 1/2 cups of water, mix and stir. Cover it with a lid and allow it to cook till tender, on a low flame.

Open the lid, put garam masala, ghee and boil for 2 minutes. Switch off the heat, transfer into a serving bowl, garnish with mint leaves.

Serve hot with steamed rice or Kashmiri pulao.
Serves
3
Notes
I marinate the mutton, in this way, mutton becomes very soft.