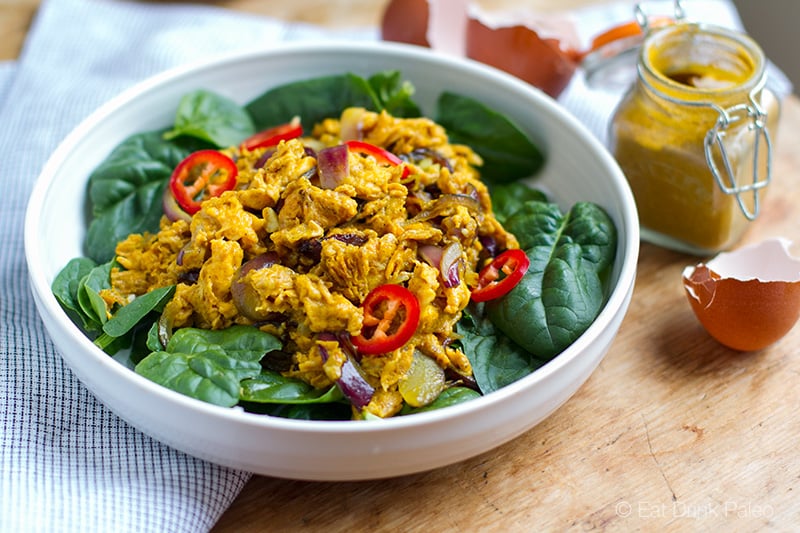 Nutritive Information
Per serving: 
298 calories
17 g fat(4 g sat)
3 g fiber
25 g carbohydrates
16 g protein
372 mg cholesterol
526 mg sodium
279 mg potassium
Ingredients
4 medium cloves garlic, finely grated or minced
1½-inch piece fresh ginger, peeled and finely grated or minced
2 tablespoons safflower oil or grapeseed oil
1 medium onion, thinly sliced
½ teaspoon ground turmeric
2 teaspoons ground coriander
1 teaspoon Kashmiri chili powder
¾ teaspoon kosher salt6 tablespoons water
8 large eggs, beaten
4 warm paratha breads or whole-wheat tortillas
Fresh cilantro for garnish
Instructions
Combine garlic and ginger in a bowl; press with a spoon to make a paste.

Heat oil in a large nonstick skillet over medium-high heat. Add onion, reduce heat to medium and cook, stirring, until softened, 3 to 4 minutes. Stir in turmeric; cook, stirring occasionally, until the onion is light brown, 5 to 7 minutes more. Stir in the garlic-ginger paste, coriander, chili powder and salt. Stir in water, partially cover and cook until the water evaporates, about 5 minutes.

Add eggs and cook, stirring constantly, until almost set, 4 to 6 minutes. Serve rolled in paratha (or tortillas) with cilantro, if desired.
Serves
4 Servings.