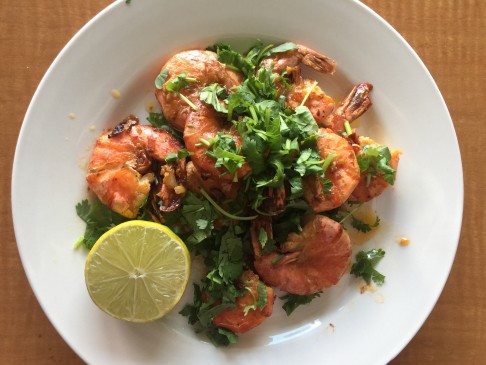 Nutritive Information
Calories 

271.2

Cholesterol 

231.3

 

mg

Sodium 

992.4

 

mg

Total Carbohydrate 

3.6

 

g

Protein 

21

 

g
Ingredients
2lbs large raw tiger shrimp, in their shells, thawed if frozen
1⁄2cup butter
1tablespoon vegetable oil
6garlic cloves, smashed
2limes, juice and zest of
1bunch fresh coriander, chopped
warm tortilla, to serve
lemon slice, for the finger bowls
Instructions
Rinse the prawns in a colander, remove their heads and leave them to drain.
Heat the butter and oil in a large frying pan, add the garlic and fry over a low heat for 2 to 3 minutes (Cook the prawns in a large frying pan or cast iron flamproof dish that can be taken directly to the table, so that they retain their heat until they are served).
Add the lime rind and juice.
Cook, stirring constantly, for 1 minute more.
Add the prawns and cook them for 2 to 3 minutes until they turn pink.
Remove them from the heat, sprinkle with coriander and serve with the warm tortillas.
Give each guest a finger bowl filled with water and a slice of lemon, for cleaning their fingers after shelling the prawns, and provide lots of paper napkins!
Serves
6