Shivaleeka Oberoi 's fascination with films, and Bollywood in particular, started at a very early age. She comes from a Punjabi family, born and brought up in Mumbai. Her father is a businessman and her mother was a headmistress of a school in Mumbai. Shivaleeka's Grandfather passed away when her father was of a very young age, but was briefly a part of the film industry back in 1967 and had produced a Bollywood film titled – Sheba and Hercules.

With a keen interest in films and an eye for detail, Shivaleeka kick-started her career in the film industry immediately after the completion of her graduation. She pursued her degree from Mumbai University with majors in English and Psychology; while also enrolled herself in Anupam Kher's Actor Prepares acting school for a diploma in acting.

Her decision to become an actress was briefly paused to understand the dynamics of filmmaking and being on an actual set. During this period she got the opportunity to become an assistant director on 2 major projects – Kick (2014) and Housefull 3 (2016), under the Nadiadwala Grandson Entertainment banner. After the completion of the projects, she started auditioning and made her Bollywood debut with a romantic thriller 'Yeh Saali Aashiqui' (2019). She was also nominated for Filmfare – Best Female Debut for her first film. Her Second film Khuda Haafiz directed by Faruk Kabir
was released on Disney + Hotstar, due to the pandemic and, was showered with a lot of love and appreciation from audiences across the globe. Her role of Nargis in Khuda Haafiz will be reprised in Khuda Haafiz part II, set to be shot in 2021.
Women Fitness India gets in a candid chat with future superstar Shivaleeka Oberoi over movies and dreams!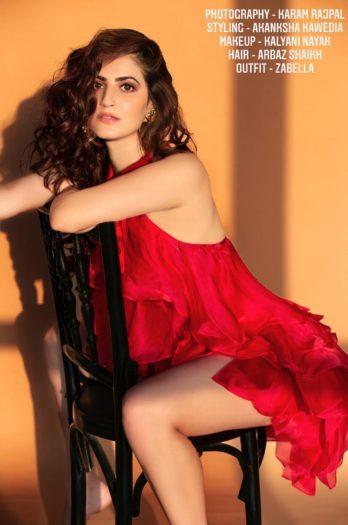 Namita Nayyar:
Shivaleeka, you started your journey as an assistant director and finally made a debut as an actor with Yeh Saali Aashiqui, tell us how has the journey been for you and when did you decide to be an actor
Shivaleeka Oberoi :
I led a life away from the world of Cinema with no 'filmy' connections in my family or close friends. Despite this, acting found its way to me, and eventually, it became my focus. The journey from the beginning has been a challenging one, but I find challenges to be exciting!

At the early age of 5, is when I remember, I started enacting scenes from movies. The most prominent memory I have is of me imitating the famous Poo from 'Kabhi Khushi Kabhi Gham' played by Kareena Kapoor Khan, and it is one of my fondest memories.
As I grew older and started college, I decided to enroll myself in Anupam Kher's acting school. Ever since that decision, it has been a roller coaster ride in the industry. After the completion of my course, I ended up getting a few commercials. I was advised by Sajid sir to get behind-the-camera experience first, before getting in front of it. Taking his advice, I assisted on two movies – Kick (2014) & Housefull 3 (2016). This really helped me understand the nuances and the details that would go into making a good film and essentially how actors could contribute to making every scene a great one. After this, I decided to kick off my acting career.

I gave a lot of auditions, read a few scripts and then 'Yeh Saali Aashiqui' happened for me! My family would often worry about this career choice I made for myself, but they've always been encouraging and ever so supportive. For that, I'm truly grateful.