Soulfull has established in 2013; Kottaram Agro Foods with its flagship brand – Soulfull has reinvented the humble grain 'Millet' to create a product which is honest, relevant and convenient for the 21st-century consumer. Currently, Soulfull has a range of millet-based snacks and cereals such as Ragi Bites, Millet Muesli, and Millet Smoothix for consumers to enjoy healthy meals and guilt-free snacking.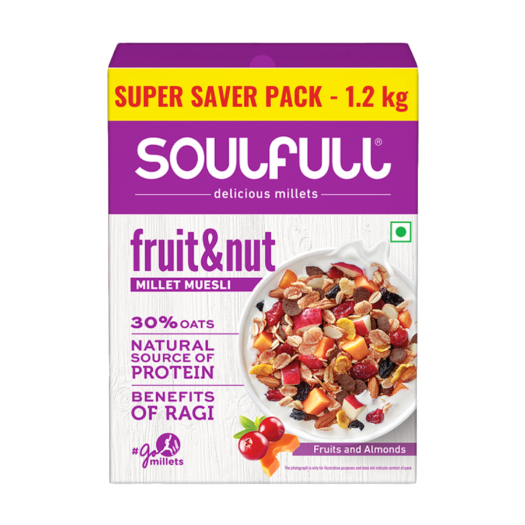 Soulfull encourages healthy living among their consumers by providing the goodness of ancient Indian grains such as millets in all-natural, easy to consume, and tasty products. So for all the workaholics who often overlook mealtime, Soulfull has got you covered.
Millet Muesli:
Soulfull's Millet Museli can be a part of your delightful breakfast that is filled with multigrain goodness. The benefits and power of millets will jump-start your mornings, and get you ready for the day. The various options under the range are Crunchy Millet Muesli with Oats, Natural Source of Protein and benefits of Ragi; Fruit & Nut Millet Muesli with 90% Whole Grains + Fruits & Nuts, High Fibre, benefits of Ragi; Diet Millet Muesli with 50% oats, ragi & 0% Refined Sugar. They have also launched 2 new & exciting flavours named Fruit, Nuts & Seeds Millet Muesli with the goodness of Fruits, Nuts, Chia, Flax & Pumpkin seeds & 1500mg of Omega 3; Chocolate & Cranberry Millet Muesli with 20% Almonds + Seeds + Cranberry, High Protein, 100% Natural Ingredients, 1500mg of Omega 3.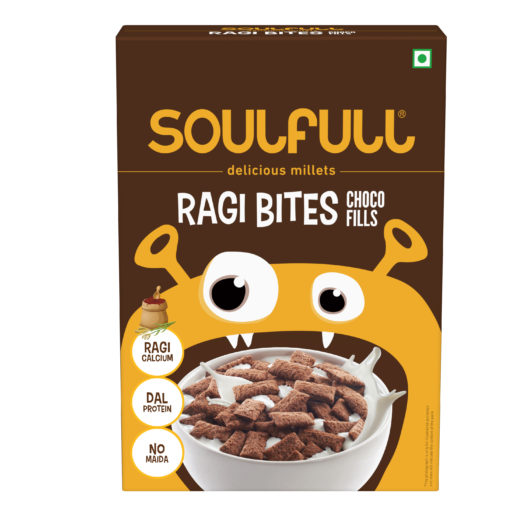 Ragi Bites:
Ragi Bites has a perfect range of healthy, tasty, and convenient snacks for kids. It has Ragi and Dal on the outside and has milk flavored fills in three flavors – chocolate, vanilla, strawberry on the inside and is targeted as the perfect snack option for kids in the age group of 4-12 years. The range of products under the Ragi Bites category are Choco/Strawberry/Vanilla Fills and No Maida Choco. The No Maida Choco & Loopies range makes for a fun and exciting breakfast cereal range for kids and comes in interesting shapes. The Ragi makes it Calcium-rich while the Protein is derived from the Dal, and the absence of Maida keeps the gluten out. Every bite contains more than 50% Ragi, a delicious filling, and 100% goodness.
Millet Smoothix:
Soulfull's Smoothix is ideal as a mid-meal beverage since it has plant protein with no added sugar and is a mix of a Ragi & 11 other super grains, crunchy almonds & sweetness from jaggery. This will help to give you the needed boost while giving you the nutrients your body needs and keeping you fuller for longer. The nutritious shake is available in two flavors – Almond & Cocoalite. It will be a perfect post-swim, a run, or a post or pre-workout indulgent when we want all-natural high protein.
For more information–
Website: https://www.soulfull.co.in
Instagram: https://www.instagram.com/soulfullfood/