Tricolor Salad
Yield
6 servings (serving size: about 1 cup)
Ingredients
1 tablespoon minced shallots
1 tablespoon balsamic vinegar
1 tablespoon fresh lemon juice
1 tablespoon water
2 teaspoons extravirgin olive oil
2 teaspoons Dijon mustard
1/4 teaspoon sugar
1/8 teaspoon salt
1/8 teaspoon freshly ground black pepper
2 cups torn Belgian endive (about 2 heads)
2 cups torn radicchio (about 1/2 head) 1 (5-ounce) package fresh baby arugula (about 8 cups loosely packed)
Instructions
Combine shallots, vinegar, lemon juice, 1 tablespoon water, olive oil, mustard, sugar, salt, and black pepper in a large bowl, stirring well with a whisk.
Add endive, radicchio, and arugula; toss gently to coat.
Serve immediately.
source: https://www.myrecipes.com/
Insalata Tri Colore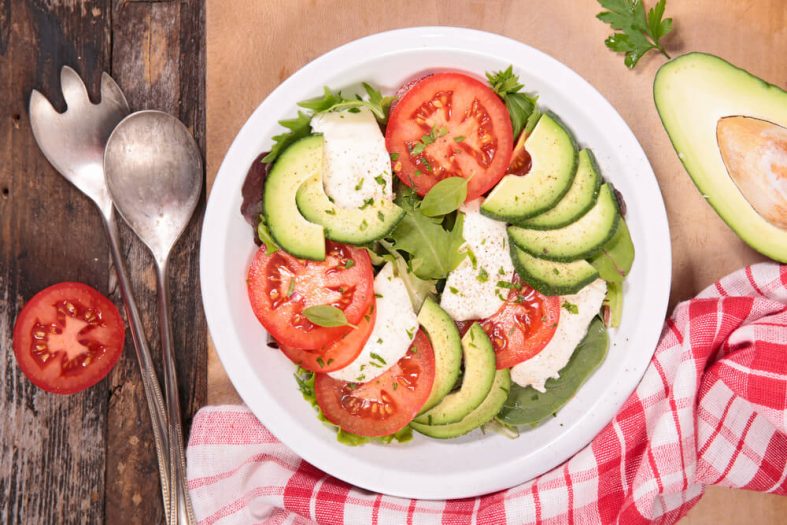 Yield: 4 servings
Ingredients
2 hearts romaine lettuce
1 medium head radicchio
1 medium bulb endive
Balsamic Vinaigrette:
1 /3 cup (4 glugs) extra-virgin olive oil
1 small shallot, minced
3 tablespoons (3 splashes) balsamic vinegar
Coarse salt and black pepper
Instructions:
Coarsely chop hearts of romaine; shred radicchio; thinly slice endive lengthwise. Combine greens in a salad bowl.
Pour olive oil into a microwave safe dish. Add shallots to oil and place oil in microwave. Heat oil and shallots for 30 seconds on high. Remove from microwave and let stand 5 minutes. (Oil and shallots may be heated over low heat on the stovetop in a small pan for 2 to 3 minutes. Remove from heat and let stand until cool.)
Pour oil and shallots in a bowl and whisk in 3 tablespoons balsamic vinegar. Drizzle vinaigrette over salad and toss to coat. Season with salt and pepper, to your taste.
Source: https://www.foodnetwork.com
Tri-Color Quinoa Salad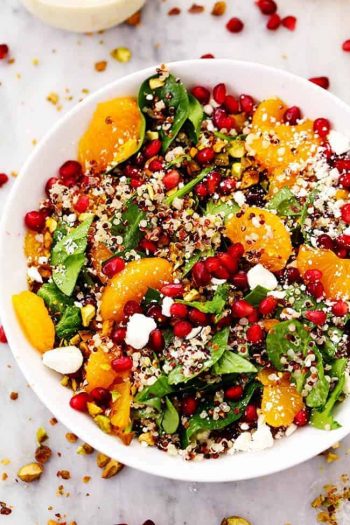 Serving: 6
Ingredients
1 cup Bob's Red Mill Tricolor Quinoa Grain
1 (15-oz.) can black beans, drained and rinsed
3 scallions, thinly sliced
2 ears of corn, raw, kernels removed
1 red bell pepper, diced
1 jalapeno, diced
2 nectarines, diced
1/2 english cucumber, seeded and diced
2 vine tomatoes, seeded and diced
Juice of 2 limes
1/2 teaspoon honey
1/2 shallot, minced
2 tablespoons sherry vinegar
1/3 cup olive oil
Kosher salt and freshly ground black pepper, to taste
3 Avocados, halved and pitted OR 6 large heirloom tomatoes, inner seeds scooped and reserved for another use (optional)
Instructions
Bring 2 cups of water to a boil in a 2-quart pot with a lid. Add quinoa and return to a boil. Reduce heat to a simmer, then cover and cook for about 12 minutes or until all the water has been absorbed.
Remove from heat, then fluff with a fork and let cool for about 5 minutes. Meanwhile, line a sheet pan with parchment paper. Once the quinoa has cooled for 5 minutes, spread it onto a sheet pan to let cool completely, about 15 more minutes.
Once quinoa is cool, add it to a large bowl. Add the black beans, scallions, corn, red pepper, jalapeno, nectarine, cucumber and tomatoes. Stir to combine.
Add the lime juice, honey, sherry vinegar, salt, pepper and olive oil to a pint-sized mason jar with a tight-fitting lid. Seal the jar and shake until emulsified. Add the dressing to the quinoa salad and stir gently to combine.
Let chill for at least 1 hour before serving. Can be prepared the night before.
If desired, serve in avocado halves or heirloom tomato bowls. For the avocados; scoop out some of the avocado flesh and fill with the prepared quinoa salad. For the tomatoes; scoop out all but ½ inch of the outer tomato flesh and fill with the prepared quinoa salad. Reserve the tomato scraps for sauce of gazpacho.
Tri-Color Salad with Parmesan and Pine Nuts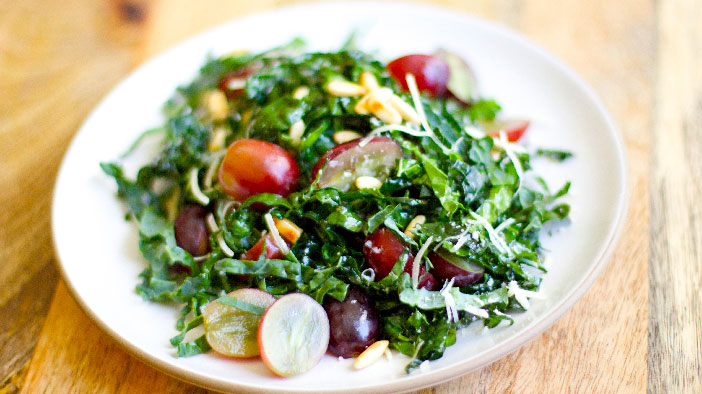 Yield: 6 to 8 servings
Ingredients
1head endive (about 1 1/2 cups), coarsely chopped
1head radicchio (about 3 cups), coarsely chopped
7ounces baby arugula (about 5 cups)
2tablespoons balsamic vinegar
2teaspoons Dijon mustard
1pinch kosher salt
1/3cup olive oil
1/3cup (about 1 ounce) coarsely shredded Parmesan cheese
1/4cup (1 ounce) pine nuts, toasted
Instructions
Combine all the lettuces in a large salad bowl and toss them together.
In a small bowl, whisk together the balsamic vinegar, mustard, and salt. Pour the olive oil into the bowl in a steady stream, whisking continuously until the mixture is emulsified.
Drizzle some of the vinaigrette over the lettuces; add the Parmesan and pine nuts. Toss everything together with large salad tongs. Add more dressing bit by bit if needed.
Tricolor Salad Pizzas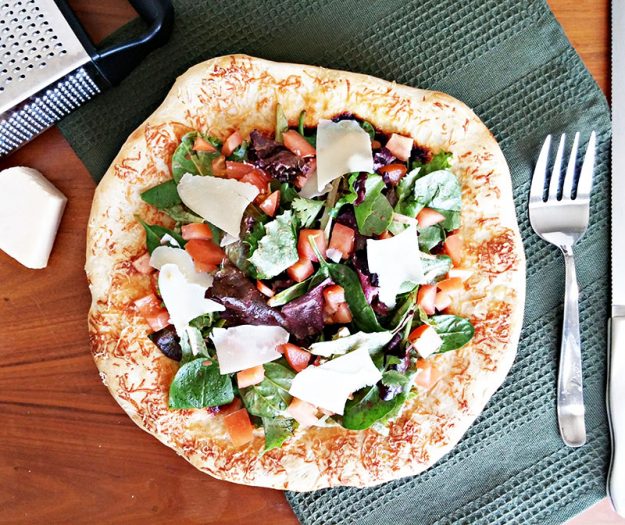 Yield: 4 pizzas
Ingredients
Cooking spray
1-ounce parmesan cheese (1/3 cup grated)
2 ounces part-skim mozzarella cheese
3/4-pound store-bought whole-wheat pizza dough, at room temperature
1 tablespoon cornmeal
3 tablespoons extra-virgin olive oil
1 cup part-skim ricotta cheese
Freshly ground pepper
1 small head radicchio
2 heads endive
1 cup grape tomatoes
4 cups baby arugula
1 tablespoon balsamic vinegar
Directions
Preheat the oven to 475 degrees F. Spray 2 baking sheets with cooking spray. Finely grate the parmesan and thinly slice the mozzarella.
Cut the pizza dough into 4 pieces. Sprinkle a work surface with the cornmeal and use a rolling pin and/or your hands to stretch each piece of dough into a rectangle about 5 by 11 inches; place 2 rectangles on each baking sheet.
Brush the dough with 1 tablespoon of the olive oil, then distribute 4 tablespoon-size dollops of the ricotta onto each rectangle. Scatter with the mozzarella slices, then sprinkle evenly with the grated parmesan and 1/4 teaspoon pepper.
Bake until the cheese is melted, and the dough is browned, about 12 minutes.
While the pizzas are cooking, thinly slice the radicchio and endive and halve the tomatoes. Toss in a large bowl with the arugula, the remaining 2 tablespoons olive oil and the balsamic vinegar. Top each pizza with about 1 1/2 cups salad. Serve immediately.
Happy Independence Day!