Vijaya Tupurani is one of Hyderabad's foremost Zumba fitness instructors besides being an army colonel's wife, & a doting mother to twins. Her Zumba classes are known to be fun and entertaining, and her students swear by her energy and her commitment, and cheerful demeanor.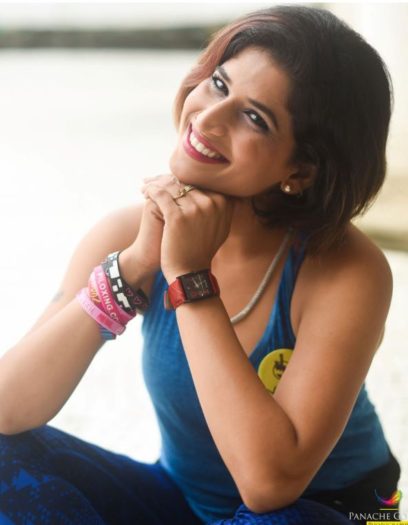 Women Fitness President, Namita Nayyar touches the ground with Zumba trainer, Vijaya Tupurani to bust myths surrounding fitness & training.
Ms. Namita Nayyar:
You started dancing at the age of three and learned Bharatanatyam and Kuchipudi besides salsa and hip-hop & finally going on to become a Zumba Fitness Instructor in 2012. Provide us an insight into a series of events that led you to become the 'queen of Zumba'
Ms. Vijaya Tupurani:
Firstly, I would like to say that it is people's love that they call me Zumba queen but I don't consider myself as one as there are many in this country and each of them is unique. Coming to the question, there is nothing specific that inspired me to become a Zumba instructor. I saw one video on YouTube in 2011 where some instructor was teaching their students and that took me to my childhood when I used to do the same pattern of dancing with my friends in between practice sessions. If I have to talk about the year, it might be between 1994 to 1998 when Zumba was not even in existence. More than anything, one thing that stuck with me in this format is my pure love for dancing.
Ms. Namita Nayyar:
As an instructor according to you what exactly is Zumba? How can it help people achieve a healthy & fit body? Is there an age limit or any limitations for those who want to practice Zumba?
Ms. Vijaya Tupurani:
The word Zumba is nothing but just a name that doesn't have any dictionary meaning. It is a name given to a dance fitness format where we incorporate different dance forms and rhythms with a pre-choreographed piece. Just like Zumba, there are many dance fitness formats with different names but the motive of every such format is the same.
Coming to the second part of your question, now I am going to cover the motive behind dance fitness formats. Zumba or any similar program helps in achieving the following benefits:
Improves flexibility and reduces the stiffness of the body
improves heart and lung conditions
builds endurance and motor fitness
helps in weight loss
improves energy and cardiovascular health
helps in reducing depression minimizes stress and
helps in improving social and emotional health.
With the help of dancing, we burn around 500 to 800 calories per hour and that leads to a good amount of weight loss eventually.