With the winter chills slowly seeping in, its time to warm ourselves with some delicious mouth-watering soups to refresh up your souls.
1. Tomato and Bread Bowl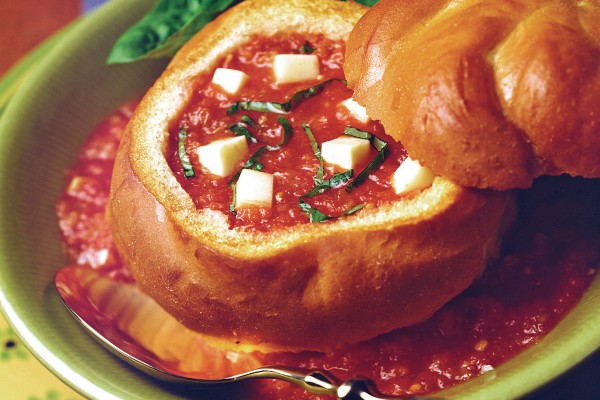 Ingredients:
1 Tbsp. vegetable oil
1/2 cup diced Vidalia onions
1 clove garlic, minced
1/2 tsp. ground cumin
1 pinch red pepper flakes
1/2 cup canned cannellini beans, rinsed and drained
Dry white wine (optional)
14-oz. can diced tomatoes
6 homemade bread bowls or store-bought sourdough rolls
1/2 cup vegetable broth
2 tsp. lime juice
Salt and black pepper, to taste
Parsley, for garnish
Directions:
Heat the oil in a small stockpot. Add the onions and sauté for about 2 minutes, until softened and translucent. Add the garlic and sauté for another minute.
Add the cumin, red pepper flakes, and beans and sauté for another 3 minutes. If the mixture sticks to the bottom of the pot, you can deglaze it with a couple of splashes of wine.
Add the tomatoes and let simmer until they're cooked through, about 10 minutes.
While the soup simmers, make the bread bowls by slicing the tops off the bread bowls or rolls and scooping out the dough, removing as much as possible. Save to make breadcrumbs for another recipe.
Add the broth and lime juice and blend in the pot with an immersion blender. If you don't have an immersion blender, transfer the contents of the pot to a standard blender. Let the mixture cool for a few minutes (you don't want the steam to pop off the blender's lid—that would be a big, hot mess!) and blend until smooth. Add the salt and pepper.
If you used an immersion blender, continue to simmer the soup for a few minutes. If you used a standard blender, pour the soup back into the pot over low heat and simmer for a few minutes. Ladle the soup into each bread bowl. Garnish with the parsley and serve.
Makes 6 servings
2. Samosa Soup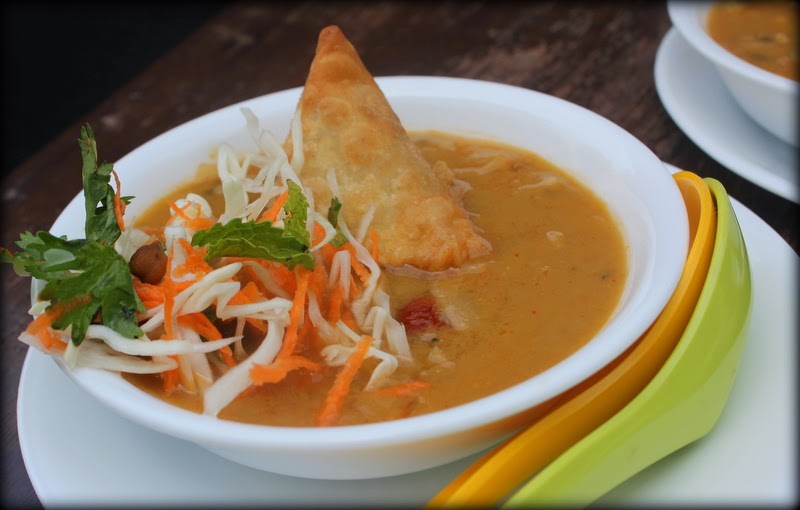 Ingredients:
To start:
5

medium potatoes

skins intact, scrubbed and roughly chopped

1/2

tsp

coconut oil

2

green chilis

finely chopped

3

cloves

garlic

minced

1/2

white or yellow onion

diced
For the spice blend:
1

tsp

cumin seeds

1

tsp

coriander seeds

1/4

tsp

fennel seeds

1/4

tsp

turmeric

3/4

tsp

salt

1/4

tsp

cayenne pepper
To finish the samosa soup:
3

cups

water or unsalted vegetable broth

(or salted broth and reduce the salt above)

1/3

cup

coconut milk

(optional)

1/2

lime

juiced

1/2

cup

cooked green peas, chickpeas, or mung beans

(or more)

fresh cilantro, tamarind chutney, or other chutney of choice

(optional, for serving)
Directions:
In a large saucepan, add the potatoes along with water to cover them by a few inches. Bring to a boil, and cook until the potatoes are fork tender. Rinse and drain the cooked potatoes.

Meanwhile, warm the coconut oil over medium heat in a skillet. Add the chilis, garlic, and onion, and stir. Cook for 2-3 minutes, until softened slightly.

Add all of the ingredients for the spice blend, and stir. Continue stirring frequently, cooking at medium heat for about 2 more minutes, until the spices are fragrant and slightly browned.

Remove from the heat, and remove the mixture from the pan immediately. Add to a blender or food processor, and blend until mostly smooth.

Add the cooked potatoes to the blender, along with as much of the water or broth as needed to blend. Blend until smooth (or leave slightly chunky if you prefer).

Transfer the mixture to the saucepan, add the rest of the water or broth, the (optional) cocnout milk, and the lime juice. Bring to a gentle boil, then reduce to a simmer.

Simmer for 10-15 minutes, or until the flavors have come together to your liking. Stir in the cooked beans and adjust seasoning as desired. Serve hot, topped with fresh cilantro, and chutney (if using/available).
Makes 3 Servings.
3. Avocado Coconut Soup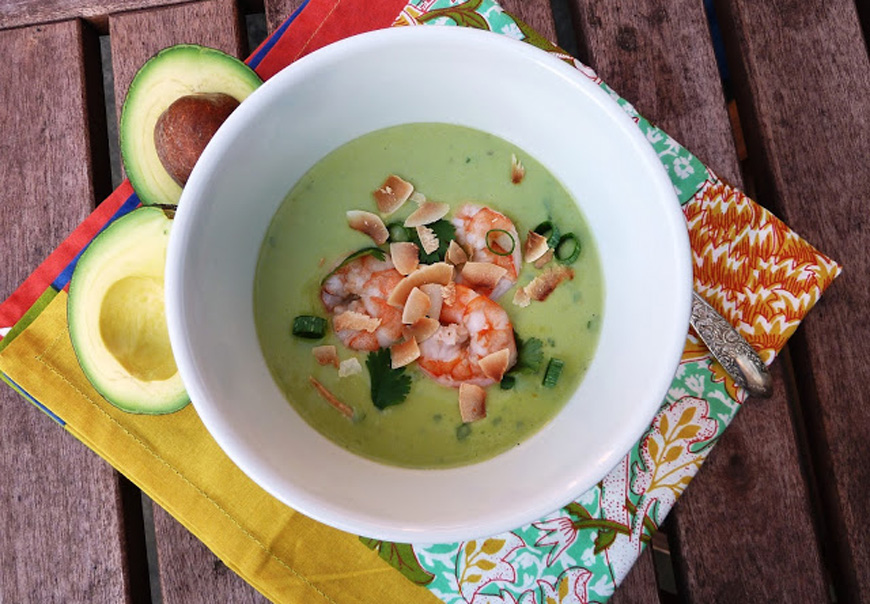 Ingredients:
1 – 1 1/2 cup(s) coconut meat
1 cup scooped avocado — about 1 small avocado or 1/2 a large
1-2 cups coconut water
pink salt and fine black pepper to taste
Directions:
Add all the ingredients to a blender, starting with a cup of coconut water.
Blend from low to high until the mixture is fluffy and smooth. Add the salt and pepper to taste – about a pinch of each should do it!
Makes 2 Servings.
4. Vegetable and Cheese Soup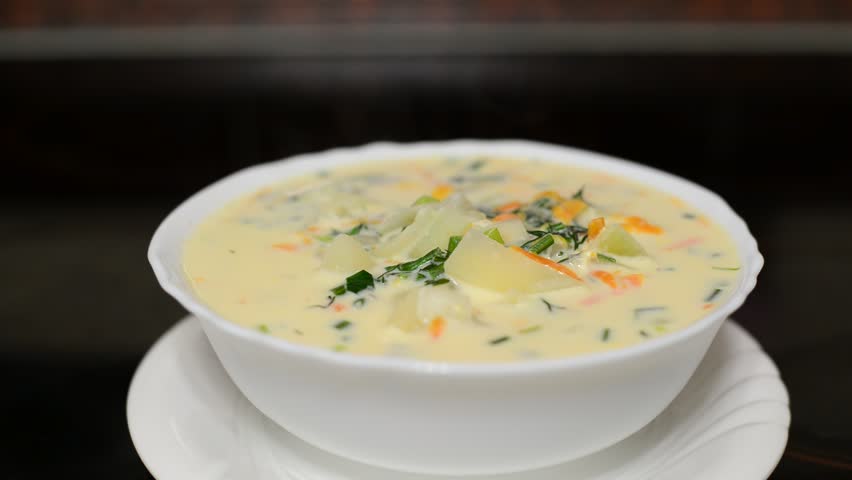 Ingredients:
1 1/2 tablespoons extra-virgin olive oil

2 to 3 cups (280 to 420 g) chopped sweet onion (from 1 large onion)

3 large garlic cloves, minced

1 cup (115 g) chopped celery (2-3 stalks)

1 heaping cup (155 g) peeled and chopped carrots (2 small carrots)

6 packed cups (330 g) broccoli florets (1 large bunch broccoli)

2 cups (270 g) peeled and chopped sweet potato (from 1 small sweet potato)

1 1/2 to 2 cups (195 to 260 g) seeded and chopped delicata squash* (optional)

5 1/2 cups (1.375 L) low-sodium vegetable broth

3 to 5 tablespoons nutritional yeast, to taste

1/4 teaspoon cayenne pepper (optional)

Salt and pepper, to taste (I used about 1 teaspoon salt)

White wine vinegar or fresh lemon juice, to taste

For serving: toasted pepita seeds and Pan-Fried Garlic Croutons
Directions:
Grab a very large pot (about 6 1/2 quarts) with a lid and set aside.
Add the onion and garlic with the oil into the pot and sauté over medium heat for a few minutes. Season with a couple pinches of salt and pepper.
Add the celery, carrots, broccoli, sweet potato, and squash, one by one, as you chop them. Continue to sauté over medium heat, stirring every once and a while so it doesn't stick to the bottom.
Cover the pot with a lid and cook the vegetables for 4 to 5 minutes, reducing heat if necessary.
Remove lid and stir in the broth. Bring the soup to a low boil. Reduce heat to low/medium and cover with lid. Simmer for 10 to 15 minutes, until the squash and potato are fork tender.
Turn off heat and remove lid. Allow the soup to cool slightly for 5 minutes or so. After cooling, carefully scoop the soup into a blender (you'll have to do this in a couple batches most likely) and add in the nutritional yeast and optional cayenne, if using. Carefully blend the mixture with the lid ajar (to allow heat to escape), starting at a low speed and increasing the speed until smooth. Season with salt and pepper, to taste. Alternatively, you can use an immersion blender.
Pour all of the puréed soup back into the original pot. Now, stir in the vinegar or lemon juice, to taste, about 1 teaspoon at a time. I usually add between 1 to 2 teaspoons of white wine vinegar. This helps give the soup flavours some brightness.
Ladle into bowls. Garnish with toasted pepita seeds and croutons.
Transfer leftovers into jars and allow to cool before securing the lid and placing in the fridge. The soup should stay fresh for a week in the fridge.
Makes 8 Servings.
5. Peanut Soup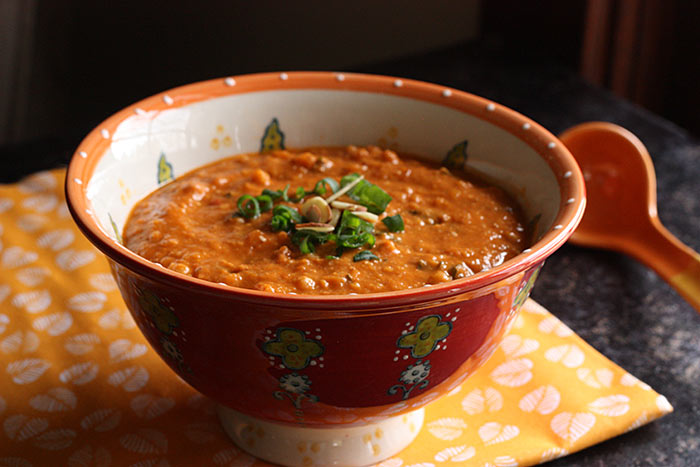 Ingredients:
6 cups low sodium vegetable broth
1 medium red onion, chopped
2 tablespoons peeled and minced fresh ginger
4 cloves garlic, minced
1 teaspoon salt
1 bunch collard greens (or kale), ribs removed and leaves chopped into 1-inch strips
¾ cup unsalted peanut butter (chunky or smooth)
½ cup tomato paste*
Hot sauce, like sriracha (AKA rooster sauce)
¼ cup roughly chopped peanuts, for garnish
Directions:
In a medium oven or stock pot, bring the broth to a boil. Add the onion, ginger, garlic and salt. Cook on medium-low heat for 20 minutes.
In a medium-sized, heat-safe mixing bowl, combine the peanut butter and tomato paste, then transfer 1 to 2 cups of the hot stock to the bowl. Whisk the mixture together until smooth, then pour the peanut mixture back into the soup and mix well. Stir in the collard greens and season the soup with hot sauce to taste.
Simmer for about 15 more minutes on medium-low heat, stirring often. Serve over cooked brown rice if you'd like, and top with a sprinkle of chopped peanuts.
Makes 4 Servings.
Get set and treat yourself and your family with these delicious healthy soups.