The beautiful festival of Eid is here. And even though there is fear everywhere due to the corona virus, you can still make this Eid special for yourself and your loved ones by making these delectable recipes by our favourite master chefs!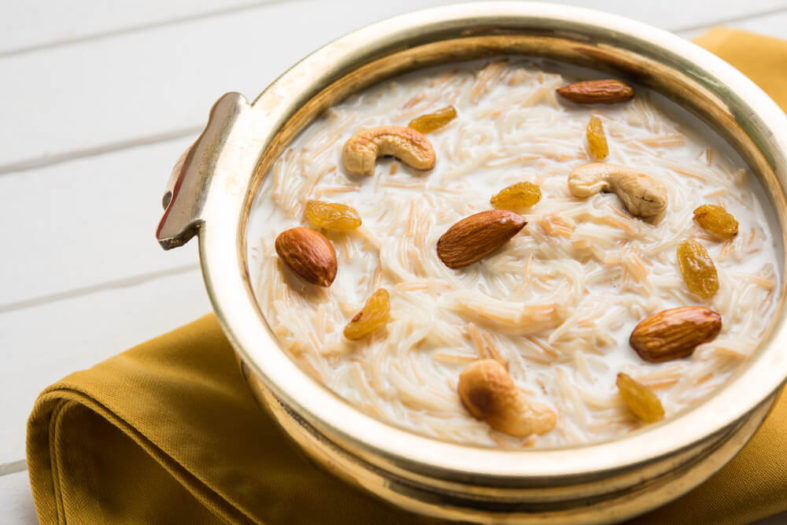 Preparation Time: 10 minutes
Cooking Time: 25-30 minutes
Serves 4
Ingredients
½ cup water, 1 tin condensed milk, 1 litre full fat milk, 7-8 dates seedless and chopped, 3-4 green cardamoms crushed, ½ cup sugar, ¼ cup ghee, 2 tbsp chironji, ¼ cup golden raisins, 7-8 pistachios sliced, 8-10 almonds sliced, 8-10 cashews chopped, 1 cup whole wheat vermicelli (seviyan) crushed, ¼ cup dessicated coconut, Chopped nuts for garnish, Saffron for garnish
Directions
● Add water in a pressure cooker and immerse a tin of condensed milk in it. ● Cover and cook for 2 whistles on medium flame. ● Meanwhile, heat milk in a deep-bottomed heavy kadhai. Add dates and cook till it begins to change its color and reduces. ● Add in crushed cardamom pods, allow to cook on simmer for 3-4 minutes and add in sugar, stir until the sugar begins to melt in. ● Add the cooked condensed milk, mix well and cook till the milk begins to thicken. ● Heat 2 tbsp ghee in another pan, add in chironji and roast till fragrant. ● Add in raisins, pistachios, almonds and cashews. Roast till they begin to turn slightly brown. ● Add in the seviyan and begin to roast till they turn brown. ● Add in dessicated coconut and roast till fragrant. ● Add in the seviyan and dry fruit mixture to the milk, mix well and cook till it comes to boil and thickens. ● Garnish with dry fruits and saffron, serve hot.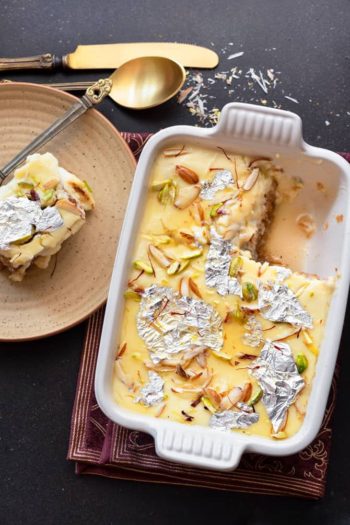 Serves 5-6
Ingredients
4-8 white bread slices, 4 cups milk, ¾ cup sugar, ½ teaspoon green cardamom powder, ¼ cup blanched and sliced pistachios + for garnishing, Ghee for shallow-frying, Sugar syrup for drizzling, Silver varq for coating.
Directions
1. To make rabdi, heat milk in a non-stick pan and bring to a boil. Stir occasionally, till it thickens. 2. Add sugar and mix well. Add cardamom powder, stir and cook for a minute. Add pistachios and mix well. Remove from heat and refrigerate to chill. 3. Heat some ghee in another non-stick pan. 4. Cut bread slices into 4 equal portions. 5. Shallow-fry the pieces in hot ghee till golden brown from both the sides. Drain on absorbent paper. 6. Take fried bread pieces on a plate. Drizzle sugar syrup and top with rabdi. Apply silver varq and sprinkle pistachios. 7. Transfer on a serving plate and serve immediately.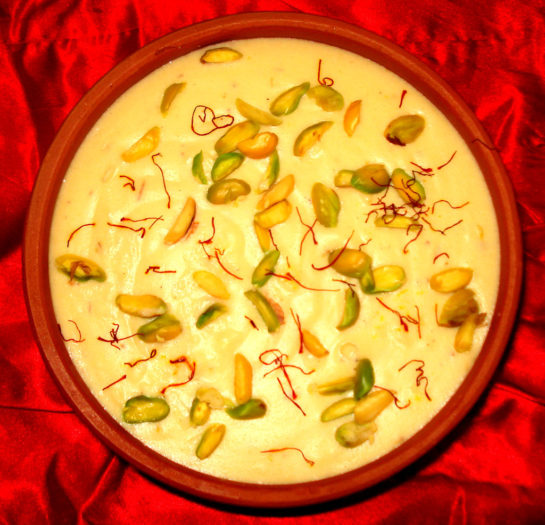 Serves – 6
Prep Time – 5 mins
Cooking Time – 20 mins
Ingredients
Boiled rice – 2 cups, Milk – 1lt, Saffron – few strands, Sugar – 5 tbsp, Cardamom powder – ½ tsp, Pista chopped – 2 tbsp, Almonds chopped – 2 tbsp
Directions
In a mixer grinder add boiled rice along with milk. Grind it till it gets a very fine grain, take care to not make a paste of it. Pour it out in a pan, add saffron strands and give a quick boil. Lower the heat and cook till the milk thickens. Add sugar, cardamom powder, chopped pista & almonds. Once it becomes of a thick coating consistency take it off heat and serve.