There are a number of Easter food ideas which one can pick up and incorporate into the Easter menu. Even if you are looking for healthy delicacies, there are thousands of ideas which would prove to be idle for Easter.
For many, the center of their celebration is the food! So, how do you enjoy Easter dinner while you are trying to adhere to low-calorie and low-fat Easter recipes? It may not be as difficult as you think, as long as you are armed with flavorful, easy-to-prepare recipes.
Easter Recipes to Try
Baked Carrot Cake Oatmeal Bars
By nutritionist, Haylie Pomroy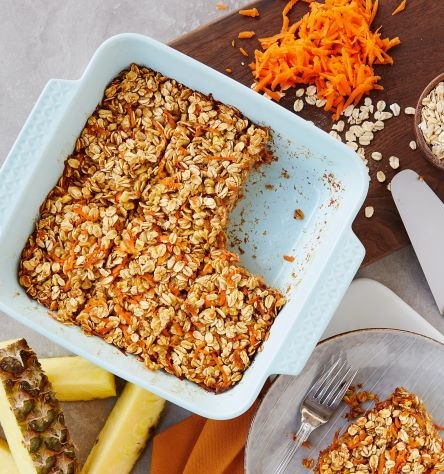 This recipe is loaded with ingredients that are incredible digestive aids—they're going to help you burn right through complex carbs, help with brain function, and inflammation. Carrots are loaded with vitamin A and great for collagen and elastin—a few major components that give you beautiful, glowing skin. They're also great for eye health.
These delish bars are so easy to make, freeze well, and are great to take with you as a snack on-the-go. Remember, pleasure stimulates the metabolism, so having a delicious treat like this is going to be so amazing for your body.
Maintenance | Serves 6
Prep time: 15 minutes | Total time: 1 hour
INGREDIENTS
2 1/2 cups old-fashioned oats
1 1/2 cups grated carrots
1/2 cup chopped pineapple
2 teaspoons ground cinnamon
1 teaspoon ground ginger
1 teaspoon baking powder
1/4 teaspoon ground nutmeg
1/4 teaspoon sea salt
1 cup unsweetened oat milk or rice milk
1/2 cup xylitol, or more to taste
1 large egg
2 teaspoons pure vanilla extract
DIRECTIONS
Preheat the oven to 350 degrees F. Line an 8-inch square baking pan with a piece of parchment paper cut to fit.
In a large bowl, combine the oats, carrot, pineapple, cinnamon, ginger, baking powder, nutmeg, and salt and stir until well mixed.
In a medium bowl, whisk together the milk, xylitol, egg, and vanilla until smooth.
Pour the milk mixture into the flour mixture and stir gently until fully combined. Pour the batter into the prepared pan and spread it to cover the bottom evenly.
Bake for about 40 minutes, or until golden brown and set in the middle. Remove from the oven and cool for 5 minutes, then cut into 6 squares and serve.
Curried Coconut Carrot Soup
By nutritionist, Haylie Pomroy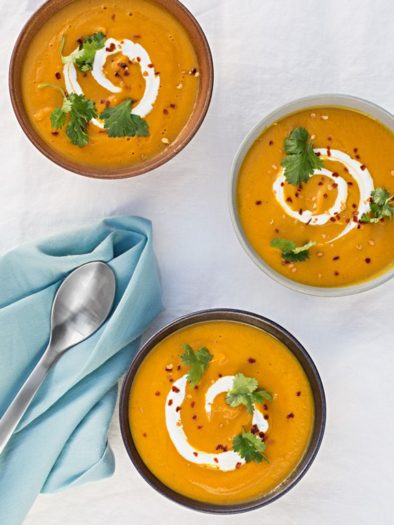 Serves 6 to 8 (makes about 10 cups)
Prep time: 20 minutes | Total time: 30 minutes
INGREDIENTS
2 tablespoons coconut oil
1 onion, peeled and roughly chopped
6 cups scrubbed, unpeeled carrots, roughly chopped (about 1 1/3 pounds)
3 1/2 cups vegetable broth
14-ounce can full-fat coconut milk
1 1/2 tablespoons freshly chopped ginger root
1 tablespoon curry powder
1/2 teaspoon crushed red pepper flakes
1/2 teaspoon sea salt
Black pepper to taste (optional)
Optional garnishes: Coconut milk, crushed red pepper flakes, fresh cilantro
DIRECTIONS
Heat the coconut oil in a large soup pot over medium heat, and add the onions.
Cook the onions for about 7 minutes, stirring occasionally.
Add the carrots, and cook and stir for another 5 minutes.
Stir in the next 5 ingredients (broth through red pepper flakes).
Bring to a boil, then reduce the heat to a simmer.
Cover and cook until the carrots are softened, about 10 or 15 minutes.
When carrots are soft, carefully blend the soup in batches in a blender (use a towel to hold the lid down firmly) or use an immersion hand blender and puree until smooth.
Season with salt and optional pepper.
Garnish with a swirl of coconut milk, extra crushed red pepper flakes, and sprigs of fresh cilantro, if you like.
Baked Beet Fries With Maple-Pecan Aioli
By:  The Spruce Eats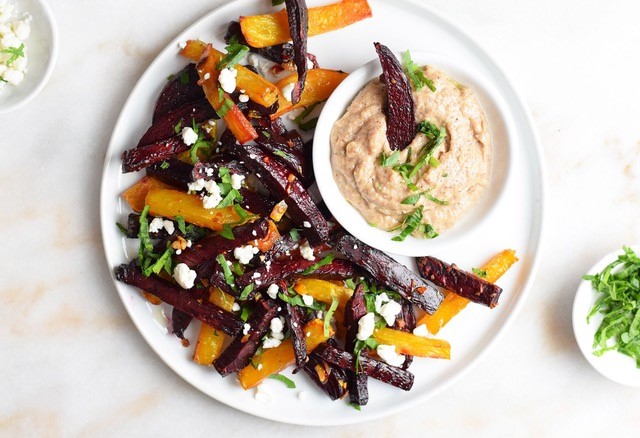 Prep:10 mins
Cook:20 mins
Total:30 mins
Servings: 4 servings
Yield:1 platter
For the Beet Fries:
4 golden and red beets
1 tablespoon olive oil
1 teaspoon salt
1/2 teaspoon ground black pepper
3 cloves garlic (minced)
Garnish: fresh chopped parsley, crumbled goat cheese
For the Maple Pecan Aioli:
1/4 cup pecan halves
1/2 cup mayonnaise
2 teaspoons lemon juice
1/2 teaspoon salt
1/2 teaspoon ground black pepper
1 tablespoon maple syrup
INSTRUCTIONS
Preheat the oven to 425 F. Wash and scrub your beets then peel them. Cut both ends of the beets.
Cut the beets into slices and then cut them into 1/2-inch matchsticks.
Whisk the olive oil, salt, pepper and minced garlic in a large bowl. Toss the beet sticks in the bowl until they are completely coated with the garlic oil.
Line a baking sheet with parchment paper and lay out the beet fries in one even layer. Don't let them overlap or they will steam instead of crisp. Bake for 15 to 20 minutes, flipping halfway through to allow both sides to crisp. While the fries are baking prepare the maple pecan aioli.
Toast the pecans in a small sauté pan, shaking frequently for 3 to 5 minutes or until lightly browned and fragrant.
Add the mayonnaise, lemon juice, salt, pepper, and maple syrup to a blender or food processor. Toss in the pecans and blend until smooth. Add a teaspoon of water if it's too thick.
Remove the fries from the oven.
Place the cooked beet fries on a platter and top with chopped parsley and crumbled goat cheese. Serve with the maple pecan aioli and enjoy.
Baked Garlic Salmon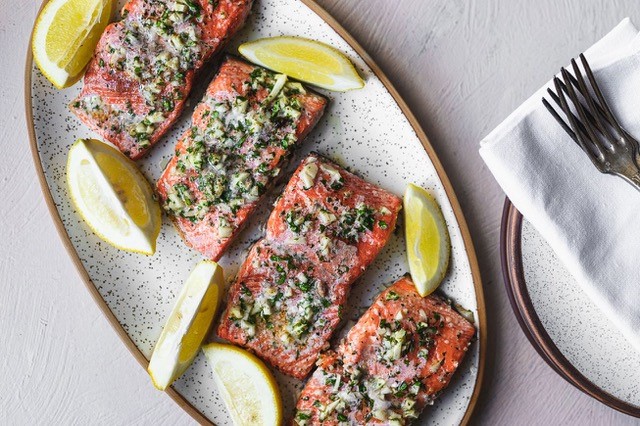 Prep:10 mins
Cook:20 mins
Total:30 mins
Servings:4 servings
INGREDIENTS
4 4-to-6-ounce salmon fillet
Kosher salt to taste
Black pepper
4 small cloves garlic, minced.
1 heaping tablespoon chopped parsley.
4 tablespoons extra-virgin olive oil
2 tablespoons lemon juice
INSTRUCTIONS
Preheat the oven to 375 F. Lightly grease a 9-by-13-by-2-inch baking pan or line the pan with foil and lightly oil the foil. Sprinkle the fillets lightly with salt and freshly ground black pepper.
In a small bowl, combine the minced garlic, parsley, and olive oil. Stir well to incorporate.
Arrange the salmon fillets in the prepared baking pan and evenly spread the garlic and parsley mixture over.
Bake the salmon for about 15 to 20 minutes, or until the fillets register 145 F on an instant-read thermometer or flake easily with a fork.
Drizzle the baked salmon fillets with 2 tablespoons of lemon juice.
Minted Pea Purée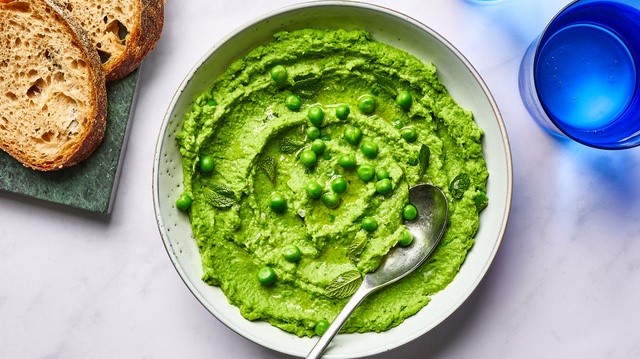 Prep:5 mins
Cook:5 mins
Total:10 mins
Servings:4 servings
INGREDIENTS
2 cups water
10 1/4 ounces/300 grams fresh or frozen garden peas
1/4 cup fresh mint leaves
Salt, to taste
Black pepper, to taste
1 tablespoon butter, optional
Chopped fresh mint leaves, optional.
INSTRUCTIONS
Add the water to a medium pot and bring to a boil. Add the peas, fresh mint, and a pinch of salt and bring to a boil. Reduce the heat and simmer until the peas are tender, about 5 minutes.
Drain the peas and mint.
Using an immersion blender, quickly purée the peas and mint to create a smooth paste. If you don't have an immersion blender, use a food processor instead or mash the peas well with a potato masher or fork. Taste for seasoning and add salt and pepper to taste.
You can use the peas in rough purée form, but if you want an exceptionally fine, smooth purée, push the mixture through a fine sieve.
Stir in the butter and chopped mint leaves (if using) until all the butter has melted and is incorporated into the purée.
Serve minted pea purée warm alongside your favorite meat or fish dish.
Happy Easter!