4. Rose Petal and Indian Spice Hummus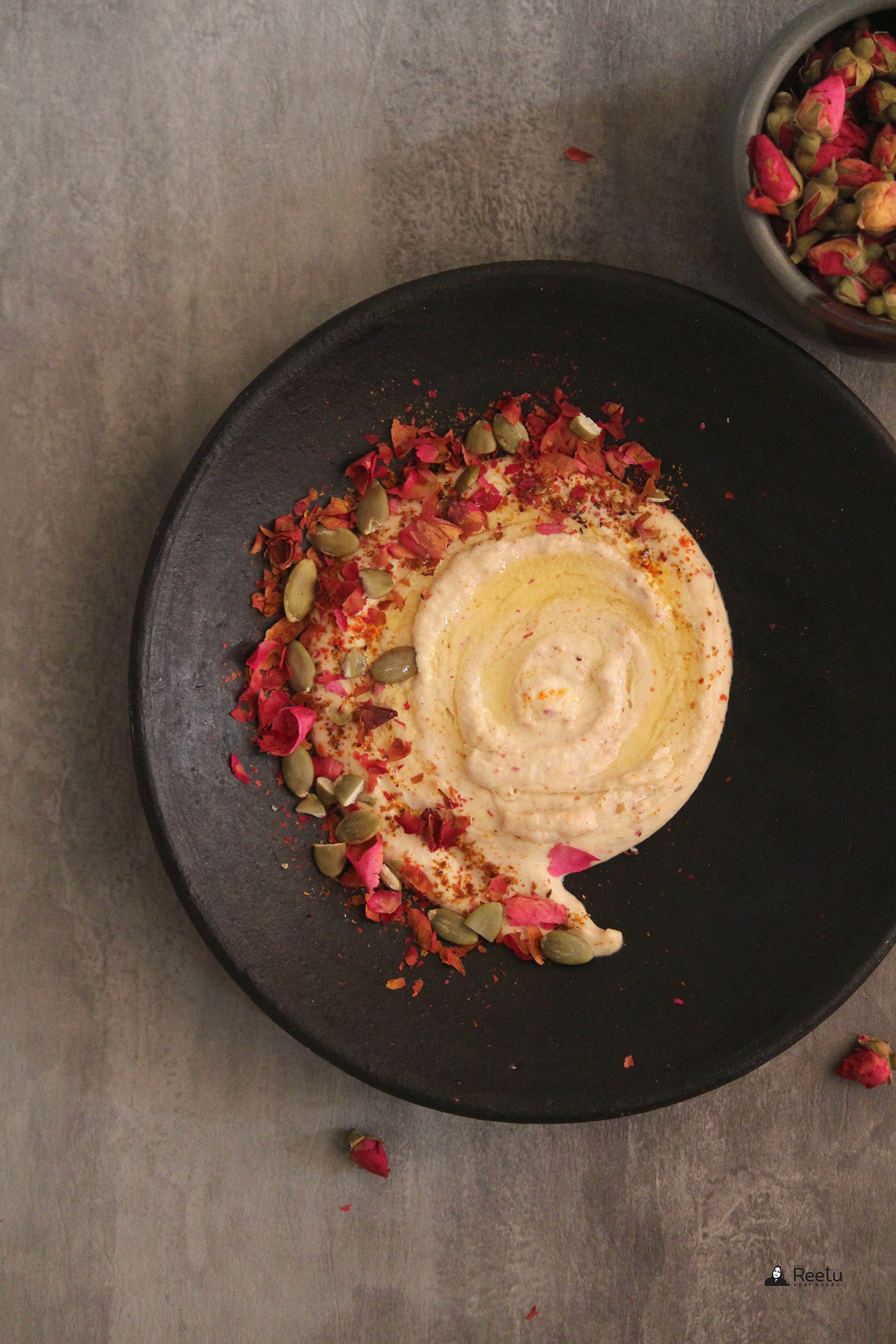 A Levantine dip / spread prepared with mashed and creamy chickpeas blended with edible dried rose petals, rose powder, tahini, olive oil, lemon juice, salt and garlic with a flavor and mesmerizing fragrance of edible rose petals.
Preparation Time: 15 minutes
Soaking Time for Chickpeas: 08 hours
Chilling Time: 01 hour
Serves: 4
Ingredients and Quantity:
Garbanzo Beans (Chickpeas), soaked overnight and cooked: 325 gm.
Dried Rose petals, edible, cooked along with chickpeas- ½ tbsp.
Rose powder, edible- 01 tsp.
Garlic, crushed- 04 cloves
Punjabi Garam masala powder- 1/4th tsp.
Red chilli powder- 1/4th tsp.
Lemon juice- 01 tsp.
Extra virgin olive oil- 02 tbsp. / or more as desired
Tahini- 1/4th cup
Water, reserved – 1/4th cup
Salt- to taste
For the sprinkling:
Punjabi Garam masala powder- a pinch
Red chilli powder- a pinch
For the garnish:
Rose Petals, edible: ¼ th tbsp.
Green Pumpkin seeds (Pepitas), lightly toasted- 02 tsp.
For the drizzling:
Extra Virgin olive oil for drizzling: 01 tbsp.
Method:
Add all ingredients to a food processor and blend until smooth except the ingredients mentioned for the sprinkling, garnish and drizzling.
Chill in the refrigerator , covered with a cling wrap for an hour before serving
Garnish with edible rose petals and Pepitas sprinkled with Indian spice powders, drizzled with olive oil.
You may serve this delectable dip with Lavash / Carrot crudités.
Chef Tips:
Reserve the water in which the chickpeas were boiled, it can be used for blending the ingredients for Hummus.
I personally suggest using Garbanzo beans which are soaked overnight and then cooked till well done, as some may opt for using canned ones.