3. Beetroot Falafel with Cilantro Tahini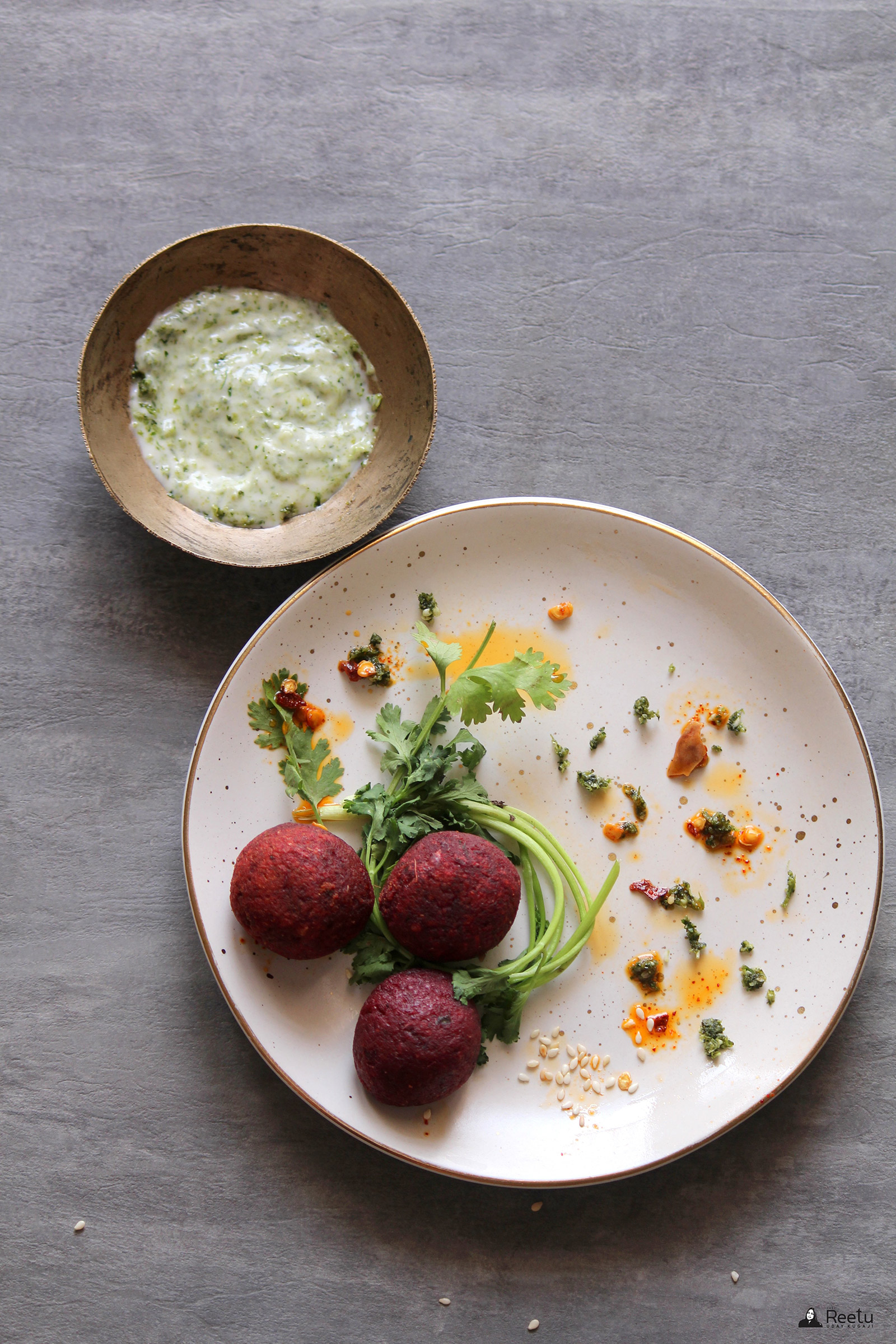 Ultra-crispy on the outside, moist and fluffy on the inside…. this vibrant coloured beauty will steal the thunder out of your meal!!!!
Prepared with drained chickpeas, onion, parsley, cilantro, garlic and Bengal gram flour with a twist of beetroot added to it, deep fried and served hot with Cilantro Tahini Sauce.
Preparation Time: 15 minutes
Cooking Time: 10 minutes
Makes: 10 Beetroot Falafel
Ingredients and Quantity:
Chickpeas, drained and Canned- 3/4th cup
Beetroot, cooked and roughly chopped- 01 no. large sized
Onion roughly chopped- ½ cup
Parsley, finely chopped- 01 tbsp.
Cilantro, finely chopped- 02 sprigs.
Garlic cloves- 03 nos.
Cumin, lightly roasted- ½ tsp.
Salt- to taste
Bengal gram flour- 02 tbsp.
Canola oil- as required for deep frying
Cilantro Tahini Sauce:
Tahini- 1/4th cup
Garlic cloves-02 nos.
Cilantro, chopped- 1/4th cup
Lemon juice- 01 tsp.
Salt- to taste
Pepper- to taste
Ground cumin- 1/4th tsp.
Method:
Place the drained and uncooked chickpeas in a food processor. Blend it along with beetroot, onion, parsley, cilantro, garlic, cumin and salt to taste.
Add 02 tbsp. of Bengal gram flour and pulse. Ensure that it blends properly but not pureed.
Place the mixture in a glass bowl, which is covered, in the refrigerator for 10 minutes.
Form the mixture into 10 equal sized balls and deep fry in hot oil on each side so that it is evenly cooked and coloured.
For preparing the Cilantro Tahini Sauce:
Pulse garlic, cilantro, cumin, salt and pepper in a food processor until smooth. Add tahini and lemon juice; process only for 30 seconds. Add water to adjust consistency and whisk well.
Serve the beetroot falafel hot with Cilantro Tahini Sauce.
Chef Tips:
You may add herbs and freshly ground black peppercorns in the Chickpea mixture before it is refrigerated.
You may add more Bengal gram flour to the chickpea mixture, if required.