The festive season is upon us again, and even if we're going to be celebrating a little differently this year, one thing is for sure – no one is maintaining any physical distance from food!
No celebration of any kind is complete without a feast, and no feast is complete without a sweet dish. However, if you're diabetic or are trying to cut down on sugar, this might prove to be a tricky time. You'd like to participate in the celebrations and enjoy the sweet treats, but the thought of all that sugar is putting you off.
However, you don't need to stay away from your laddus or kheer – who says you need sugar to make something sweet? There are so many other natural sweeteners available today, and you can very easily substitute sugar for these in your recipes. In fact, they may actually end up tasting better!
From fruit to dry fruit to jaggery, there are many ingredients that can replace refined sugar and provide nourishment along with sweetness. So here's to a happy, healthy Diwali!
1. Sooji Dates Balls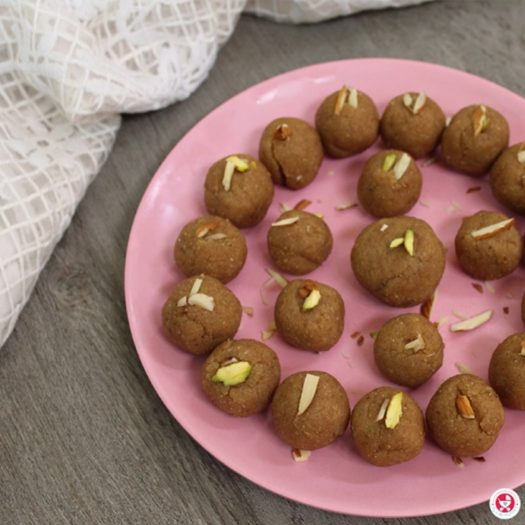 Ingredients:
Ghee – 4 tbsp
Sooji – 1 cup
Grated Coconut – 4 tbsp
Milk – 500 ml
Dry fruits powder – 4 tbsp
Dry dates powder – 1 cup
Cardamom powder – a pinch
Instructions:
Heat 3 tbsp of ghee in a pan.
Add the sooji and sauté till you get a roasted aroma.
Add the grated coconut and sauté for a minute.
Add boiled milk and stir continuously till it becomes thick and non-sticky.
Add the dry dates powder and dry fruits powder.
Continue to cook on a low flame, mixing well to prevent lumps.
Add 1 tbsp of ghee. Add cardamom powder and mix again to form a dough.
Grease your hands with the remaining ghee.
Take a pinch of dough and roll into ball. Do the same with the rest of the dough.
2. Peanut Jaggery Laddu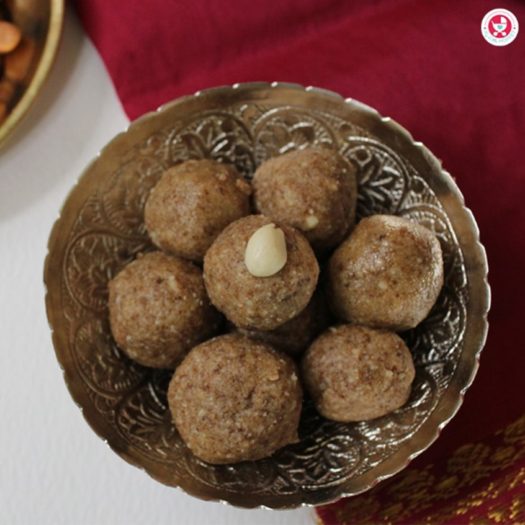 Ingredients:
Peanut / Groundnut – 1 cup
Jaggery or Palm jaggery – ¾ cup
Cardamom Powder – ¼ tsp
Melted ghee – 1 tbsp
Instructions:
Heat a pan. Add peanuts and roast for 8-9 minutes on a low flame till they turn light golden brown. Set aside to cool.
Remove the peanut peel completely.
Add the peeled peanuts, jaggery and cardamom powder in a blender jar and grind to a fine powder. Transfer the powder to a bowl.
Add melted ghee and mix well to form a dough.
Pinch small portions of dough and roll into laddus.
3. Kerala Banana Halwa
Ingredients:
Kerala Banana Powder – 2 tbsp (heaped)
Jaggery Syrup – ¼ cup
Ghee – 3 tsp, divided
Mixed nuts (Cashew nuts, Almonds, Pistachios) – 2 tsp, chopped
Cardamom Powder – A fat pinch
Instructions:
Cook the Kerala Banana Powder with jaggery syrup, whisking so that it's smooth. Add ghee and stir till it's completely incorporated.
Continue to cook on a low flame. As the mixture starts thickening, stir in the nuts & cardamom powder.
When the halwa is sufficiently thick, spread it on a flat plate and let it cool. If you like you can garnish with a few strands of saffron before leaving it to set.
Once set, cut it into squares.
4. Kesar Lassi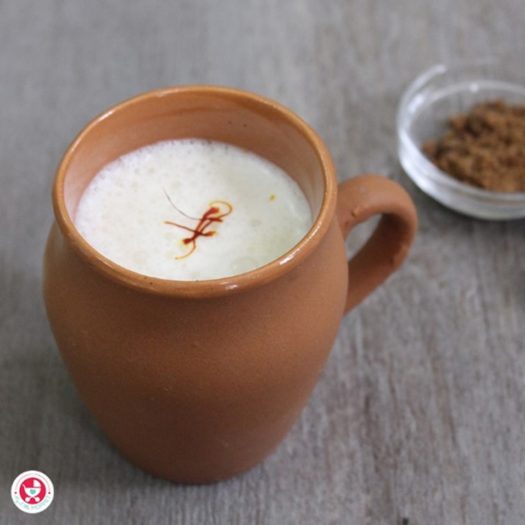 Ingredients:
Saffron – 5 strands
Curd – ¾ cup
Jaggery – 2tsp
Cardamom powder – ¼tsp
Instructions:
Soak the saffron in water for 5 minutes.
Add curd, jaggery, saffron, cardamom powder in a blender jar and blend till smooth.
Serve cool or warm.
5. Dates, Chia Seeds and Apricot Laddu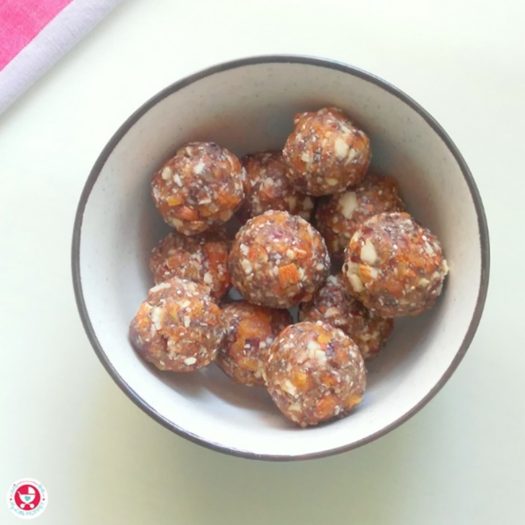 Ingredients:
Dates – ½ cup
Dried apricot – ½ cup
Desiccated coconut – ¼ cup
Almonds – ¼ cup
Chia seeds – 2 tablespoon
Instructions:
Deseed the dates and chop them. Chop the apricot roughly.
Add the dates, chopped apricot, desiccated coconut, almonds and chia seeds to a grinder jar and pulse 2-3 times.
Remove the mix and make small balls of it.
6. Makhana Kheer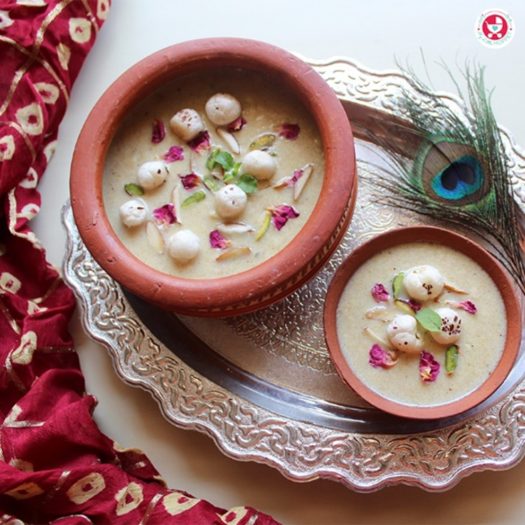 Ingredients:
Milk – 1½ cup
Makhana/ lotus seeds – ½ cup
Dry dates powder – ¼ cup
Ghee – 1-2 teaspoon
Slivered almonds – 1 tablespoon
Slivered pistachio – 1 tablespoon
Dried rose petals – 1 teaspoon
Instructions:
Heat ghee in a non-stick pan. Add makhana and roast on a low flame for 5-7 minutes or until they become crisp and aromatic. Take care not to burn them.
Set aside the roasted makhana to cool.
To the same pan add milk and bring to a boil. Add dry dates powder to it and cook until the milk reduces and thickens.
Reserve some roasted makhana for garnishing, and crush the rest. You can powder them in grinder jar too.
Add powdered makhana to the reduced sweetened milk. Stir well and cook the kheer for another 2-3 minutes.
Next tip in the slivered almonds and pistachio and put off the flame.
Garnish with more nuts, dried rose petals and reserved roasted makhana and serve.
Enjoy these Lip-smacking Desserts this Diwali