Fiona Allison is a social media star and influencer from France. As a model she raised to stardom after one of her pictures went viral on the internet. The beauty has earned immense fame and a broad fan base across the world. The social media influencer loves to wear a Indian saree, so most of her pictures are in a saree. With her present 1.7 Million followers on Instagram since she created her account in August 2020, it was one of the fastest-growing Instagram accounts.
The social media content creator and influencer, who is currently based in France, from where she originally hails, confesses her undying love for India, its rich culture and heritage.
Her Instagram growth has been organic, and major credit goes to her content posting herself in authentic Indian wear of 'saree'. Travel is her other passion, she has travelled to South Korea, USA, French Polynesia, Tunisia, Guadeloupe, Spain, Italy, Germany, Sweden and many times to India.
Women Fitness President Ms. Namita Nayyar catches up with Fiona Allison, an exceptionally talented Social Media Star, Influencer and Glamour Model, here she talks about her fitness routine, her diet, her beauty secrets and her success story.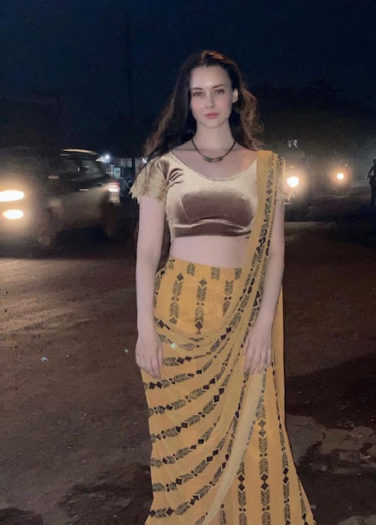 Namita Nayyar:
You were born in France. Where has been your early education? You started posting your modeling images on Instagram in August 2020. Later you decided to pursue modeling which propelled your career to the height where you have been at the top of the world of modeling and as an Instagram Influencer. Tell us more about your professional journey of exceptional hard work, tenacity, and endurance.
Fiona Allison
I was in kindergarten and elementary school in my village in France. Then I continued to Bordeaux because it is a bigger city. I was also in a Catholic boarding school for 1 year.
I started posing for magazines in 2023. And I'm very proud of it, but it's very difficult to reach this level. With confidence we can achieve our dreams. I learned to rely only on myself and some managers because there is a lot of jealousy and malicious people around me who only want to waste my time and use me for non- professional purposes.
FULL INTERVIEW ON THE NEXT PAGE!
This interview is exclusive and taken by Namita Nayyar, President of womenfitness.org, and should not be reproduced, copied, or hosted in part or full anywhere without express permission.
All Written Content Copyright © 2023 Women Fitness Org