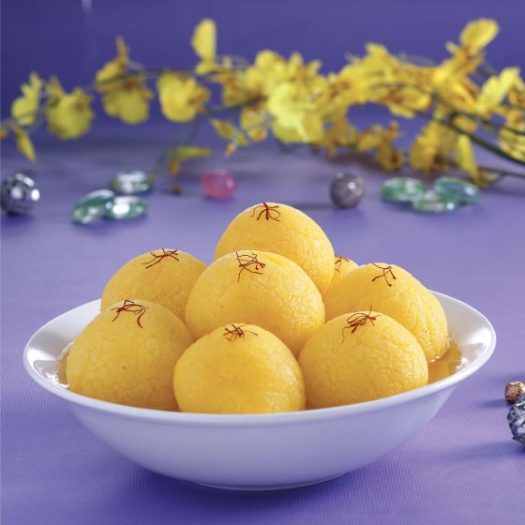 As the chilly winter days melt into the more comfortable spring weather, people celebrate Basant Panchami or Vasant Panchami. This festival is celebrated in the Hindu month of Magh, which coincides with the months of January and February in the Gregorian calendar.
Referred to as the spring festival, it signifies the beginning of Vasant Ritu (spring season). Vasant is associated with freshness and a new beginning in all spheres of life.
An important part of all Indian festivals is the feasting after the fasting and the rituals. Housewives pour over hot stoves churning out delicacies that could titillate the most demanding of palates. For Basant Panchami, the yellow color dominates for not only do people wear yellow-colored clothes, but even the food that's prepared as an offering to the goddess is also yellow. In some traditional homes sweetmeats of yellowish hues are exchanged with relatives and friends. Kesari halwa and meethe chawal are the favorites in North India. A dash of saffron is added to the sweetmeats to get a yellow tinge.
This is a Sanjeev Kapoor exclusive recipe.
How to make Kesari Rajbhog –
A delicious sweet prepared with chenna stuffed with a mixture of khoya, pista, and almonds.
Prep Time: 26-30 minutes
Cook time: 26-30 minutes
Serve: 4
Ingredients for Kesari Rajbhog Recipe
Chenna 250 grams
Saffron 1 teaspoon
Semolina (Rawa/suji) 1 teaspoon
Pistachios 12-15
Almonds 6-8
Mawa (khoya) grated 3 tablespoons
Green cardamom powder 1/2 teaspoon
Rose syrup 2 teaspoon
Sugar 4-5 cups
Saffron (Kesar) 7-8 strands
Method
Take fresh chenna, and knead it well till smooth. Add refined flour and semolina and knead it gently.
Divide into twelve to fourteen equal portions.
Soak pistachios and almonds in one cup of hot water for five minutes. Drain, peel and chop them roughly
Combine grated khoya with green cardamom powder and rose syrup.
Knead it into the dough. Mix in the roughly chopped pistachios, and almonds and divide into twelve to fourteen equal portions.
Stuff a portion of khoya into each portion of chenna and form them into marble-sized balls.
Combine sugar with three and a half cups of water.
Bring it to a boil and make thin sugar syrup. Remove scum, if any, and pass it through a muslin cloth.
Bring the sugar syrup to a boil in a wide-mouthed pan and add saffron.
Gently slide in stuffed chenna balls and cook for four to five minutes on high heat.
Sprinkle about a quarter cup of hot water and continue to cook on high heat for another five minutes or till they are almost double in size.
Remove and keep a sufficient quantity of sugar syrup.
Refrigerate and serve chilled.