We suggest you break the monotony this 14th February 2023, skip the standard candlelight dinner, and treat your sweetheart to something a little different. Make your Valentine's Day special by starting off with a healthy breakfast.
3 Breakfast Recipes
Wholewheat Banana and Nut Pancakes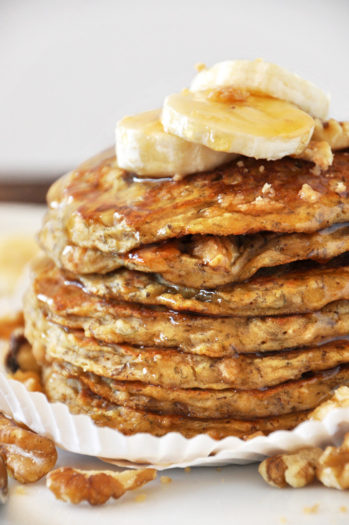 Ingredients:
Whole wheat flour 1 Cup
Baking powder 1 Tsp.
Salt 1/4 Tsp.
Ground cinnamon 1/4 Tsp.
Ground nutmeg 1/4 Tsp.
Banana 1(ripe and mashed)
Honey 1/8 Cup
Egg 1
Milk 1/4 Cup
Nuts 1/4 Cup (optional)
Method:
Combine and set aside the dried ingredients.
Mix the wet ingredients together and combine well. Mix together and apply the dry ingredients. To make the batter a' pancake batter-like' consistency, add more milk or flour as needed (slightly runny). Stir the nuts in.
Over medium heat, cook on a griddle until each side is golden brown.
Serve with soft maple syrup or simple on top. Cover with some cut bananas as well as crushed almonds
Homemade Granola Parfait with Strawberries
Granola tops the list of the most popular, easy, and nutritious choices for breakfast. No granola tastes better than a handmade one, though. The addition of all nutritious elements, such as coconut oil, sugar, almonds, flax seeds, gives it a recipe for granola that's so good for you. Say goodbye to all the toxic, sugar-loaded granolas on the market by producing a huge batch of granola at home. Arrange this homemade granola with these wonderful ingredients in layers and have the most delicious and full Granola Parfait meal, without any hassle.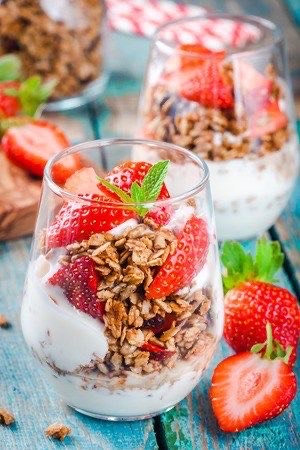 Ingredients
Uncooked old fashioned/rolled out Oats 6 Cups
Sliced Almonds 2 Cups
Shredded Coconut 1 Cup
Roasted and Salted Pumpkin seeds/sunflower seeds 1 Cup
Flax seeds 1 Tbsp.
Melted Coconut Oil 1 Cup
Honey 1 Cup
Plain Greek Yogurt ½ Cup for one serving
Raspberries 6 per serving of parfait(Optional)
Strawberries sliced into halves 6 per serving of parfait
Chopped dark chocolate, optional 2 Tsp. per serving of Parfait
Method:
In a large mixing cup, combine the first five ingredients.
Melt the coconut oil in the microwave in a little tub (about 30 seconds to 1 minute). Add and mix the butter. Pour the oat mixture over and stir.
Pour it on a tray of cookies and scatter it into an even layer.
Bake for about 15 minutes at 170 degrees, then stir and leave to bake for another 10-15 minutes, until golden brown. (Your kitchen will smell SO OK!!)
Let cool the granola. Store in a jar that is airtight. (FYI-makes much of the granola servings)
Place yogurt at the bottom of the glass until ready for assembly. A layer of granola is added, then dark chocolate is sliced, then fruit and the second layer repeats the same. Dig in and enjoy yourself!
Strawberry Frozen Yogurt
This fruit yogurt gets its creaminess from low-fat Greek yogurt in a series of balanced dessert recipes, which are filled with decent proteins that will leave you feeling full and happy. Strawberries are filled with antioxidants and give a fantastic taste as well!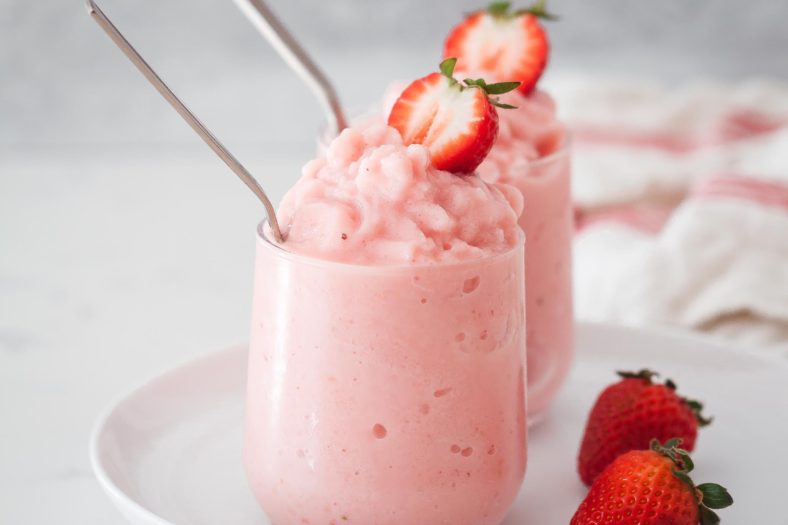 Ingredients
2 cups strawberries.
2 Tablespoons honey or agave nectar
¼ cup low-fat Greek yogurt
1/2 Tablespoon fresh lemon juice
Method
For a stronger taste, place the strawberries in the freezer overnight or for 3 hours.
In a food processor, add the frozen strawberries, honey (or agave nectar), yogurt, and lemon juice.
Process until creamy, 2-3 minutes roughly. To make sure there are no lumps left, scrape down the side of the pipe.
Move it to an airtight refrigerated container and freeze for at least 6 hours, but preferably overnight.
To a fulfilling Valentine's Day.