By Kejal Shah
"Desserts are the fairy tales of the kitchen: A happily-ever-after to supper" –Terri Guillemets
Most people have a common misconception about diabetes that it can be caused by eating too much sugar or sweet foods. The fact is that eating sweets does not cause you to develop diabetes, but it most certainly can and does affect your blood sugar level.
The best medicines for combating and managing diabetes are healthy lifestyle and balanced diet. But, being diagnosed with diabetes does not have to mean a death sentence for your favourite desserts! With some deliberate planning you can easily make desserts a part of a healthy diet. The key is to manage portions.
Artificial sweeteners are sugar substitutes that have been altered so as to not impact blood sugar level. However, sometimes they are sweeter than typical sugars, and so you have to adjust the amount while adding to a recipe. Natural sweeteners like nectars, fruit juices, honey, molasses, and maple syrup also affect blood sugar just like other sugar sweeteners. Stevia is the one exception to this rule.
There are many ways to create relatively low-carb and sugar-free desserts that are mouth-wateringly delicious.
Try these recipes to enjoy your desserts while keeping diabetes in check!
Pumpkin Pie Ice-cream
This dairy-free, low fat dessert is not only absolutely heart-healthy and diabetic-friendly, it is also vegan!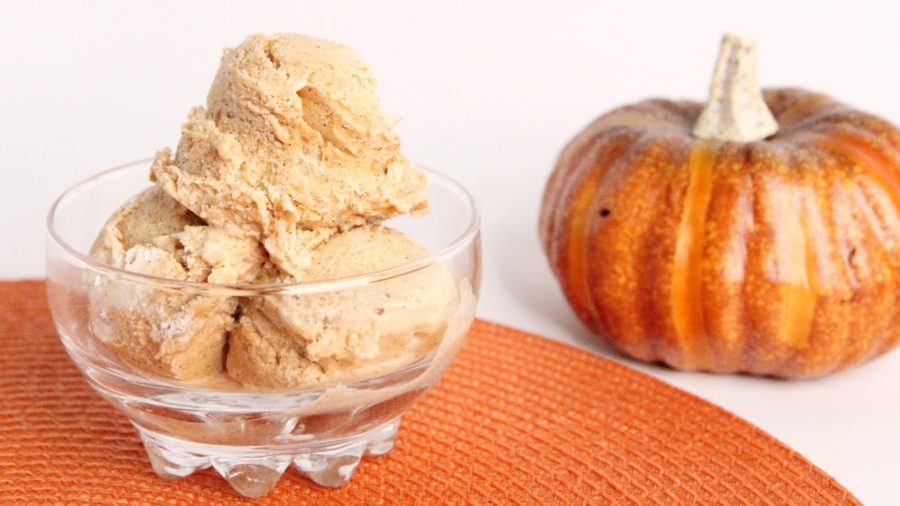 Ingredients:
2 ripe bananas (peeled and frozen)
200 grams pumpkin puree (chilled)
1/2 teaspoon powdered spice mix (ground cinnamon, ground ginger, ground nutmeg, ground cloves in the ratio 9:2:2:1)
1 tablespoon maple syrup (optional)
Toasted chopped pecans/almonds/walnuts (for garnish)
Directions:
Add the frozen bananas, chilled pumpkin puree, spice mix and maple syrup (optional) in a processor and blend till smooth. Garnish with toasted nuts and serve chilled.
Mason Jar Lime Cheesecake
This delicious dessert is the perfect mix of sweet and tart. The mason jars help control portion sizes.
Ingredients:
4 sugar-free crackers
1 tablespoon butter (melted)
50 ml cream cheese (reduced-fat)
2 tablespoons lime juice
¼ teaspoon vanilla extract
1 tablespoon powdered sugar (or ¼ teaspoon stevia)
2 cups frozen light whipped topping
10-15 thin slices of lime
Directions:
Combine crushed crackers and melted butter in a small bowl. Divide the mixture among five 150 ml mason jars and press lightly with the back of a spoon. Beat cream cheese in a large bowl on medium speed for 30 seconds. Add lime juice and vanilla and beat in. Add sugar and beat until smooth. Lighten the mixture by folding in 1/2 cup whipped topping and then add the remaining topping. Transfer to a heavy sealable piping bag. Snip a 1-inch hole at the bottom corner and pipe the filling into the jars. Top each jar with lime slices. Refrigerate for 24 hours and serve!
Dark Chocolate Dipped Banana Bites
Ingredients:
2 bananas (cut into 1 inch slices)
12 cocktail picks
75 gm dark chocolate (finely chopped)
½ tablespoon coconut oil
5 teaspoon shredded dried coconut (toasted)
5 teaspoon chopped almonds (toasted)
Directions:
Skewer each banana slice on a cocktail pick and place on a parchment-lined plate and freeze for an hour. Melt the dark chocolate to a smooth mixture on a double boiler. Dip each banana slice in the chocolate mixture, sprinkle with a pinch of coconut immediately and return to the parchment-lined plate. Repeat procedure with for 5 more banana slices. Sprinkle with a pinch of toasted almonds for remaining 6 banana slices and return to the parchment-lined plate. Freeze for at least an hour before serving.
Banana Chia Pudding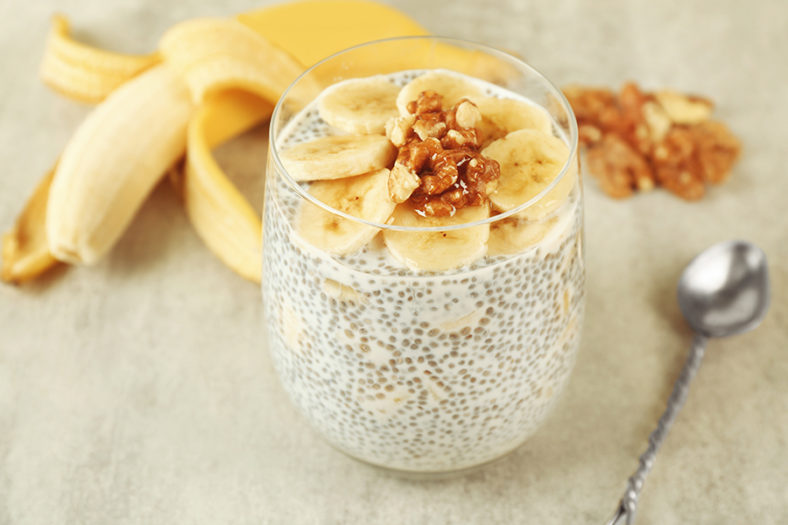 Ingredients:
150 ml almond/flax/soy milk
1 banana
4 tablespoons chia seeds
2 tablespoons honey
½ teaspoon vanilla extract
5 teaspoon chopped almonds (toasted)
Pinch of sea salt
Directions:
Add the milk, banana, chia seeds, honey, vanilla extract, and sea salt into a blender and blend to a smooth mixture. Pour into serving bowls and refrigerate for at least 2 hours.
Choco Bombs
Craving for some chocolate? Try this simple recipe for an irresistible choco-treat without worrying about diabetes!
Ingredients:
120 gm cocoa powder
3 tablespoons chunky peanut butter
3 tablespoons flax/hemp/chia seeds
50 ml coconut oil
1 tablespoon heavy cream
½ teaspoon vanilla extract
1 tablespoon stevia
Directions:
Mix the cocoa powder, peanut butter, seeds and coconut oil in a large bowl to make a paste. Add the cream, vanilla extract and stevia and mix well. Make into 5-6 balls. If the mixture is too thin, refrigerate for half an hour before making into balls. Roll the balls in the shredded coconut. Freeze for 10 minutes or refrigerate for at least 30 minutes before serving.
While you can certainly enjoy desserts even if you have diabetes, make sure to do so in moderation and keep a check on how it impacts your blood sugar.