Dhaniya Panjiri is a traditional prasad item that is made especially during the Janmashtami celebrations. It is Gluten-free without any Whole Wheat flour, loaded with nuts and ghee, a wholesome rich dish that everyone relishes during the festival. It is also quick and so easy to make.
Dhania is Coriander and Panjiri is a wholesome mix made with nuts, dried fruits, whole wheat flour, and ghee. Coriander, popularly known as dhania in India, is extensively used across for its medicinal properties. The vitamins, minerals, and antioxidants in coriander provide significant health benefits. Coriander leaves and seeds are full of vitamin K, which plays an important role in helping your blood clot. Vitamin K also helps your bones repair themselves, helping prevent problems like osteoporosis. The antioxidants present in coriander help remove free radicals from your body, reducing the risk of certain cancers and even decreasing signs of aging.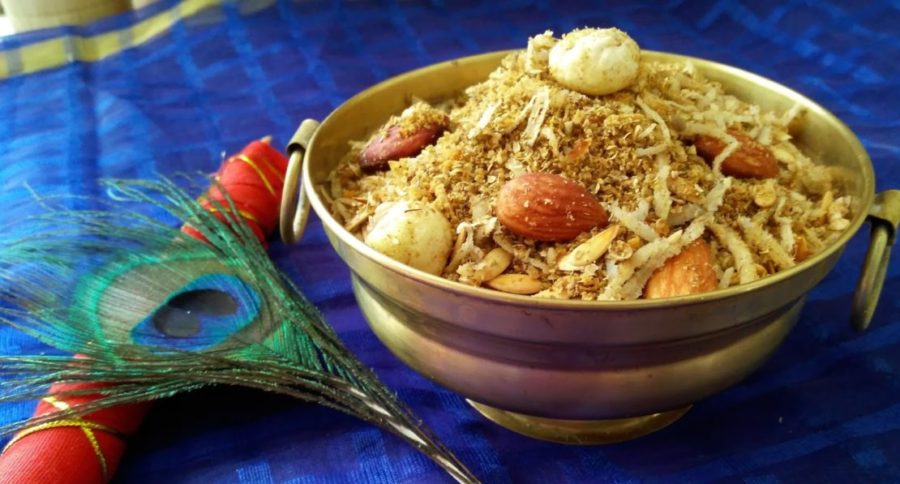 Dhaniya Panjiri Recipe
Ingredients
1 cup coriander seeds
¼ cup ghee
½ cup powdered sugar
5-6 almonds, chopped
5-6 cashew nuts, chopped
5-6 raisins
½ cup grated coconut

Method
Roast the coriander seeds for 3-4 minutes on medium flame. Transfer them to a plate and allow them to cool. Grind the seeds into a coarse powder and set them aside.
Heat ghee in a pan and add the powdered coriander seeds. Roast the powder on a low flame till the powder changes colour to light brown.
Remove the mixture from heat and allow it to cool.
Add the powdered sugar, grated coconut, and dry fruits, and serve.
You can make your own version of Dhaniya Panjiri by adding fox nuts or sliced bananas to it. Try this recipe.