Dia Mirza is a multifaceted achiever, an award-winning Actor, Producer, Eco-Investor, Conscientious Entrepreneur, UN Environment Goodwill Ambassador, and United Nations Secretary-General's Advocate for Sustainable Development Goals.  
Dia Mirza is also the voice of environmental and wildlife conservation in India and a torchbearer who initiates and amplifies conversations about issues such as climate change, deforestation, plastic pollution, shrinking wildlife habitats, and a lot more. Her appointment as the United Nations Environment Goodwill Ambassador for India at the UNEA assembly in Nairobi has further strengthened her resolve to continue speaking up for the planet and to tirelessly address the urgent environmental issues of our time.
We get into a conversation with Dia, on sustainability, and her journey over the years in Bollywood and fitness regimes!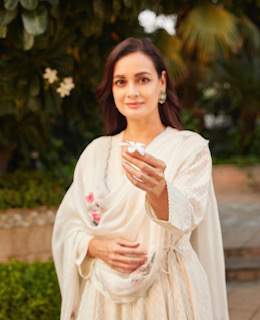 Namita Nayyar:
Dia you have been in the industry for more than a decade, being an actor, producer, and pageant winner, now that you look back how would you describe your journey as?
Dia Mirza:
Having started out very young at 18, I look back at the last 22 years with gratitude. Winning the pageant and then going on to win the international pageant was a paradigm shift. I had to learn how to manage my life, and finances, live on my own and find my calling. While there was early and rapid change it also lead to phases of deep introspection. I am happy to have found all that truly speaks to my heart and fulfills me. Today, I am aligned with my calling and all that I am doing is a reflection of that.
FULL INTERVIEW ON THE NEXT PAGE!
This interview is exclusive and taken by Namita Nayyar, President of womenfitness.org, and should not be reproduced, copied, or hosted in part or full anywhere without express permission.
All Written Content Copyright © 2022 Women Fitness Org