An entrepreneur, a change maker, a dietician and a master curator of healthy and amazingly delicious delicacies, Shweta Shah uncovers celebrity diet secrets. She is a firm believer of the therapeutic powers the ancient science of Ayurveda incorporates and lives by the mantra of 'Simple is honest, simple is powerful'.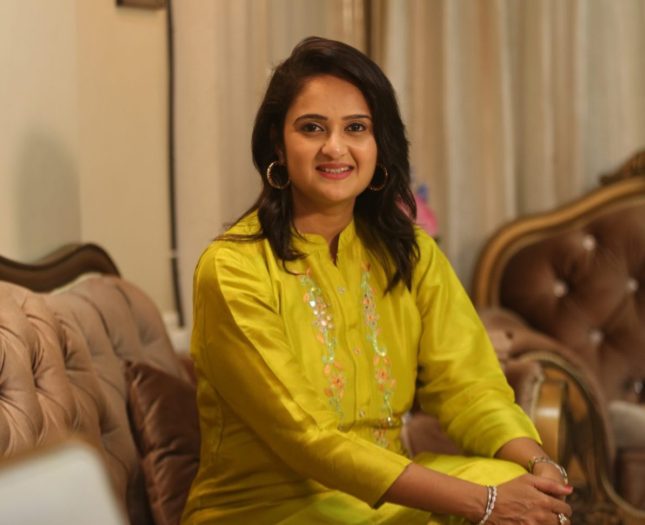 Shweta's View on diet
Shweta Shah believe that nobody should go on diet or fad diets, but you need to change your lifestyle. Health is a journey rather than a destination & good digestion with right fuel is the only vehicle that will take us there. Good health reflects our ability to digest whether nutritional, emotional, and sensory. Also, I believe "You are what you absorb". If your gut is not healthy & not absorbing food properly then no need of calorie counting is applicable. I never believe in calorie counting. Also, Shweta shah's mantra is "Simple is honest, simple is powerful". Go for natural easiest form which mother nature provides us.
Tips to a fit lifestyle
1. Stop counting calories.
2. Keep the gut clean.
3. Move (Exercise)
4. Protect you from yourself.
Shweta has worked with some of the biggest celebrities, from Deepika Padukone, Katrina Kaif, Geeta Basra to Sakshi Dhoni, and even sports biggies like Gautam Gambhir and Harbhajan Singh. Her impressive clientele is not just a badge of honour, it encapsulates her journey and her hard work through a decade. It was her work on these celebrity wellness programs that led to her gaining invaluable knowledge about the nuances of creating a correct concoction of habits that lead to good health. This is what she shares through EatFit247 as well. Here, Shweta is sharing the success stories of four celebrities – Deepika Padukone, Katrina Kaif, Yasmin Karachiwala, & Geeta Basra. In this elaborate diet chart, she shares the diet regiment of her clients, the stars!
Deepika Padukone's diet secrets For Cannes

As she wanted to look her best for Cannes, we managed her diet in a way to keep her weight in check, also keeping her gut in check for flawless skin and hair.
1. We suggested an alkaline diet and tried to keep it simple
2. Due to Pith Prakriti (Doshas according to Ayurveda) we suggested ash gourd juice to her which is a superfood for people who fall under this category.
3. The catch was kokum juice with chia seeds to relax during the day
4. Rice Sambhar was suggested.
5. A homemade decoction remedies like fennel black raisins were also suggested once in a day, which helped to reduce her headaches and acidity.
Katrina Kaif
Katrina is very particular about her workout routine, just as she is her diet. She is almost a nutritionist in her own right. She knows her body well and she knows exactly what suits her and doesn't. Katrina follows her own diets, but I step in when we want some tweaks to be made, or she wants to achieve any specific health goals. Even when she's shooting, and has a hectic schedule, she sticks to clean, organic eating that is dairy-free and gluten-free. She believes in clean eating rather than following any fad diets.
She eats two home-cooked meals a day, and doesn't like to snack
Some examples of her favourite lunch or dinner meals include steamed fish, edamame and avocado salad, zucchini or quinoa pancakes, lentil stews, lettuce wraps and zoodles.
Soups are another go-to, and Kaif likes a wide variety to prevent boredom, using vegetables like ash gourd, asparagus, pumpkins and chickpeas.
When she's craving something sweet? Homemade peanut balls are her must-haves.
Yasmin Karachiwala

The proud owner of Yasmin's Body Image approached Shweta Shah, celebrity dietician to shed the 2% extra fat without nutrition loss.
1. Shweta recommended, a carb-n-protein, dairy-free diet of butter coffee
2. A routine of oil pulling for detox
3. Digestive tea with cumin, cardamom, fennel, and ajwain (carom) seeds to balance her high protein diet peppered with water infused variously with hibiscus, mint, chive, or chia seeds.
Geeta Basra
The wife of famous Indian cricketer Harbhajan Singh & well known Bollywood actress. She approached Shweta Shah for her flawless skin & hair.  Check out her diet secrets:
Geeta Basra loves the Green Gulp juice, her skin starts rejuvenating & blooming.
Shweta recommended her Sattvic Salads.
She likes to try new sattvic recipes. She also likes the beetroot wrap & Palak wrap.
Infused water with fruit or herbs is a smart and tasty way to hydrate and cleanse without getting overloaded with sugar and calories.
Natural decoctions for Skin & hair