Dimplle S Bathija is a Celebrity Makeup Artist with experience of more than 15 Years and is rated Amongst the Top 5 / Top 10 Makeup Artist of Mumbai.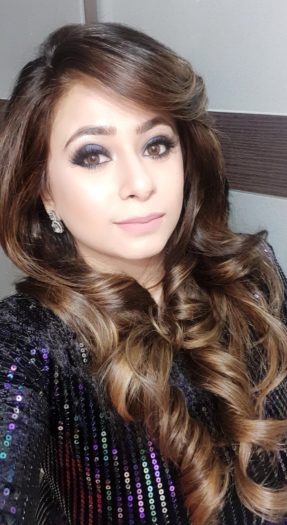 Women Fitness got in touch with Dimplle Bathija for a candid interview, go check it out
You are a professional celebrity makeup artist with more than 15 years of experience and are rated amongst the top 5 makeup artists in Mumbai. Share more input about your journey and 5 series of events that lead to your entry into this industry?
Hi I am a Celebrity makeup Artist Dimplle S Bathija from Mumbai and i started my makeup Journey assisting Cory Walia also internationally trained from Bobbi Brown and Trained under Pakistani Makeup artist Annie Shah from London with more than 18 years of Experience , Dimplle is known for doing Makeup for High end weddings in Mumbai & Destination weddings in India & Destination weddings Abroad like Bangkok , Hongkong , Bali , Singapore, Kuala Lumpur & Dubai
…Amongst all the looks that I create Bridal makeup is my personal favourite.
It gives me immense pleasure to add glamour to the brides on their big days. I believe in using only high end make up brands like MAC, Bobby Brown, Makeup Forever, Anastasia Beverlyhills, Chanel, Armani, etc…. I always Believe in updating myself with the Current Trends of Makeup hence I also trained and got Certified from Brazilian Makeup Artists like Alessandro Alcantara and Raphael Oliver.

The Reason I got into this industry is cos of Cory Walia Makeup artist who appreciated my makeup that I did on myself on my cousins wedding and he was like u should take it up as a Profession and that's how I assisted him n started my journey so I owe it to him for making me realise and giving me this opportunity also as I child I always loved dressing up n doing makeup so it was immense Passion for Makeup that got me to where I am Today
According to you "Indian women have the most captivating eyes" Please share your exclusive eye makeup tips for festive season & new year?
Yes according to me indian women have the Most Captivating Eyes so u can really Play around a lot with the Eyes… My Eye Makeup for the upcoming Festive Season & New Year would be to go all out Glam as I love Glamorous Looks Playing around with Glitter always adds on and if u have big eyes then use Kohl and if u have small eyes then add white Liner inside your as it helps in making it look Bigger , Add on some Beautiful Lashes to create a Dramatic Fluttering Eyes also again I like matching makeup to the outfit so one can opt for Nude Looks or Classic Smokey Eyes and if you are the Experimental type then use of Bold Colors like Shades of Pink , blue and Purple is really in Trend as Brazilian Eye Makeup is one of Favorite
You have handled assignments for Femina Miss India World 2013 'Navneet Kaur Dhillon & Miss Universe India 2014 'Noyonita Lodh'. Your experience and memories of the same.
Having worked with the Reputed Names in the industry like Urvashi Rautela, Anusha Dandekar, Karishma Sharma, Natasha Stankovic, Arpita Khan, Navneet Kaur Dhillon, Noyonita Lodh and many more , My Experience has been Amazing and Smooth Sailing always got a lot Respect and Appreciation for my Work , it's so much Fun Working on Different Faces and I love creating Transformations and Blessings I get in Return makes me super Happy and makes my Day