By Dt. Manoli Doshi,Diabetes Educator, Tattvum
Even on busy mornings, you don't have to turn to cereal. I love them for
breakfast. I also love to make pancakes healthier by adding mix ins like fruit, nuts, or seeds for extra fiber and nutrients.
This is my best list of kid friendly pancakes. Not only will kids love them, but they are packed with healthy nutritiously rich ingredients!
Banana Stack Pancake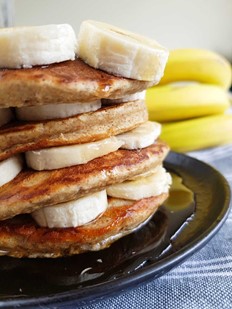 These banana pancakes include whole grains from rolled oats, banana with its potassium and fiber, eggs with protein and fats that kids need for proper development, and whole grain flour. While these aren't protein-powder-packed pancakes, they do have plenty of protein to help fuel little bodies. The protein from the eggs and milk balances out the complex carbohydrates and there's about 10 grams per serving. This ensures that even energy from this meal will last straight through the next snack or meal time.
We made these pancakes irresistible to kids by stacking them with bananas! Plus, the sweet honey makes it extra delicious!
Ingredients
1/2 cup oats, dry
3 medium banana
1/2 cup milk
1/2 teaspoon vanilla extract
3/4 cup oats, dry
1/2 cup flour, whole wheat
1/4 teaspoon salt
2 teaspoon baking powder
2 large egg white
Honey, for topping (optional)
Instructions
To make ground oats, place 1/2 cup of regular oats in a blender until it becomes flour.
Blend bananas and milk together in blender. Transfer to bowl and stir in vanilla, ground oats, oats, flour, baking powder and salt.
Beat eggs until stiff peaks. Fold in egg whites. Spread some butter or ghee on a non-stick griddle heat over medium heat.
Add in a few spoonfuls of batter, leaving room for when they expand. Cook on each side until lightly browned.
To make them fun, sandwich with honey & banana and enjoy!
Guava Pancake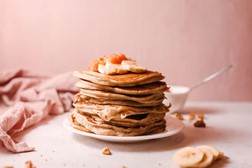 Make fluffy healthy guava pancakes filled with wholesome ingredients for breakfast! It takes 5 minutes to get this easy pancake recipe on the stove. It's made with guava pulp, cinnamon, oat flour, and eggs.
Ingredients
½ cup of oat flour
½ teaspoon baking powder
½ teaspoon cinnamon powder
½ teaspoon baking soda
2 large egg whites
¼ cup guava pulp can be bought pre-packaged or made fresh
¼ cup water
¼ teaspoon vanilla extract
Instructions
Mix oat flour cinnamon powder, baking soda and baking powder in bowl.
Mix egg whites, guava pulp and water and vanilla in another bowl.
Beat wet mix into dry mix roughly, so as to add more air to mix.
Spread olive oil or butter onto griddle or skillet and heat.
Pour batter onto hot griddle.
When pancake bubbles around edges and towards centre turn.
Pancakes are done when golden brown. Enjoy!
Flax seed & Blueberry Pancake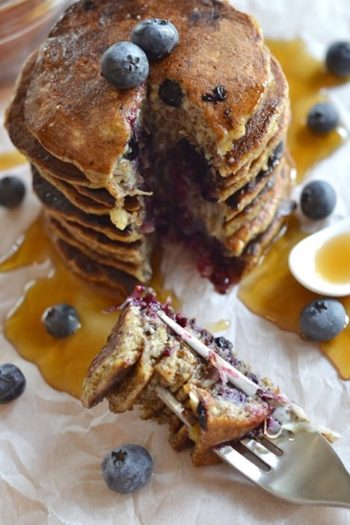 I actually call these the brain booster pancakes. Delicious brain nutrient like flax seeds and blueberries. They have everything your child needs to focus and be ready for a successful school day. The protein and fiber will help keep your child feeling full! Studies show that omega 3s can improve mental skills, like thinking, remembering, and learning.
Ingredients
1 ripe banana
2 eggs
1/4 cup ground flaxseed
1/4 cup coconut milk
1/4 cup coconut flakes
1/2 tsp baking powder
1/4 tsp baking soda
1/4 tsp vanilla extract
1/2 cup fresh blueberries
1/4 cup pure maple syrup, (optional topping)
Instructions
Place a non-stick griddle over medium heat. You can also use a regular non-stick pan or a pan sprayed with cooking spray.
In a medium bowl, smash the ripe banana with a fork.
Mix in all of the remaining ingredients and whisk until combined.
Spoon 1/4 cup of pancake batter at a time on to the hot griddle and cooked for 2-3 minutes. When the tops are beginning to bubble, add a few fresh blueberries to each pancake and flipped using a spatula. If the pancakes still feel loose when you try to flip them, wait another 30 seconds then flip.
Cook the pancakes for another 2 minutes then remove them from the pan with the spatula and place them on a plate, blueberry side up, to cool slightly.
When you are ready to eat, pile up the pancakes, pour the maple syrup over the top and sprinkle with a few extra fresh blueberries.
Kiwi Pancakes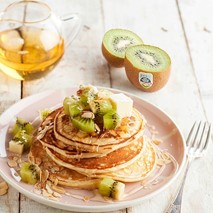 Delight your kids by preparing this delicious and healthy breakfast that they'll love. You can mix other fresh fruits with kiwi and add all sorts of dried fruit and nuts.
This recipe is rich in fiber with high vitamin C content along with potassium and natural source of folate.
Ingredients:
2 kiwi fruits
1 egg
1/2 cup thick plain yogurt
3 tbsp sugar
3/4 cup self-rising flour
1 tablespoon of toasted almonds, for topping (optional)
Method:
Peel kiwi fruits. Puree one using a food processor. (You can also grate it or chop it finely) Slice another for decoration.
Combine egg and yogurt. I like to use a whisk, but a fork would do just fine. Add sugar and mix well.
Add the pureed kiwi and fold a few times.
Add self-rising flour bit by bit, fold the batter a few times. Do not overmix.
Wait for about 5 minutes until bubbles arise.
Heat a non-stick pan (low heat). Pour batter and wait until it bubbles. Flip and wait until it no longer sticks in a pan. Repeat the process.
Serve with sliced kiwi.
Whole Wheat Apple Pancakes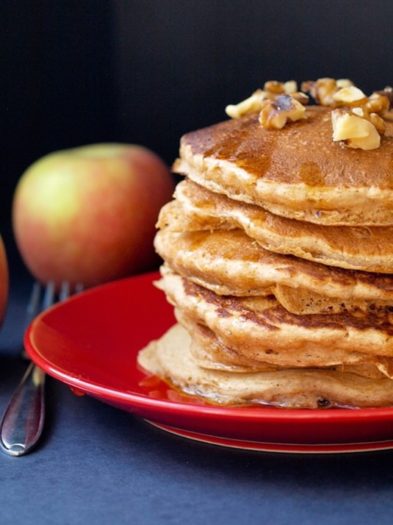 Soft, thick pancakes made with apples, whole wheat flour and palm sugar/brown sugar/jaggery. Everyone agrees that Apples are good for health as it's a good source of fiber and vitamins. But then if your child is bored of eating raw apples every day, here is a creative way to include them in their diet.
This instant apple pancakes recipe is very tasty with healthy goodness of whole wheat flour and without sugar. Apple pancakes can be given to babies after 8 months as a finger food.
Ingredients:
2 cups whole wheat flour
2 eaches apples, peeled and cored
1 ½ cups almond milk
½ cup coconut oil, melted
¼ cup water
2 tablespoons baking powder
2 tablespoons jaggery or sugar, or to taste
1 teaspoon ground nutmeg
½ teaspoon ground cinnamon
Method:
Sift wheat flour, baking powder, ground cinnamon and salt in a bowl.
Add oil and water and mix, ensuring no lumps.
Peel and core the apple. Grate it with a fine grater. (It's okay if you don't core it, just don't grate that part)
Add the grated apple to the flour mixture. Set aside for 10 minutes.
After 10 minutes, give the pancake batter one more mix. Add the jaggery or sugar at this point.
Heat a griddle or dosa tava on medium flame. When hot enough, grease it with ghee or butter.
Pour a ladle of the batter onto the pan. Don't swirl it around as for a dosa. You can make small shapes like circles or triangles so that it will be easy for the baby to hold and eat.
Cover the pancakes with a lid and cook for 1 minute on a low flame. This helps the grated apple to cook well and blend with the batter. Wait for bubbles to appear.
When bubbles appear on the surface of the pancake, flip it over and cook the other side for a minute. Cool and serve with honey or date syrup.
'Healthy food is not tasty'. At least that is what we – the adults and kids alike – believe. But then when somebody presents us a healthy and tasty option, we are forced to accept that we are wrong. One such food is pancakes.
You can incorporate several healthy ingredients and be sure that your children will love eating them because pancakes are that delicious.