Hair and head hygiene is of utmost importance and should never be ignored. Children who stay at day care or go to school are the most vulnerable to get lice infestation. An adult lice can lay up to 10 eggs in a day and in 3 weeks time those eggs are mature enough to lay their own.
Common Symptoms
Itching. Itching on the scalp, neck and ears is the most common symptom. This is an allergic reaction to louse saliva. When a person has an infestation for the first time, itching may not occur for two to six weeks after infestation.
Lice on scalp. Lice may be visible but are difficult to spot because they're small, avoid light and move quickly. Lice eggs (nits) on hair shafts.
Nits stick to hair shafts. Incubating nits may be difficult to see because they're very tiny and camouflaged to match hair color. They're easiest to spot around the ears and the hairline of the neck. Empty nits may be easier to spot because they're lighter in color and further from the scalp. However, the presence of nits doesn't necessarily indicate an active infestation.
Finding Solution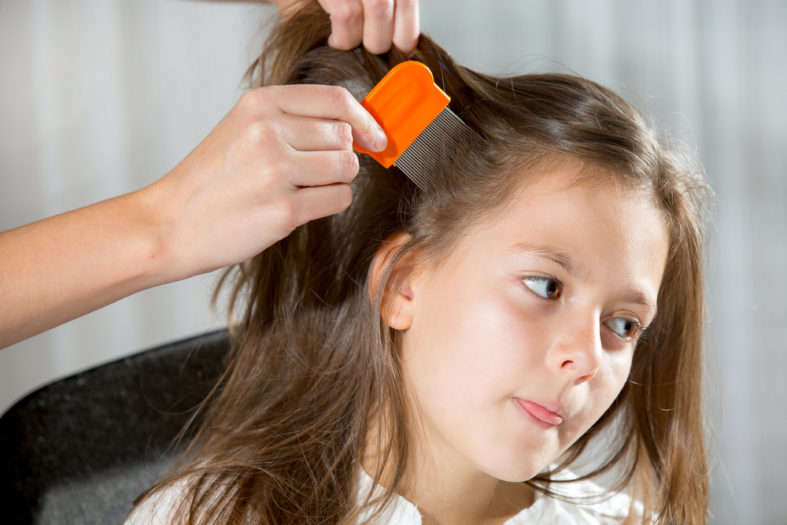 Combing with a fine nit comb is the most effective and easiest form of taking out lice. It is, in fact, the oldest and safest way to get rid of lice. Use a nit comb, dampen the hair and comb through hair section by section.
Another option is oiling. The safest oil that can be used on lice-infested hair is coconut oil. The oil makes the lice sticky to hair and is unable to move much and makes it easier to remove using a nit comb. In some cases, after the application of oil, the lice crawl its way out and you can see it crawling on the surface. Another popular home-remedy is to crush 3-4 tablets of camphor and mix with coconut oil. Apply this mixture and leave overnight. In the morning, wash hair with medicated shampoo.
Neem and tulsi hair mask is also known to be effective against lice. Use 10 leaves of both neem and tulsi leaves and blend them together to make a paste. Mix this paste with some coconut oil. Add the coconut oil depending on the length of you hair. Mix the paste well and apply it on the scalp. Leave this hair mask overnight and wash it with a herbal shampoo in the morning. Use this twice a week to get rid of the head lice.
You can also try using petroleum jelly at home to get rid of hair lice. All you need to do is apply a thick layer of petroleum jelly to the scalp and leave it overnight. Cover your head with a towel or a shower cap. In the morning use some baby oil to remove the petroleum jelly. Comb your hair thoroughly to remove the lice. Wash your hair thereafter. You can use this method for several nights to get rid of the lice.
You can also opt for medicated oils like Medikar and Licel. Follow the procedure given at the back of the bottle and follow it accordingly to see a difference. Medikar has been in the Indian market for decades and is one of the most trusted shampoos for the treatment of lice. You must follow the procedure given at the back of the bottle and avoid any eye contact. The bottle recommends applying its oil and shampoo for a 4-week period to completely eradicate lice from your head.