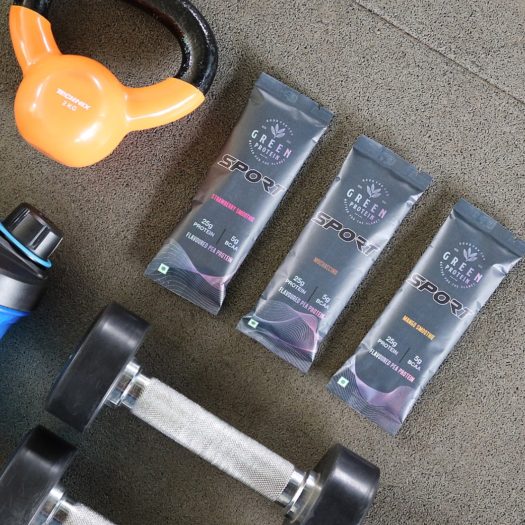 Green Protein, a 100%, plant-based vegan protein brand, made entirely of pea protein isolate with no hidden compounds, has just launched its Sport varietal.
Green Protein Sport – a 100% vegan, plant-based, and fat-free protein supplement with 25 grams of protein and 5 grams BCCA (branched-chain amino acids) per serving, challenges and transcends the boundaries of traditional protein. This delicious protein powder is easier on the gut while remaining just as effective as traditional protein supplements – all without dairy or questionable blends.
The protein needs of athletes and dedicated fitness enthusiasts exceed those of the average person. Green Protein Sport meets these requirements, with its performance-boosting ingredients for extra gains and faster recovery. Made from 100% Canadian yellow pea protein isolate, Green Protein Sport has a smoothie-like formulation that provides a feeling of satiety without the bloat. The product comes in three delicious flavors – Strawberry Smoothie (a classic take on the beloved strawberries & cream flavor), Mango Smoothie (with the fresh taste of rich mango), and Mochaccino (the perfect blend of creamy chocolate with just a whiff of coffee). Each 33-gram sachet is priced at Rs. 109 plus taxes. 
Green Protein is an entirely homegrown brand, backed by compassion, care, and conscience. It is also the first of its kind to offer protein in nine fun flavors. It was started by three friends, each with a similar vision – to find healthy yet appetizing, vegan options that would supplement protein in the diets of themselves and their families. With protein deficiency rampant across people of all age groups and fitness levels, the trio wanted a solution that could be simply ingested as a drink, with superior flavors that were fun, fresh, and fruity. Green Protein has been created keeping in mind modern-day families that look for modern-day solutions.  
Beyond the Sport varietal, Green Protein also offers six delicious flavors of its Regular protein powder – Pineapple, Watermelon, Raw Mango, Black Currant, Tangy Orange, and Berry Blast. Easy to digest and delightfully tasty, every flavor is fortified with antioxidants, immunity boosters, Vitamin C, Magnesium, and many other superfoods, vitamins, and minerals. The protein is free from any additives or toxins and made from completely organic raw materials. Each single-serve sachet of Green Protein (regular) is priced at Rs. 79 plus taxes for a 23-gram packet. 
Where to Buy–
Website: https://greenprotein.co.in/